David Triesman finds himself in the position not dissimilar to Prime Ministers: more popular abroad than at home. But this happened to Margaret Thatcher and Tony Blair towards the end of their long reign. It has happened to Triesman barely two years in as FA chairman and just as he faces his greatest test leading England's bid for the 2018 World Cup.
Triesman's domestic problems, in particular his less than cordial relations with the Premier League's chief executive Richard Scudamore, are well known. Scudamore has never forgiven Triesman for his comments on the debt Premier League clubs carry.
His tussles with the Sheffield mafia of Richard Caborn, Sir David Richards and Geoff Thompson has been a less than edifying, and an all too public game of musical chairs. This has seen Caborn and his close friend Richards left standing when the music stopped but Thompson, Britain's only representative on the FIFA Executive, and once shunned by Triesman, now sitting cosily inside the tent. Given all this it is not surprising that the general media view is that Triesman is out of his depth and that for England's sake he should now fall on his sword.
However what I discovered when talking to UEFA insiders is that outside our Isles opinion about him is not quite so dismal. He has developed close relations with Michael Platini, the UEFA President.
The view from Nyon goes like this. Platini is desperate for 2018 to be in Europe. This will be the first time that the FIFA executive will vote on a World Cup bid (no vote was necessary for Brazil to host 2014 as it was the only candidate) since Platini took over as UEFA President. A return to Europe would mean a validation of his Presidency. Also it will come just months before Platini seeks re-election and he would like to go into the election having secured the continent football's most coveted prize.
However Platini's nightmare is that with several European candidates UEFA's eight votes on the 24 man FIFA Executive are badly split.  And it provides an opportunity for a country from another continent – the USA is feared more than Australia – making the most of European divisions and seizing 2018.
Platini is also well aware of how badly wrong the vote on Euro 2012 went. This came soon after he got elected. Italy was bidding against a joint bid of Poland and Ukraine. Italy was favourites but in an amazing upset Poland-Ukraine won, with Italy getting only four of the 12 UEFA executive votes. The result has been an administrative nightmare for UEFA. Ukraine has such tremendous political and economic problems in staging the competition that UEFA insiders freely concede that they did not have the political balls to pull the competition from the country and deeply regret not doing so. Just as Platini voted for Italy, a country whose football was second home to him, now it seems he wants 2018 for England.
Platini, for all that he has been built up to an ogre by some in the Premier League who see him as wanting to shackle the English clubs by Brussels-style rules on financing, is actually a romantic at heart. He feels strongly that the country that gave the game to the World has staged it only once, back in 1966. Given that Italy, France and Germany have held it more than once, Germany twice since 1966, he feels strongly that it is time the World Cup came home.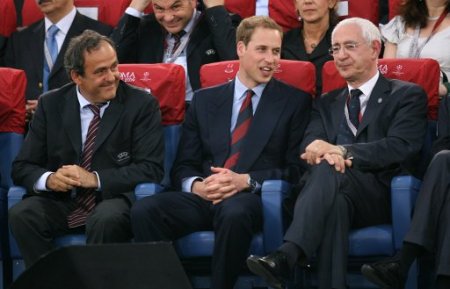 Triesman has been working on Platini (pictured here together with Prince William) ever since the bid was launched.
Their main concern is to avoid a first round knock-out.
To do that England need to be sure of five votes and at this stage it would seem England could get from Europe: Platini, Franz Beckenbauer, Geoff Thompson, Senes Erzik of Turkey and Marios Lefkarttis of Cyprus.
Platini is also working on a deal with USA. This means UEFA support for America for 2022 if America votes for England in 2018.
Such an alliance is attractive to sell. After two World Cups in Africa and South America, where for all the promises there will be problems, England and the USA can be marketed as very safe and provide FIFA wonderful opportunities to build its brand.
An alliance with the Americans would give England the three votes of the CONCAF countries, the ones that Jack Warner, the FIFA vice-president from Trinidad is said to control, and the votes that are always much sought after in any World Cup election. If England should go into the first round with eight votes it will deliver  a knock-out punch to its Europeans rivals. A united Europe would then back England and get it near the 13 votes it needs to win.
So much for the plotting.
 
Everyone recognises that with 12 months to go before FIFA meets in Zurich to decide, the night of the election might well show all this up to be wishful thinking over too many glasses of port.
What is undoubtedly true is that the 2018 vote is the most open in the history of FIFA World Cup elections. With countries from south America and Africa not able to compete for 2018 because South Africa will stage 2010 and Brazil 2014 seven votes on the Executive – four African, three South American ones – are up for grabs.
Both Spain and Russia have been campaigning hard although the English camp is split as to which is the more dangerous rival. Spain is feared for its football connections and England has been working hard on the three South Americans who have close historic connections with Spain.
Russia is the most unpredictable. Vladmir Putin's remarkable feat of securing  2014 Olympics for Sochi, a city with little Winter Games capability, shows Russians can secure unlikely prizes. And with so many votes in Africa and South American at stake, Russian money and power is feared.
Right from the beginning Triesman was determined to avoid the big mistake of England's 2006 bid. Then England fell out with Lennart Johanssen,  Platini's predecessor, about reneging on the gentlemen's agreement  where England was supposed to give Germany a free ride in return for staging Euro 96. The result: seven of the eight UEFA votes went for Germany so holing the English bid even before it was launched that it never recovered.
The huge problem for Triesman is that, while he is in no danger of his falling out with Platini, unless he shows skills in hosing down the home fires for all his hero status abroad he will be such a villain at home that he may prove ultimately effective in neither sphere.
Mihir Bose is one of the world's most astute observers on politics in sport and, particularly, football. He formerly wrote for The Sunday Times and The Daily Telegraph and until recently was the BBC's head sports editor. He will be writing a weekly column for insideworldfootball.