We were there to watch the World Cup draw.
But I spent a fair bit of time in South Africa talking about FIFA President Sepp Blatter's ambitions for a fourth term, including with FIFA movers and shakers.
The 73-year-old Swiss administrator indicated in October that he would again run for re-election in 2011, using a gloriously Blatteresque turn of phrase: "I hope that in 2011 the FIFA Congress once more has faith in me, otherwise I'll go back to my village."
I wondered at the time whether the earliness of his declaration should be interpreted as a sign that some sort of challenge might be in the offing.
I am more than ever convinced of it now.
Potential challengers may need to move fast, however, if they are to stand much chance of preventing this astute politician from being able to celebrate his 79th birthday still at the head of the world's biggest sport.
Perhaps the most interesting snippet of intelligence I picked up in Cape Town concerns the annual Congress of CAF, the governing body of African football.
This is scheduled to take place in Angola on January 29, 2010 - that is to say in not much more than six weeks' time.
According to a well-placed source, there is a chance that this meeting might produce a statement of support for Blatter, who is perceived - more than anyone - to be the man who brought big-ticket sport, in the shape of the World Cup, to Africa.
Given the sheer size of CAF, with its 54 member-associations, this would register as a formidable show of strength on behalf of the incumbent – although it would not follow that Blatter could automatically count on all 54 African votes in 2011.
In any case, I was told, if no such statement emerges from Luanda, it would be a bad sign for the man from Visp, "near the famous Matterhorn".
One rather important thing we could presumably deduce if there is a statement is that CAF President Issa Hayatou, who ran against Blatter in 2002, going down by 139 votes to 56, is on this occasion highly unlikely to challenge.
So who might be tempted to make a tilt for the Big Job?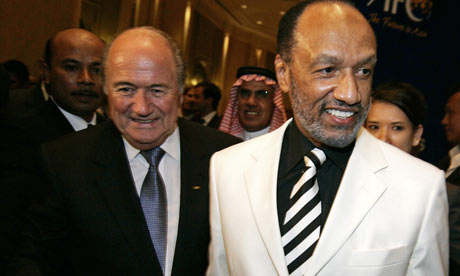 Top of my personal list of possible contenders is Mohamed Bin Hammam (pictured here with Blatter), the 60-year-old Qatari who is President of the Asian Football Confederation.
The trouble is, in May, Bin Hammam only narrowly retained his seat on FIFA's ruling Executive Committee, defeating Bahrain's Sheikh Salman bin Ebrahim al-Khalifa by 23 votes to 21.
To stand any chance of success, he would need help from other FIFA power brokers, so a signal from CAF that it was falling into line behind Blatter might discourage him from thoughts of throwing his hat into the ring, if indeed he is entertaining them.
A Bin Hammam candidacy might also have rather unpredictable ramifications for his country Qatar's bid to host the 2022 World Cup.
Brazil, the nation set to host both the 2014 World Cup and the 2016 Olympic Games, is on a roll at the moment and the name of Ricardo Teixeira is another that I have heard mentioned as a possible candidate for the FIFA Presidency.
I still cannot see UEFA boss Michel Platini or CONCACAF's Jack Warner running in 2011.
Musings, meanwhile, to the effect that a candidate from outside the present FIFA Executive Committee could emerge must be rated a long shot, although it is not impossible, I suppose, that a Latin American media mogul, say, with the means and desire to mount a campaign might come out of left field.
As things stand then, I would say that the chances of Blatter 'going back to his village' before 2015 are already starting to recede.
That said, this is a form of shadow boxing in which the balance of forces can change in an instant.
We may know more after Angola.
David Owen is a specialist sports journalist who worked for 20 years for the Financial Times in the United States, Canada, France and the UK. He ended his FT career as sports editor after the 2006 World Cup and is now freelancing, including covering last year's Beijing Olympics. An archive of Owen's material may be found by Twitter users at www.twitter.com/dodo938