Roberto Mancini's arrival at Manchester City and Mark Hughes' departure have produced very predictable responses of outrage that Mancini should have been headhunted in this way.
Football fans may know all about changing jobs and some may even have experienced themselves the far from straightforward business of being headhunted. But, when it comes to football, they somehow feel that the game should be immune from such fairly every day events.
Partly this is because football, as befits a very specialised trade association, operates tightly regulated rules for poaching players and managers – rules that just do not apply in life outside the game. Partly the reactions reflect the fact that most football fans are seeking refuge in the game from the pressures of ordinary life where this sort of thing is so much the norm.
Yet to me the most interesting thing about the latest City drama is not the public relations disaster suffered by the City management but the profound cultural shift this highlights about the Premier League in particular and English football in general.
The Premier League by common consent is the best League in the world. You do not have to take my word for it. Just listen to what Carlo Ancelotti, not long ago from the parish of AC Milan, and now of Chelsea, had to say to say to me about English football only a few days ago,
"English football is an experience. Premier League is the talk of football." Ancelotti even goes so far as to say England offers lessons to his native Italy. "In Italy we have violence and also problems in the stadium and outside. It is totally different here. England had big, big problems with hooligans. They did a very good job to change things."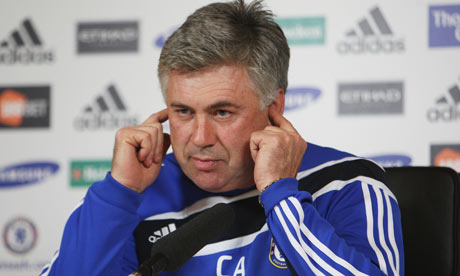 Ancelotti (pictured) is hardly alone in such praise for the Premier League. But if English football is so good, why is it that nowadays, when it comes to management, the Premier League always looks abroad and never at home?
In that sense, the Premier League is very like British industry where the chief executives and chairmen are often foreigners.
The easy answer in the case of City would be to say that, owned as it is by Middle Eastern investors, it is only natural that they should look abroad. But that is not quite the reason. The real reason lies in the fact that the fear of the foreigner that so haunted English football for decades has now disappeared. The fear of the foreign player went some time ago. Now to recall Alan Sugar's mocking references to "Carlos Kickaball" seems even more absurd than it did when Sugar first made those remarks back in the mid-90s.
It has taken longer for the fear of the foreign manager to go. And, yes, every time a foreign import fails, and Tottenham in the last decade has supplied more than most – first the Swiss Christian Gross, then the Spanish Juande Ramos – familiar questions about poor command of the English language and inability to adapt to English conditions surface. But the fact remains that there is no longer the dread of introducing someone from abroad.
And, to appreciate how big this change has been, consider that such was the dread that it even applied to Scots coming to manage a team south of the border for the first time. Indeed, had a certain board of directors not taken the decision they took, the history of English football and the Premier League might have been very different. I am talking of Sir Alex Ferguson and the board of Manchester United.
Let me take you back to the Manchester United boardroom in the autumn of 1986. They have decided to sack Ron Atkinson and want Alex Ferguson, then plain Alex and managing Aberdeen.
The board had no doubts about what the young Scot had done at Aberdeen and how he had successfully challenged the monopoly of the Old Firm Celtic and Rangers. Even before this, Ferguson had attracted the attention of teams south of the border. Tottenham had wanted him but Ferguson preferred to stay in his homeland. Now he was keen to come.
However the problem was that the United board were haunted by one huge worry: Ferguson had never managed or played in England. Could he make it south of Hadrian's Wall? History was against him.
Yes, there had been successful Scots who had managed English teams: United's great legend, Matt Busby, of course and Bill Shankly. But they were Scots reared on the English game, Busby having been a notable player at Manchester City before the war. In contrast Jock Stein was a sobering example of a great Scottish manager not making it in England. Stein was Ferguson's mentor.
In the end the Manchester United board decided that Ferguson could cut the mustard and we all know what happened. Even a decade after Ferguson had stamped himself on the Premier League, when Arsenal went for Arsene Wenger, there were many who said Arsene who? But nowadays English football shops around almost as if managers can be found on the worldwide web and, if the manager's CV matches the club's ambitions, his foreign origin, far from being a barrier, is an advantage.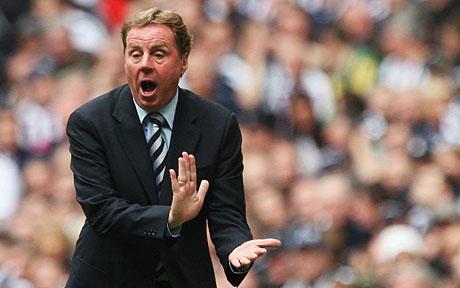 Of course English mangers like David Pleat and Harry Redknapp (pictured) are not happy about it. They feel the sort of apprenticeship they had is just not available any longer. Redknapp can be quite eloquent about how he gave Tony Pullis his chance which helped him finally to end up at Stoke. But what chance is there for an aspiring Pullis? None fears Redknapp.
The answer lies in English football adjusting to the culture change which has made the foreign manager so familiar. The problem here is that, unlike the continent, English football has never believed in coaching properly young managers. The belief persists that, if you are a player, you can seamlessly transform yourself into manager. Not so, as anyone in football management will tell you.
In the old days, this lack of structured coaching could be made good by aspiring managers getting experience in the lower leagues, then moving up. But now, not merely is the route to the top closed, but even lower down the league chances are disappearing at the recent goings on at Notts County show. This makes the need to copy foreign coaching systems all the more necessary.
If this does not happen, then the story of Mark Hughes, a manager with talent but overshadowed by a foreigner with a better CV, will be repeated at many other clubs. English football has changed dramatically in the last decade but it needs to change in this vital area if its young coaches are not always to be outsmarted by better trained and more glamorous foreigners.
Mihir Bose is one of the world's most astute observers on politics in sport and, particularly, football. He formerly wrote for The Sunday Times and The Daily Telegraph and until recently was the BBC's head sports editor. He will be writing a weekly column for insideworldfootball.