It is not often in football you hear many people talk about Roman Abramovich, Florentino Perez and Sheikh Tamim Bin Hamad Al-Thani, Crown Prince of Qatar being "visionary men", and all in the same breath.
The first two are widely regarded as using football clubs, Chelsea and Real Madrid, as their play things, an impression strengthened in the Russian's case by the way he got rid of his last manager Roberto Di Matteo. And for good measure at four in the morning, hours after he had lost a UEFA Champions League match.
The Crown Prince has been instrumental in the development of Aspire Academy, whose aim is to train and educate students with sporting potential so that Qatar can establish itself in world sport. But many in our intensely sceptical world see this is a country with vast wealth using sport as a national toy.

But here is a man who says, "I like to talk about working for visionary men, Florentino had a vision the same way that the founder of Aspire has a vision, the same way Mr Abramovich has a vision."
The man making that claim is Ivan Bravo, who worked as director of strategic planning at the Bernabéu between 2002 and 2010. That is when Perez introduced his policy of bringing galácticos to Madrid. Then shortly after Qatar won the right to stage the 2022 FIFA World Cup Bravo moved to become director general of the Aspire Academy.

It would be easy to say you would expect Bravo (pictured above) to talk in such fancy terms. We are meeting in the conference room of the Dolder Grand hotel in Zurich during a break in the International Football Arena (IFA) Conference, which has Chelsea as one of its major backers. But if Bravo is an interested party, he presents a fascinating picture of the contrast in what Real has done under Perez and what Qatar are hoping to do now.
"The term galácticos is an awful term. Nobody in Madrid likes this term. Florentino never used it. In the late 90s, 2000, the club was in financial distress; tremendous debt, not being able to monetise the brand and that is when the President at the time, Florentino Perez came in and that's when we all stepped in. We said 'okay we have to monetise this club, what do we do?' This club has a history of bringing the best players to the club to play [as it did in the 50s] because in the end this is a talent business. You have the best players, they attract the fans they generate the money and that brings again the best players, and you try to win. So it's a virtuous circle.
"With a global audience of probably about 300 million fans, what we needed to do was make sure that the product on the pitch continued to be successful so those 300 million people would be engaged and would become customers and fans and be proud of being Real Madrid. It was about taking the brand internationally, bringing the product on the pitch back to success because when I started Real Madrid had not had success in the Champions League for many years. Luckily, you had the cycle of 98, 2000, 2002. So you win three Champions Leagues, and guess what? Real Madrid is again back on top. So that turned the machine of sports success into a brand, a business. The goal from that day has been twofold. One, winning on the pitch; second, continuing to be the biggest business in the world of football. Real Madrid has a clear strategy, knows what its audience is and has a business plan to accommodate that audience to achieve the business result."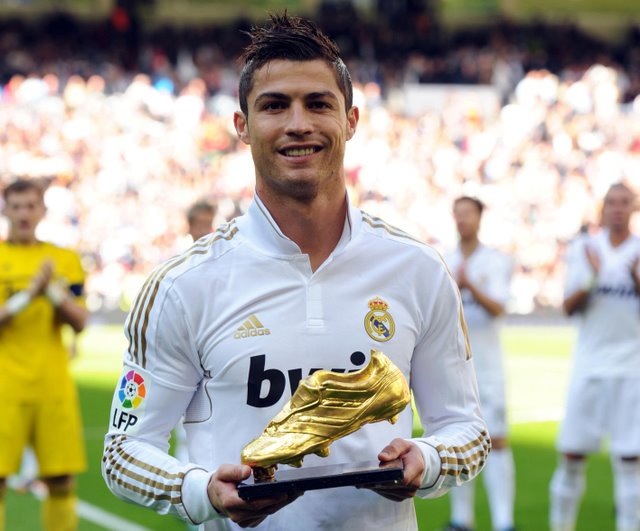 Surely, I ask him, sport at the end of the day is about inspiring kids. And in a world without heroes it is important that they can believe in people capable of creating fantasy, if only for a few moments? If football becomes another product selling exercise what happens to the magic that is at the heart of the beautiful game? Bravo's response it what you would expect a marketing man to make but he does it quite persuasively:
"This is the paradox. You can say you admire Cristiano Ronaldo (pictured above) because he is your son's icon, idol. But you have to pay Cristiano to be able to be in a club so your son can see his icon. Unless you have those revenues, unless television broadcasts the games and the club gets money from corporate holders of suites and boxes and sign the players, unless that happens, it doesn't work. The romanticism of sport has changed. It's a business as well but you can still be a romantic."
Then the Spaniard gives his own example that for all his own talk of brand building the game's capacity to fulfil fantasy has not disappeared. "Sport gives you still an amazing feeling. I got goose bumps when Spain won the World Cup (pictured below) and to me that's probably the happiest moment in my sports life. Now I can die happy because Spain, which was a perennial contender, never won the World Cup. I don't care whether there is a business behind it or not."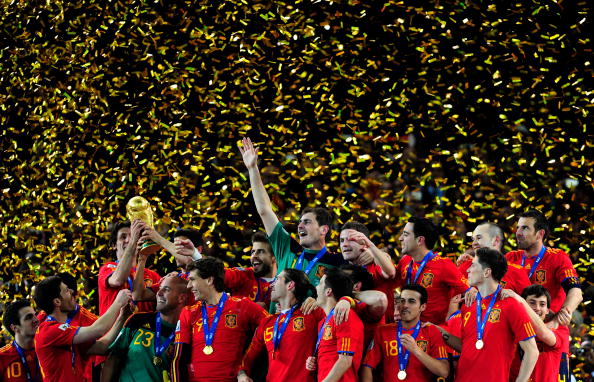 At Aspire where Bravo moved to just after Qatar won the 2002 bid the issue is not creating a brand as at Madrid. "Real Madrid to me is truly the pinnacle of sports institutions. So you have the satisfaction of knowing you're working in a place that touches 300 million people around the world. At Aspire what we're trying to do is to help the country develop sports champions, help young kids achieve their national dreams. Our first audience is the country."
But when I ask him if this mission is to use sport to create a nation he is quick to respond, "No, no, no. We're trying to provide a nation with sport and make them proud of their own people."
The forceful way he reacts shows that he is extremely sensitive to any suggestion that Qatar as a nation needs to be created. This sensitiveness becomes very evident when I contrast Spain, a great-established nation where football is one element of a diverse society, with Qatar where football may help put the nation on the world map. With a smile he says, "It's a clever way to put it."
But having appeared to dismiss it he concedes the argument saying, "Football, one of the most passionate activities you can have, provides a country with a way to try to compare itself to the world and say 'I can compete with the rest of the world'. It also provides social and economic development because football is an activity that generates a lot of business opportunities. Now with a World Cup coming up in Qatar it has transformed the way the country's functioning internally, the way it's perceived externally. So it's a catalyst."
However, Bravo does not believe it is his mission to convince the sceptics, many of them in the western media, who argue Qatar should never have got the world cup, "No. We need to spend our time on how do we make this country deliver. We can't spend our time on those who will continue to just distance themselves from Qatar or criticise it or ignore it?"
Nor will be accept that in Qatar he has a credibility problem that he did not face at the Bernabéu.
"At Real Madrid I remember travelling around the world and some people saying about Real Madrid, 'Is this now about marketing a brand or is it about football?' So there were some people questioning the model of Real Madrid."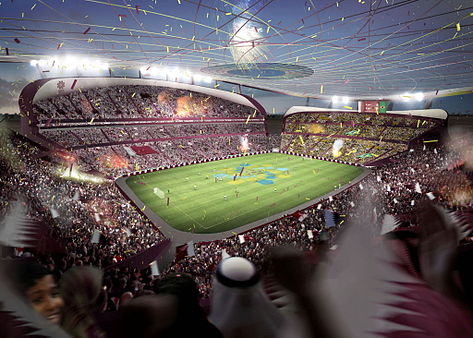 He is eager not to be presented as some modern sports missionary going to Qatar to teach sports and says with quiet confidence come 2022 even the critics in the western media will come round to a Qatari World Cup, "I am fully convinced. I hope you're convinced. I hope the guy next door is convinced. They're doing a tremendous amount of work of coming out and explaining how there's going to be a legacy, how they're going to take stadiums, dismantle them, bring them down to under developed nations. They're thinking about clean stadiums, they're thinking about a region that desperately, desperately needs to feel important when it comes to hosting big events, a region that has been neglected up to this point and it's one of the most important regions of the world."
Bravo may well be proved right come 2022. But in 2022 will the World Cup be staged in winter, as Michel Platini desires? On this, however, Bravo is aware this is a subject on which no one from Qatar must be seen to take a stand he says diplomatically, "That's a question for FIFA. I think Qatar will be ready either way."
Mihir Bose is one of the world's most astute observers on politics in sport, particularly football. He wrote formerly for The Sunday Times and the Daily Telegraph and was the BBC's head sports editor. Most recently, he published The Game Changer: How the English Premier League came to dominate the world. Marshall Cavendish £14.99
Follow Mihir on Twitter. 
www.mihirbose.com