Let us get this right. Luis Suarez is no more a cheat than most football players. I agree with those that argue that the moral spasm his handball goal has evoked is way over the top if not a touch hypocritical. I wonder if the critics have been to many football matches or if they have perhaps been too busy with other things to concentrate on what they are seeing.
If we are saying Suarez was cheating, then how is that different from when a player claims a throw, or a corner, when he knows very well the ball has come off not the opposition, but himself or one of his team mates? Or when a goalkeeper, having faintly finger tipped the ball over the goal, pretends he has not but that the ball has come off the opposing forward. He is saying this in order to persuade the referee not to give a corner which could be a goal scoring opportunity for the opposition. As far as I am concerned all these incidents amount to cheating.
The Suarez critics will argue that such incidents are gamesmanship not cheating and that in all sport there is gamesmanship. In their
view Suarez's crime is he used his hands to score a goal. And while claiming a corner when it is not a corner may not be in the Corinthians spirit, the game talks so much about, it is actually part and parcel of trying to bend the rules in the hope nobody will notice and the side benefit. I am afraid I do not see the difference because in essence that is also what Suarez did. Indeed, all the evidence suggests that he expected to be discovered and the goal disallowed.
The fact is that unlike nearly all other sports, football has always tolerated, if not encouraged, such behaviour, call it gamesmanship, call it what you like. What makes all this worse is that even when there is blatant cheating, the penalty football imposes on the wrong doer means he can often benefit from his crime. Indeed Suarez, himself, provided us with that lesson during the 2010 World Cup in South Africa.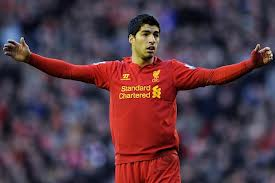 Let us recall that now infamous Uruguay v Ghana quarter-final when in the dying seconds of extra-time, with Ghana confident it would make history and become the first African side to reach the last four, Suarez prevented a certain goal.
And how did he do it? Very simple, stationed on the line he used his hand to prevent it. He knew he would be sent off and Ghana given a penalty. But if Ghana missed it would be a lifeline for his team. So it proved when the Ghanaian striker Asamoah Gyan skimmed the crossbar with the last kick of the game. Suarez and his team mates celebrated. They had even more cause to rejoice when with match going into a penalty shoot-out, Uruguay won and got to the semi-finals for the first time since 1970.
The result was that an offence that had led to a penalty against his team made Suarez a Uruguayan hero. And last year when asked whether
he would do it again, Suarez said he would if it meant helping his team.
I recall discussing the incident soon after it happened with Ali Backer, the man who ran South African cricket and saw its transition from a white game to a game fit for a rainbow nation. He also introduced technology into cricket. Indeed, the first time television was used to make a decision in a Test match came in the inaugural series between South Africa and India. Then it was not the men in the middle but the third umpire, sitting in a room in the Durban pavilion, who decided that a Jonty Rhodes throw had indeed run out Sachin Tendulkar.
Bacher was totally bemused by what happened in the Ghana-Uruguay match and used an example from rugby to argue why football's laws are not fit for purpose, indeed they encourage players to offend knowing they have at least a 50-50 chance of getting away with it.
As he put it to me, "In rugby that would be a penalty try immediate five points with the other team having a chance for conversion which,
if successful, would mean two more points. Football's penalty award encourages offenders to commit fouls knowing they stand a good chance of getting away with it. No respectable game should allow such a thing to happen."
And this is where the fundamental problem lies. True, in the goal he scored against Macclesfield, Suarez was not detected and got away with it. However, this cannot obscure the fact that football's sanctions against offenders are weak and need strengthening. Until this happens the world's favourite game will remain behind all other games. Its administrators may claim the high ground but events on the field of play will continue to demonstrate that football's laws allows, if not encourages, players to take the low road.
But in a game where the administrators cannot even agree to introduce technology and behave like luddites, such a rule change is impossible
to hope for. The result is we shall see more of the Suarez-style incidents. After all, why should players change their behaviour when they know that even when penalised they can prosper and escape any meaningful sanction?
Mihir Bose's latest book: Game Changer How the English Premier League Came to Dominate the World has been published by Marshall Cavendish for £14.99
Follow Mihir on twitter @mihirbose