"There are no bad regiments, only bad colonels," Napoléon Bonaparte (attribution)
When Naploéon's Grande Armée embarked with hundreds of thousands of men on the so-called Second Polish War or, more accurately, the invasion of Russia, there was scant prospect of additional numbers to support the campaign. So it is for the regimental colonels of football competitions.
In football, as in war, a coach or manager must deal with the resources at his disposal when the campaign begins. There can be no reinforcements until a fixed point in time, the mid-season transfer window, when the quality and quantity of potential additions are limited. Only the qualities of his leadership, his resources management and his tactical capabilities will permit success beyond expectations. It follows, then, that those who can make the most of their available resources are the most valuable.
In this context, the figures released in Deloitte's Annual Review of Football Finance last week make for some very interesting reading. Deloitte showed that in 2003-4, the 24 clubs in England's second-tier Championship were generating an aggregate £287 million in revenues. The same 24 clubs were at the time spending £208 million in wages. This meant a wages-to-turnover ratio of 72.5% across the piece.
However, since then, Deloitte figures demonstrate, the financial complexion of the Football League's top-division competition has signally worsened. The compound annual growth rate in revenues over the next 10 years was 5%; the CAGR in wages over the same period has been 10%, meaning the aggregate amounts spent on salaries now exceed cumulative turnover by £27 million. Deloitte therefore shows us that the Championship's 24 clubs' overall wages-to-turnover ratio is 105.5%.
So in that league at least, there is another similarity with war: it is very expensive, and failure will render a club insolvent as surely as a bellicose nation that cannot make conquest pay. It follows, then, that those who can make the most of their available resources are the most valuable. In so profligate a league, the ability to achieve success with conservative spending should mark a man out as a very good colonel indeed.
As pointed out in this column before [see related article below], relegation from the Premier League can be particularly fatal to the solvency of clubs. My own analysis shows that even one of the most prudently run, Derby County, who fell out of England's top division in 2007-8, suffered the haemorrhage of a cumulative £32 million in cash over the six seasons immediately following relegation.
As for all Championship clubs – indeed for pretty much every professional football club anywhere in the world – the largest single operational expense is wages. In terms of investment expenditure it is very often player trading that costs the most. Together these two items are the club's player-budget expenditure. Take a look at Derby County below, and it is clear that how they compared to other clubs is telling.
Return on player-budget expenditure, Championship 2012-13
Data source: Deloitte and clubs' annual report & accounts
As you can see from the table above, in terms of football performance Derby far exceeded their investment. In 2012-13 they had as their manager Nigel Clough, the son of the late, great Brian Clough, who conquered all of Europe twice as manager of Nottingham Forest. Clough junior was operating under a wage-and-transfer budget that came in at 37.9% below the Championship average and which was even 26.7% lower than the league's median. Despite that, they finished 10th, a place or two above the average. After a slow start to the next season, Clough was dismissed, but it did not mean he had suddenly become a bad manager in one close season.
He moved to third-tier Sheffield United where, despite failing to win promotion to the Championship, he led the side to an FA Cup semi-final at Wembley, disposing of two Premier League (Aston Villa and Fulham) and two Championship (Nottingham Forest and Charlton Athletic) sides on the way. Last season in the League Cup, Southampton and West Ham United from the Premier League were both beaten en route to a two-legged semi-final against Tottenham Hotspur that Clough's team only lost 3-2 on aggregate.
This, along with the evidence of the table above, would suggest Clough is a man highly capable of achieving results considerably beyond the resources at his disposal. Even so, the failure to defeat Swindon Town over two legs in the play-offs after an exacting season was what mattered most to the Blades' board and they summarily sacked him.
The following season it was Steve McClaren's turn at Derby. For Derby in 2013-14 wages amounted to £16.4 million, up from £12.1 million the previous season. Additionally there was a net £1 million in cash spent on transfers in 2013-14 (2012-13: £0.7 million). So in 2013-14 Derby's gross player expense was £17.4 million, 18% lower than the average and a similar distance below the median too. Even so, McClaren guided them to third place in the Championship. They missed out on promotion to the Premier League only through a last-minute goal by Bobby Zamora in the play-off final against Queen's Park Rangers, a side with a player-expenditure budget 4.3 times the size of their own.
Return on player-budget expenditure, Championship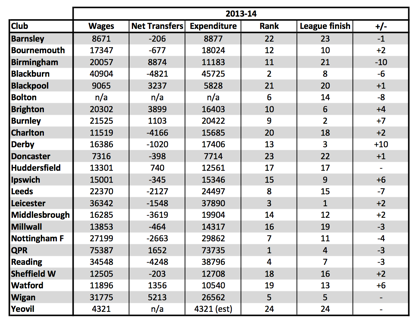 Data source: Deloitte and clubs' annual report & accounts
Under Clough in 2012-13 and McClaren in 2013-14, Derby's points return versus investment was second only to Watford's, who in the most recently completed season achieved automatic promotion to the Premier League. This suggests that there has been good management at either board or coaching level or both. Even so, McClaren has, like Clough, also been unable to retain his position as head coach, being jettisoned from the Derby dugout.
That is not to say that some ill fate should now befall Derby, who have Watford to point to as an example of effective creative destruction: the Hornets' promotion season this year featured four managers. Slavisa Jokanovic, who was in the technical area when they achieved promotion, was also dispensed with once the season ended, in favour of Quique Flores. But it is entirely fair to say that Derby have been punching far above their weight.
To have parted company with two rare men with proven track records of achieving success with limited resources is a risk. It is particularly so when hiring a man who, despite an outstanding coaching CV working at the very best clubs in the game (Chelsea, Paris Saint-Germain and Real Madrid) alongside one of its finest managers (Carlo Ancelotti) has never been in sole charge of any first team ever.
What it does mean though is that there are two managers available on the market who are provably capable of achieving solid league performances on very restricted budgets. With vacancies in the Premier League at West Ham United and Newcastle United, there is an opportunity to consider either or both men for their break in the top division. It looks like McClaren will get his chance with Newcastle, a club that knows the value of managers who can deliver results against better-resourced teams. However if they are overlooked, then the ambitious sides in the Championship could certainly do worse than to appoint them.
A glance at the tables above demonstrates how the wrong decisions can be extremely costly. Henning Berg and Michael Appleton were short lived managers of Blackburn Rovers in 2012-13, a season in which Rovers spent £35.5 million in player-budget costs and ended up 13 places lower than their natural position. Berg and Appleton were both former Manchester United men with reasonable reputations as players but with relatively little managerial experience.
Even when vast investment pays off, such as for Cardiff City in 2012-13, when their top-ranked £49.2 million player-budget expenditure translated into promotion to the Premier League as champions, or when QPR's £73.7 million took them up through the play-offs the following year, it can prove a false position. Such advantages of resources can mask deficiencies in management, and neither Harry Redknapp nor Malky McKay were able to keep their teams in the more-exacting competitive environment of the English top flight.
Football is all too easily drawn to the flame of promise or reputation, acting on the hearsay of verbal recommendations without studying the data. Some would have it that Nigel Clough is a nearly man who has been unable to guide any team to promotion to the Premier League. But that simplistic narrative does not give due weight to the financial circumstances: this is a man who has made less-resourced teams highly competitive in all competitions. How should we regard Clough's father, Brian? As the troubled old man who took Forest down in the inaugural season of the Premier League? Or as the genius who guided that team to two European Cup wins and Derby County to a European Cup semi-final, both sides he had joined when in the second tier of English football?
The history of the age would have it that Napoleon was a consummate failure for his inability to conquer Europe outright, once and for all. But his remarkable achievements along the way bear credit. Football is a competition often as unequal as a battle pitting infantrymen against artillery. If managers are assessed in the same binary light as those who are ultimately vanquished in war – triumphant: good; defeated: bad – irrespective of the context of their performance, then clubs will miss out on the successes that good colonels can bring.
Related article: http://www.insideworldfootball.com/matt-scott/16528-matt-scott-inglorious-failure-has-proved-costly-for-former-premier-league-clubs-who-s-next
Journalist and broadcaster Matt Scott wrote the Digger column for The Guardian newspaper for five years and is now a columnist for Insideworldfootball. Contact him at moc.l1635165958labto1635165958ofdlr1635165958owedi1635165958sni@t1635165958tocs.1635165958ttam1635165958.