August 23 – The huge amounts spent by Manchester United on Paul Pogba and Juventus on Gonzalo Higuain are in line with industry standards on transfer spend, according to analysis by Football Benchmark, the research division of KPMG's sports practice.
Football Benchmark matched the fees spent by clubs against their operating revenues and found that since 2007 the major clubs have all been willing to spend about 20% of their operating revenue on a big signing.
The two eye-catching fees in the current transfer window about to close are Pogba's €15 million move to Man Utd and Higuain's €90 million move to Juventus.
Pogba's sale represented more than 30% of the club's operating revenues, some way off the 57% of revenues that Tottenham received from Real Madrid when they sold Gareth Bale in 2013, but nevertheless very impressive.
Football Benchmark says: "When compared to Manchester United's 2014-15 operating revenue (2015-16 data not yet available), the transfer fee paid by the club for Paul Pogba seems in line with the industry standards of the past decade. Moreover, once adjusted to take into account expected operating revenue growth to be published for the football season 2015-2016, the transfer fee to operating revenue ratio of the Pogba transaction seems likely to be well below 20%."
In comparison, Football Benchmark says: "Higuain's €90 million transfer to Juventus FC is equivalent to 28% of the Turin club's 2014-15 operating revenue. However, once adjusted to the 2015-16 figures, the ratio of the Argentinian striker's move is more likely to be comparable to that of Cristiano Ronaldo when he moved to Real Madrid in 2009 (23%) and certainly above 20%."
While the transfer fees are enormous they may actually reflect a certain maturity in the market when compared with the days when Robinho's move to Manchester City, the first after the club's takeover by the Abu Dhabi United Group in 2008, accounted for 41% of the club's operating revenue in 2007-08. Or Real Madrid's signing of Zinedine Zidane in 2001, for a record-breaking 53% of the club's operating revenues in the previous season.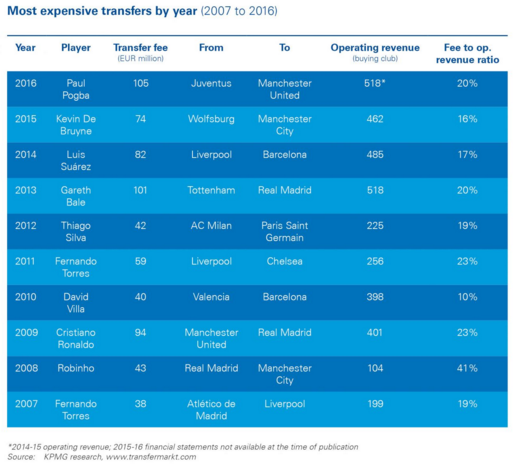 View the full report at https://www.footballbenchmark.com/most_expensive_transfers
Contact the writer of this story at moc.l1582134804labto1582134804ofdlr1582134804owedi1582134804sni@n1582134804osloh1582134804cin.l1582134804uap1582134804