August 29 – In the last round of fixtures before the international break, Chelsea stormed to the top of the Premier League table and the attendance chart with another ground-filling performance with just 191 empty seats in Stamford Bridge for the home win against Burnley.
The club consistently fills its capacity to this level making the case for the rebuild of the west London venue ever stronger. But before that can happen the club will have to make the case over the impact its new stadium plans will have on the local bat population.
The £500 million stadium rebuild is waiting for Hammersmith and Fulham council planning approval, but the council have asked the club how the development will protect the nearby Brompton cemetery which is home to a number of different varieties of bat including the noctule and the tiny pipistrelle.
Currently the council is unconvinced that the construction report has taken into account the safe habitat of the bat population and is particularly concerned about the impact of artificial light and how the lighting design of the new stadium will reduce this.
There is also concern about vibration from the construction that could affect the Western Catacombs, a potential hibernation roost for the bats.
Chelsea were one of eight clubs that reported attendance figures above 90% of their stadium capacity for the weekend's round of fixtures. Just Crystal Palace (perhaps Chelsea could borrow their eagle to deal with the bat issue) and West Brom dipped below 90%.
The average across the league was 95.11%, with just 13,938 unfilled seats. 3,160 were at the Hawthorns where West Brom's visitors Middlesbrough had failed to sell out their ticket allocation to travelling fans.
The weekend saw the Premier League clubs top the 1 million mark in terms of tickets sold – 1,000,109 out of a total 1,061,284 available.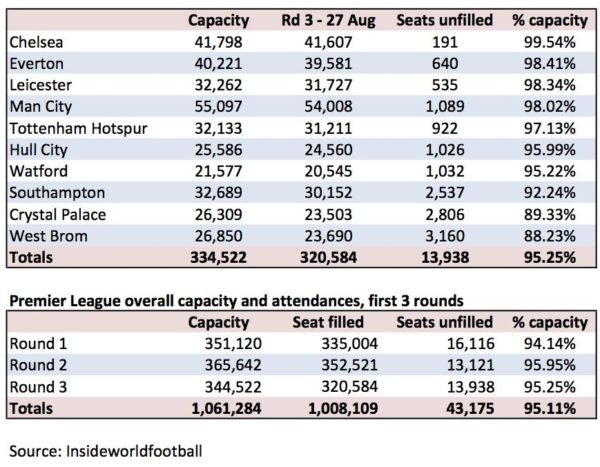 Contact the writer of this story at moc.l1548234210labto1548234210ofdlr1548234210owedi1548234210sni@n1548234210osloh1548234210cin.l1548234210uap1548234210