October 10 – The number of national qualified players playing in the first teams of the top league in their country is often said to dictate the health of national team. If that is true then England's 1-0 loss to Iceland at the Euros might have actually been a good result for the country.
Figures complied by the CIES Football Observatory show that 16 Premier League teams have had less than 50% of minutes played by English qualified players since the start of the season, considerably more teams than any of the other five big European league.
For 14 of those teams the the figure dropped to less than 40% and for eight of them less than 30%. English players playing in the top division in their own country are a rare species.
Chelsea (16%), Manchester City (17%) and Arsenal (23%) are all in the top 10 of least minutes played by national qualified players across Europe's Big 5 leagues. In total, national footballers played less than 50% of minutes in 51 clubs out of 98.
France has most nationally qualified players active with 17 Ligue 1 teams with more than 50%. PSG were bottom of the French ranking with 35%.
In Spain, Real Madrid and Barcelona were ranked together on 41%, while Osasuna was the top team across all five leagues with 97% of minutes played by Spanish qualified players.
Bottom of the Big 5 listing were Serie A's Udinese with just 1% of minutes played by players qualified for Italy.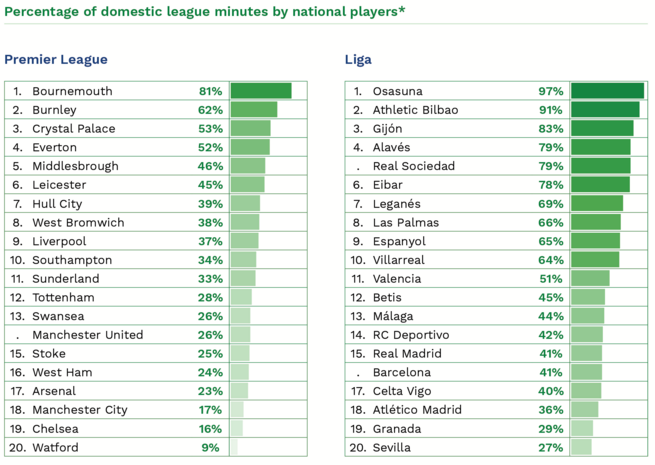 See the full listing at http://www.football-observatory.com/IMG/sites/b5wp/2016/160/en/
Contact the writer of this story at moc.l1566293781labto1566293781ofdlr1566293781owedi1566293781sni@n1566293781osloh1566293781cin.l1566293781uap1566293781