October 18 – Spending money on hordes of new players does not make for a winning team. The teams that are the most successful have the most continuity in their playing squads, recruiting the fewest number of new players.
CIES Football Observatory have delved into their database to dig out data comparing Big-5 (England, Germany, France, Italy and Spain) league teams according to the number of players in their current squad signed after 1 January 2016.
The results show that – money aside – it is quality not quantity that dictates the recruitment process. The teams that perform the best are generally the ones that recruited the fewest players.
Bayern Munich and Real Madrid, for example, have only signed two new players since January 1, according to CIES stats.
"Among the eleven least active clubs on the transfer market are seven teams competing in the UEFA Champions League: Bayern Munich, Real Madrid, Lyon, Leverkusen, Paris St-Germain, Tottenham and Atlético Madrid. Athletic Bilbao, Hertha Berlin, Manchester United and Real Sociedad also are in the top eleven positions of the rankings," says the report.
Three Spanish clubs fill the top four positions in the ranking, while six English club are in the top 19 clubs who have recruited five or less players. Liverpool are the most notable club outside of this group, having recruited seven new squad members since January. See table below.
A separate CIES report titled 'Recruitment strategies throughout Europe' examines the recruitment policies of clubs in the Big-5 leagues, highlighting that "the most competitive teams focus on the fee paying transfer of young players with high potential and hold on to those who perform best over the long term."
View this report at http://www.football-observatory.com/IMG/sites/mr/mr18/en/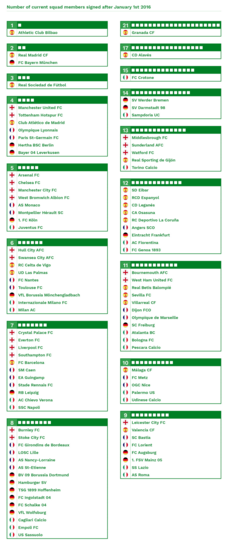 Contact the writer of this story at moc.l1591330253labto1591330253ofdlr1591330253owedi1591330253sni@n1591330253osloh1591330253cin.l1591330253uap1591330253