October 24 – Five Premier League clubs reported capacities of over 99% and nine over 94.99% in the weekly attendance table. A remarkable attendance rate if everyone had turned up and actually filled those seats. But it is clear in Arsenal's case that the seats may be bought but not all the fans are bothering to turn up.
The unfilled gaps in the Arsenal's Emirates stadium are increasingly becoming an issue for fans who do take up their seats – and it is not a new issue.
In 2014 London's Metropolitan Police reported the average gate at the Emirates was 53,788, almost 6,000 lower than the club's reported figure. The real figure seems more likely to 4,000 lower as the Met Police's figures missed those entering the ground through car parks.
Last season there was a shortfall of at least 1,000 per league match over the season, though this average is skewed by the large number of non-attending ticket holders for the 'smaller' clubs.
Fans will raise the issue of people who buy season tickets but only use them for the big matches at the club's annual general meeting today, as they say this is stopping 'real' fans from attending sell out games. Their complaints are unlikely to receive anything more than platitudes from an Arsenal management who have generally been unmoved by criticism of ticketing strategies and pricing.
One solution may be to rescind season tickets if they are regularly unused, a practice that is used by some clubs in Germany where ticket process are generally lower, but Arsenal (the most expensive club to watch in the Premier League) would probably be of the view that they like the income too much to risk losing that upfront revenue.
Elsewhere in the Premier League it was a strong week for attendances with seven clubs reporting less than 1,000 unfilled seats. Swansea again topped the table in terms of efficiency in filling the stadium.
Hull were left in a very lonely last place with more than half the unfilled seats in for the whole weekend's fixtures being in the KC Stadium. Hull lost to Stoke. Not the kind of stats from the weekend that will encourage new buyers to hurry up and get the proposed £130 million acquisition of the club done.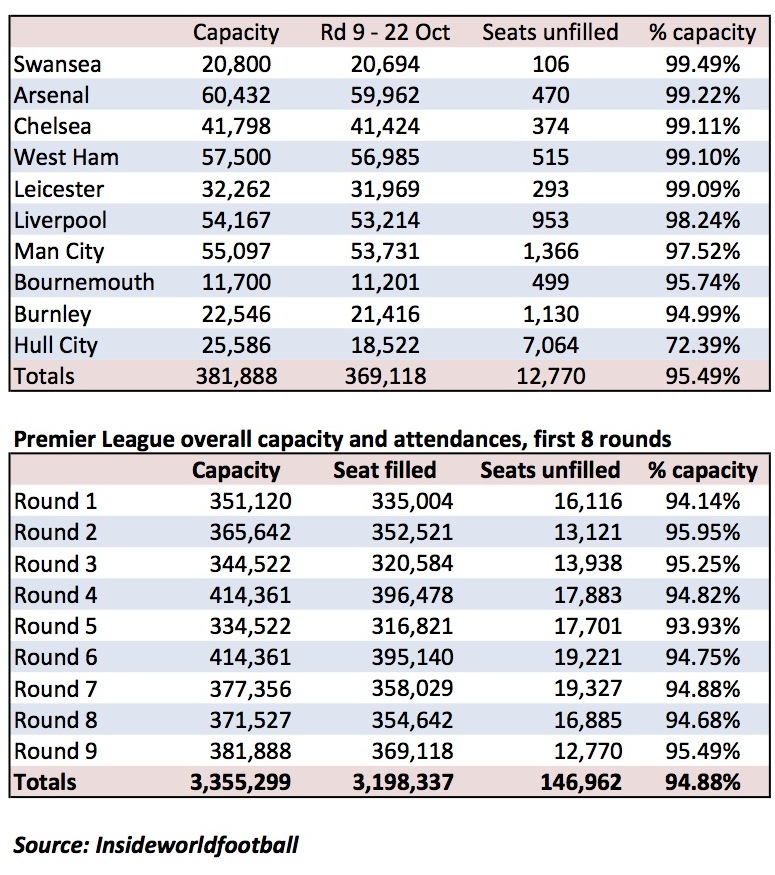 Contact the writer of this story at moc.l1539973291labto1539973291ofdlr1539973291owedi1539973291sni@n1539973291osloh1539973291cin.l1539973291uap1539973291