November 2 – Premier League attendances across the league dipped slightly last weekend as a percentage of total seats available, however, eight teams still filled more than 90% of their capacity and Spurs again showed how urgently they need their new stadium with just 265 unfilled seats in the reduced capacity White Hart Lane.
Man Utd topped the weekly ranking with 99.49% of their stadium sold out.
West Brom were bottom of the table with 4,380 unfilled seats, 83.69% of the stadium capacity.
Middlesbrough and Sunderland were also at the foot of the table though Sunderland did creep above the 90% capacity mark for the first time this season in their 49,000 capacity Stadium of Light.
Everton seem to have found a new efficiency in their ticketing compared to last season with the club regularly have less than 1,000 seats unfilled. Last season the club generally operated with over 1,500 seats.
The Insideworldfootball figures are taken from the official reported attendances and do not take account of any seat kills due to media or safety reasons.
Stadium attendances, Premier League Round 10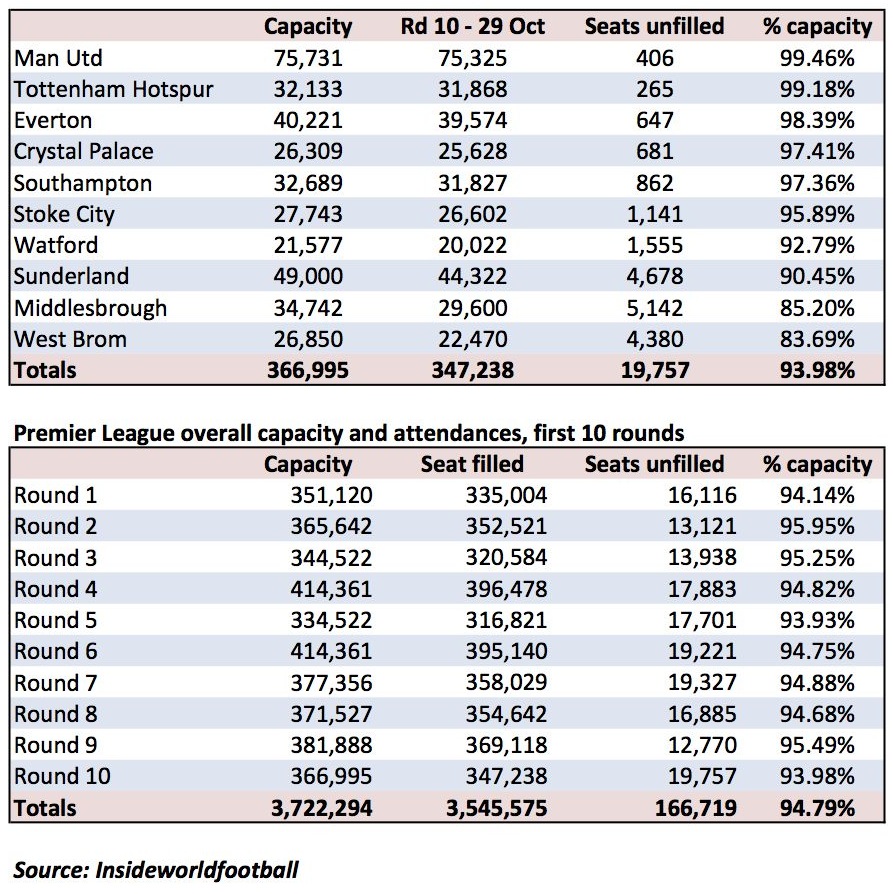 Contact the writer of this story at moc.l1540196120labto1540196120ofdlr1540196120owedi1540196120sni@n1540196120osloh1540196120cin.l1540196120uap1540196120