"Far from being willing to execute his enemies, a real king must be willing to execute his friends." T.H. White
Walt Disney's rendering of TH White's novel The Sword in the Stone glossed over it but the author always tackled themes of justice and proper governance persuasively. Indeed, White's lessons are apt for football to learn after so many years of Sepp Blatter running FIFA like a feudal fief.
After Blatter, a King Arthur character wielding an Excalibur of openness and clarity in football's world governing body would have been welcome. Instead we have Gianni Infantino, whose Disney-villain perma-smile for the cameras disguises deeds of tyranny and favouritism that betray his responsibility to our game.
TH White is buried in Athens, having died aboard a ship stopping over in the port of Piraeus. This is perhaps ironic since all hope for proper governance of FIFA may well be dying in that city too. The most recent cause for concern came this week with FIFA's appointment of Theodore Giannikos, a vice-president of Olympiacos, to one of its most important positions.
Giannikos is a lawyer. He has been an arbitrator with the Court of Arbitration for Sport, a member of FIFA's Disputes Resolution Chamber and a member of the Club Competitions Committee at UEFA. He certainly has an impressive CV. But FIFA has felt compelled to defend his appointment as director of member association services, and for very good reason: a lot of people think it stinks.
Giannikos's appointment to FIFA came immediately following an escalation in what was already a scandalous situation in the Greek game. All domestic football there was suspended last week after the homes of two members of the Central Refereeing Committee received unsolicited visits.
The first was bad enough. With his children in the house, Ioannis Tsachilidis faced masked men who came to his door screaming obscenities and threats at him. Then, just a few days later, the holiday home belonging to the Committee's chairman, Giorgios Bikas, was burned to the ground. Investigators are treating it as arson; both Tsachilidis and Bikas joined their Committee colleague, Dimitris Kalyvas, in resigning from football.
These events make Greece Europe's most lawless football nation. Yet it is to that country that it turns to find a man to take charge of its member associations, a man in charge of granular-level FIFA governance across the world.
But it is not merely that Giannikos comes from Greece that worries people. No, it is rather his long association with Olympiacos, a club I have frequently written about here. To take up the FIFA post, Giannikos quit after nine years as head of legal affairs at the perennial Greek champions. (After only eight games Olympiacos are already seven points clear at the top of the Super League, on course for an inevitable 19th title in 21 years). Giannikos's club position means he is intimately acquainted with all that has been going on in Greek football during his time there and with what his prior employer is currently accused of.
Because it is not small beer. There is an extensive criminal inquiry into match-fixing in Greece under way and the state prosecutor has called for Olympiacos's owner, Evangelos Marinakis, to be placed on remand as he awaits trial. The key allegations in the case are as follows:
Marinakis is among 28 defendants from the top of Greek football accused of involvement in a match-fixing conspiracy that has controlled the game in that country
He is accused of extortion, bribery and fraud as well as leading a criminal operation
His co-defendants include owners, officials, coaches and players from three Super League clubs
Also alongside him in the dock are the former president, legal adviser and three board members of the Hellenic Football Federation, the Greek national association, six referees and two board members of the Central Refereeing Committee
Marinakis and his co-defendants deny wrongdoing and Giannikos is not accused of doing anything wrong. FIFA claims it conducted an "extensive and thorough" recruitment process including "a review of [Giannikos's] background in the football industry" prior to appointing him.
There is nothing at all to say Giannikos has in any way been personally involved in any of the appalling events in Greece but it doesn't look good, does it? It looks particularly bad in the context of the overlap of the people closest to the FIFA president Infantino and the Olympiacos owner Marinakis.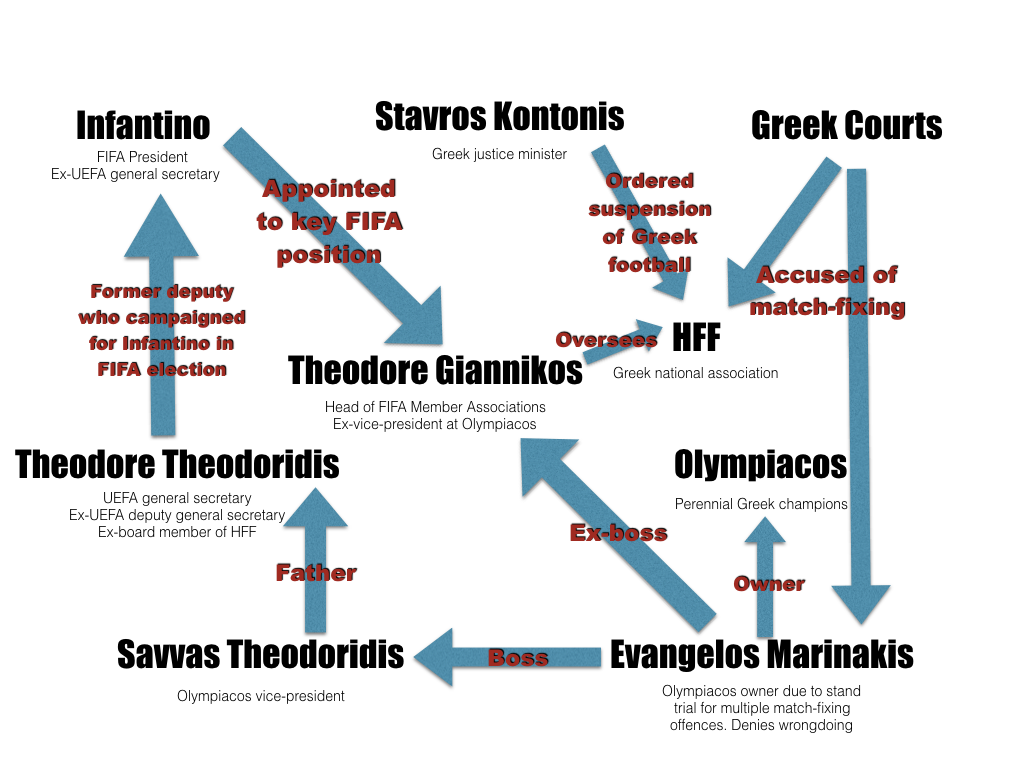 Infantino owes his position as FIFA president in very large part to the influence Theodore Theodoridis brought to bear as his chief lobbyist in Europe, where Theodoridis is UEFA's general secretary. So it is intriguing Infantino should appoint a man who owes so much of his life in football to Olympiacos, a club where Theodoridis's father, Savvas, was his fellow vice-president.
What it now means is that Giannikos is tasked with overseeing the reform of the HFF, which has allegedly been in the grip of Marinakis's match-fixing for so long. This reform may already have begun through the electoral process had Infantino's FIFA not stepped in to introduce a Normalisation Committee there earlier this year, meaning FIFA now effectively has direct control through the appointments it makes. By and large, this places Greek football in the hands of Giannikos.
Now Giannikos's appointment places a super-herculean burden on a man for whom cleaning out the Augean Stables of Greek football would be bad enough were he not a Greek. Do Giannikos and FIFA expect the thugs whose aggressive intimidation drove Tsachilidis and Bikas out of football not to mete similar pressures out to him? How could anyone who has almost a decade-long association with the club whose owner is accused by prosecutors of routinely fixing games in Greece possibly withstand such pressures? Good luck to him if he does.
And what does it mean for FIFA? Like the UEFA International Relations department, which Theodoridis junior used as the platform for his rise to the general secretariat of UEFA, the position Giannikos is taking up is extremely influential. It will put him in regular supervisory contact with every one of FIFA's 211 member associations.
He will be Infantino's ambassador throughout the world, the Lancelot on the round table at FIFA's Camelot in Zurich. What it means is that the FIFA president's powerbase is now firmly rooted in the hands of Giannikos and Theodoridis junior, two men whose bonds to the scandal-ridden Greek club Olympiacos are familial and personal.
If either should ever be tempted to maintain the allegedly criminal status quo in Greek football, will Infantino show signs of being a real king, and execute his friends? With so much of his political capital resting in their hands, what do you think?
Journalist and broadcaster Matt Scott wrote the Digger column for The Guardian newspaper for five years and is now a columnist for Insideworldfootball. Contact him at moc.l1582931731labto1582931731ofdlr1582931731owedi1582931731sni@t1582931731tocs.1582931731ttam1582931731