November 29 – There are more Brazilian players playing outside their home country in Europe's top 31 leagues than any other nation. Though there are more French players playing outside of France in the Big Five leagues than there are Brazilians.
Data released by the CIES Football Observatory finds that there are 469 Brazilians playing in Europe's top 31 leagues with France the next highest with 312. But in the Big 5, France beats Brazil 116 to 114.
Of the Big 5 leagues Spain are ranked third (201 players outside of Spain with 66 playing in the Big 5 leagues), Germany are ranked sixth (149 and 26), England are ranked 11th (105 and 5) and Italy at 23rd (
Serbia rank a very impressive fourth with 189 players plying their trade outside of their country in Europe's top 31 leagues. The second top South American nation in the table is Argentina with 189 players in Europe of whom 89 play in the Big 5 leagues.
The top African nation is Nigeria with 118 players in Europe but only nine in the Big 5 leagues. Ghana, Senegal, Ivory Coast and Cameroon all rank in the 26 exporting countries. Senegal tops the ranking of African countries with players in the Big 5 leagues with 27.
From the CONCACAF region the USA (ranked equal 36th with 33 players) and Costa Rica (ranked 46th with 21 players) make the top 50 list.
From the Asian region Australia is ranked 36th alongside the US and Finland, while Japan is ranked equal 41st with 27 players in Europe. However, Japan has more players in Big 5 leagues with 17 against Australia's six and the US's nine.
See the full listing at http://www.football-observatory.com/IMG/sites/b5wp/2016/167/en/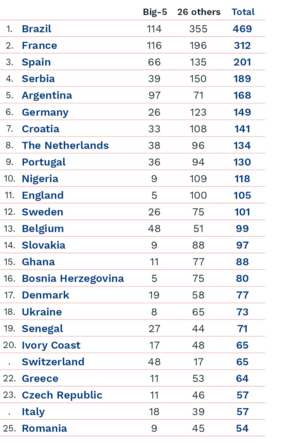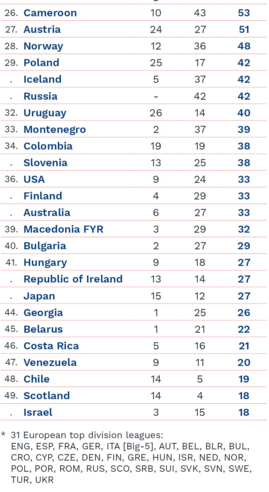 Contact the writer of this story at moc.l1590957923labto1590957923ofdlr1590957923owedi1590957923sni@n1590957923osloh1590957923cin.l1590957923uap1590957923