November 29 – Hull City set a season low attendance record in Round 13 of the Premier League filling just 70.69% of their 25,886 capacity stadium. The 7,500 unfilled seats in Hull made up more than half the 14,266 unfilled seats across the whole Premier League.
Hull have dipped around the 70% mark for much the season. Only Aston Villa, relegated last season, recorded a lower percentage last season and that was only at the end of a brutal campaign that had seen fan disillusionment with the club's ownership, management and players see them heading for the exits.
Villa, like Hull, were desperately searching for new owners. The worrying issue for Hull is that while the fans know new owners are in the wings, their failing support is doing little to encourage the deal to close. Hull are third from bottom of the Premier League and just one point of the safety positions – a far from hopeless or helpless position.
In contrast the top four clubs in the weekly attendance table – Man Utd, Leicester, Chelsea and Arsenal – all reported capacities over 99% full. Though Arsenal's reported figure looks more like tickets sold than actual attendance and TV pictures once again showed large numbers of empty seats for their home win again Bournemouth.
All nine teams ahead of Hull reported over 92% of their stadia full, eight of them over 95%.
Insideworldfootball figures are based on official ground capacities and reported attendance figures. No allowances are made for seat kill due to media requirements or safety reasons.
Premier League attendance figures, Round 13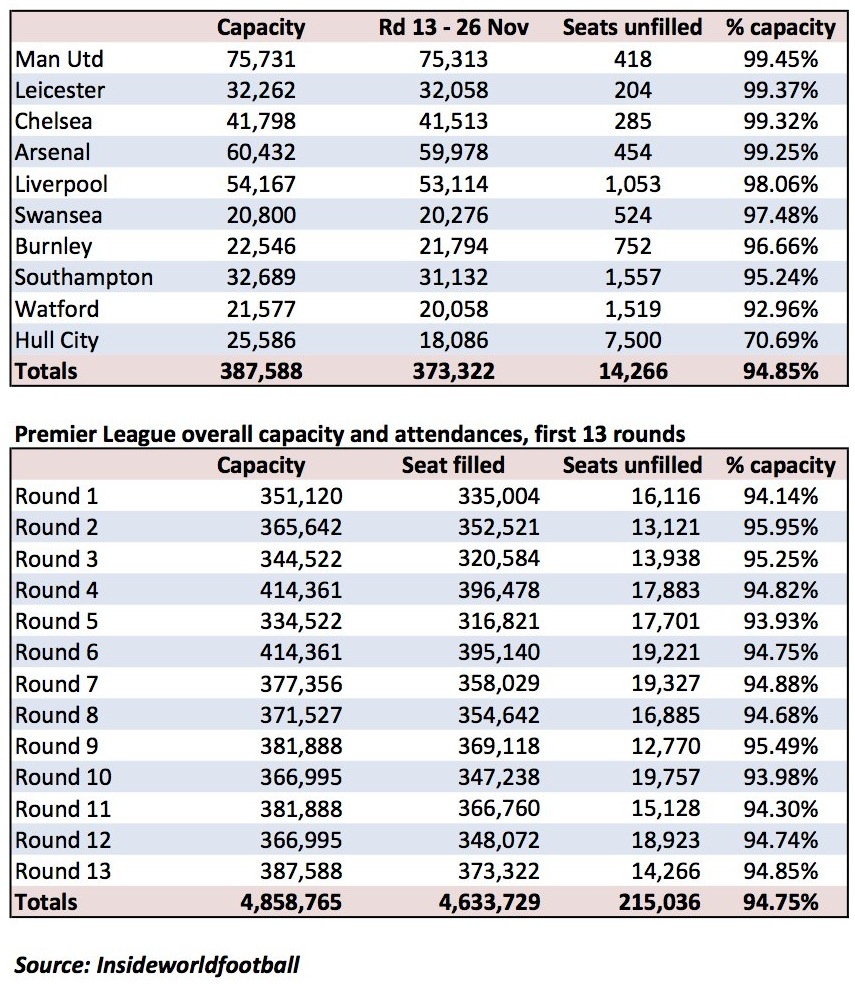 Contact the writer of this story at moc.l1548234929labto1548234929ofdlr1548234929owedi1548234929sni@n1548234929osloh1548234929cin.l1548234929uap1548234929