December 7 – West Ham topped the weekly attendance table for their home game against Arsenal, with just 20 seats left unfilled in the London Stadium. Plagued by fan violence at earlier home games, Hammers fans have not been put off supporting, especially for the local derby against Arsenal.
Everton also had their highest attendance of the season with just 31 seats unfilled at Goodison Park for their 1-1 draw with Manchester United.
Overall Premier League attendances were slightly down for the first home fixtures of December, though both north-eastern clubs Middlesbrough and Sunderland accounted for 15,625 of the 23,027 unfilled seats across the Premier League. West Brom accounted for another 4,606 unfilled seats.
Those three clubs made Round 14 the lowest average capacity for the Premier League so far this season. The league is now close to having sold 5 million tickets for the season so far.
Tonight Spurs return to Wembley for their final Champions League group game which they need to win if they are to qualify for the Europa League. At the weekend they had no trouble filling their reduced capacity White Hart Lane stadium.
Some tickets are still on last minute sale for the Wembley match which will be filled by more than double the number of fans who saw the thumping 5-0 win over Swansea at the weekend. Spurs manager Mauricio Pochettino will be hoping that his team can put on a show on the bigger stage.
Insideworldfootball figures are compiled from the official stadium capacities and the official reported match day attendances. No allwances are made for seat kills due to media or security requirements.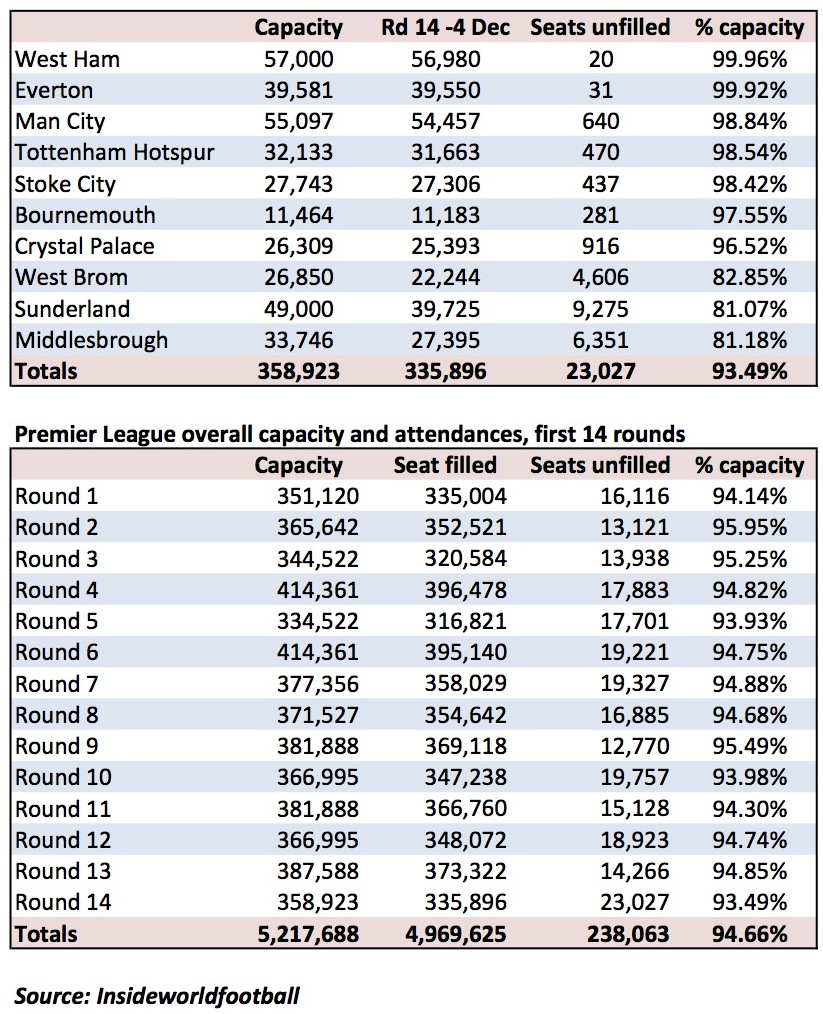 Contact the writer of this story at moc.l1539972035labto1539972035ofdlr1539972035owedi1539972035sni@n1539972035osloh1539972035cin.l1539972035uap1539972035