December 12 – Chelsea topped the Premier League and its attendance table this weekend, with just 176 seats unfilled at Stamford Bridge, the club's second best capacity of the season after opening day when just 156 seats were unfilled in what has been another season of sell-outs.
Manchester United, Arsenal and Leicester City also filled their grounds to more than 99% of capacity, while Swansea, Liverpool and Watford were all over 96% full.
Despite these remarkable attendances two weeks before a packed Christmas schedule, overall the Premier League's average percentage capacity of stadiums filled dropped to the lowest of the season, mainly due to Hull City's horrific 68.02% capacity attendance.
Hull accounted for 8,183 unfilled seats out of the Premier League total of 18,407. If you remove Hull from the overall equation it would have been a record weekend for the Premier League in terms of the lowest number of seats unfilled – 10,224.
The Premier League is entering its own mini-whirlwind of pre-Christmas fixtures before the Christmas programme begins its frenetic rounds of fixtures on Boxing Day – the storm before the storm of three rounds in eight days.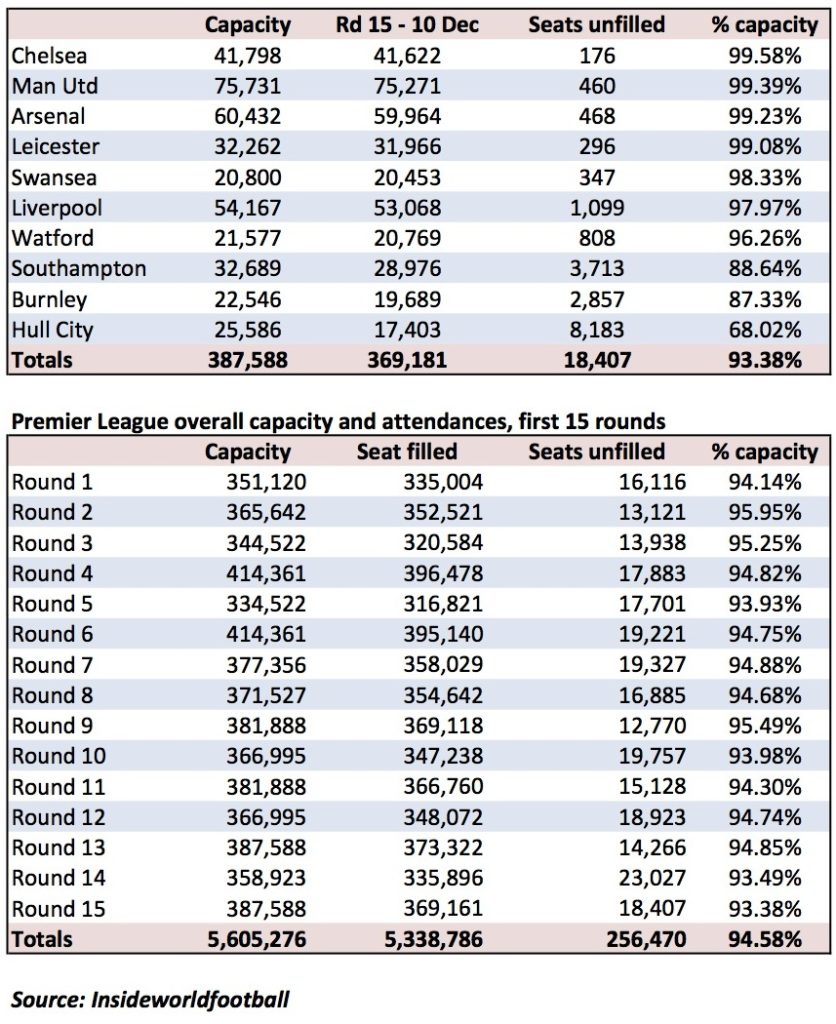 Contact the writer of this story at moc.l1540026114labto1540026114ofdlr1540026114owedi1540026114sni@n1540026114osloh1540026114cin.l1540026114uap1540026114