December 23 – Argentina, whose national association is under the control of a FIFA normalisation committee, will at least finish the year as the world's number one nation on the pitch, according to the final FIFA/Coca-Cola World Ranking for 2016.
Argentina, who failed to win their regional championship (the Copa America played in the US) won ten of their 15 games in 2016, losing three times and drawing twice. They take the year end top spot from Belgium, who also failed to win their regional championship.
Brazil finished the year in second place – they were knocked out at the group stage of the Copa America but picked up form at the end of the year in World Cup qualifying matches.
The biggest mover up the ranking table in terms of points was France who lost in their home Euros to Portugal – the only game they lost in 17 matches played in 2016. They finished sixth in the ranking, one spot above Portugal. World Champions Germany were Europe's highest ranking team in third place.
Guinea-Bissau (68th, up 78 since December 2015) were the highest mover up the rankings in terms of position, followed by Curaçao (75th, up 76 over the past year) are the biggest winners of 2016. Guinea-Bissau have qualified for their first-ever CAF Africa Cup of Nations.
The regional composition of the top 50 has changed over the year. Asia now has four teams in the top 50 (up 3), at the expense of Europe (28, down 1), Africa (7, down 1), and CONCACAF (3, down 1). Eight of the 10 CONMEBOL nations are in the top 50.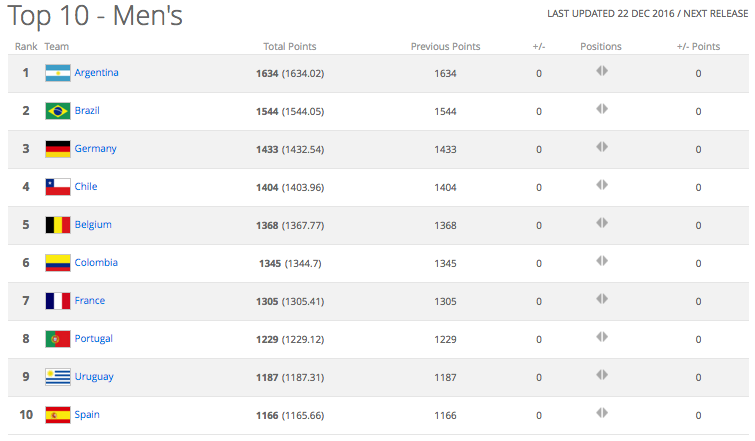 View the full rankings tables at http://www.fifa.com/fifa-world-ranking/index.html
Contact the writer of this story at moc.l1610954092labto1610954092ofdlr1610954092owedi1610954092sni@n1610954092osloh1610954092cin.l1610954092uap1610954092