January 3 – After the famine came a feast. With Premier League fans made to wait for seven days before festive football came to their stadia, they are now engulfed in a jam-packed schedule that saw Round 19 fixtures on December 31, roll straight into Round 20 fixtures on January 2.
Chelsea topped the Round 19 stadium stats with just 197 unfilled seats at Stamford Bridge. Leicester City, Manchester United and Arsenal all reported over 99% of the stadium capacity full, with just 12,100 seats unfilled across the league.
5,475 of those unfilled seats were at Hull City who filled just 78.6% of their ground capacity. The City is the UK's City of Culture in 2017 – perhaps that will encourage more visiting away fans to fill up the empty spaces at the beleaguered football club that is batting on the pitch to avoid relegation back to the Championship and in the boardroom to secure long-awaited new owners.
Every other club filled over 93% of the stadium capacities – the second most successful week for the Premier League after its Boxing Day bonanza.
Early signs are that there is a slight drop-off in attendances in round 20 fixtures. Three more fixtures will be played tonight with the biggest match-up of the round being Spurs vs Chelsea on Wednesday night. The Premier League will then go on hold for FA Cup matches before resuming on January 14.
The Insideworldfootball.com stadium stats are compiled from the official stadium capacities and official reported attendance figures. No allowances are made for seat kills due to safety reasons or media requirements.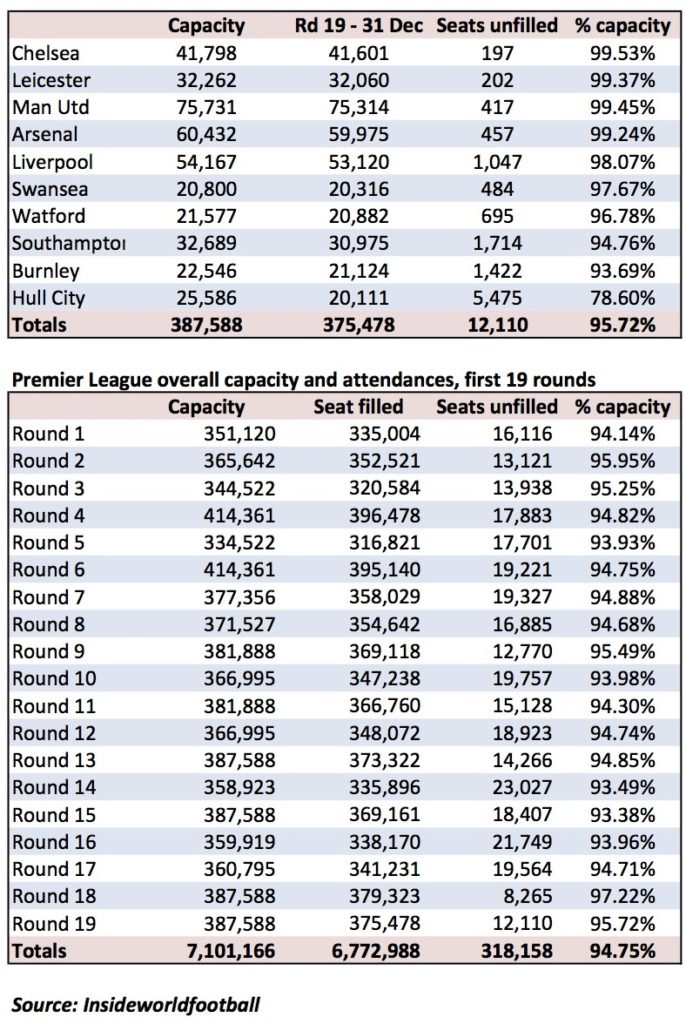 Contact the writer of this story at moc.l1539995936labto1539995936ofdlr1539995936owedi1539995936sni@n1539995936osloh1539995936cin.l1539995936uap1539995936