January 16 – A return to Premier League football after FA Cup fixtures marked a return to sell out crowds at seven Premier League stadia. Swansea, West Ham, Man Utd and Leicester again recorded over 99% of their stadiums full.
At the other end of the table Hull City's protesting fans saw 7,623 empty seats in their 25,586 capacity stadium. Sunderland had 6,723 empty seats in their 49,000 capacity Stadium of Light.
Hull and Sunderland have different issues in terms of filling their grounds but a look at the English Football League might provide them with some food for thought in terms of guaranteeing higher capacity. Sales of junior season tickets in the EFL have risen by 37% in the past 10 years, and the EFL says 20% of all fans attending matches in the Football League are now aged under 16.
The Premier League is now losing in on 8 million tickets sold this season – an average ground capacity of 96.76%.
Insideworldfootball figures are based on official reported capacities and official stadium attendances. No allowances are made for seat kills due to media or safety requirements.
Premier League attendances, Round 21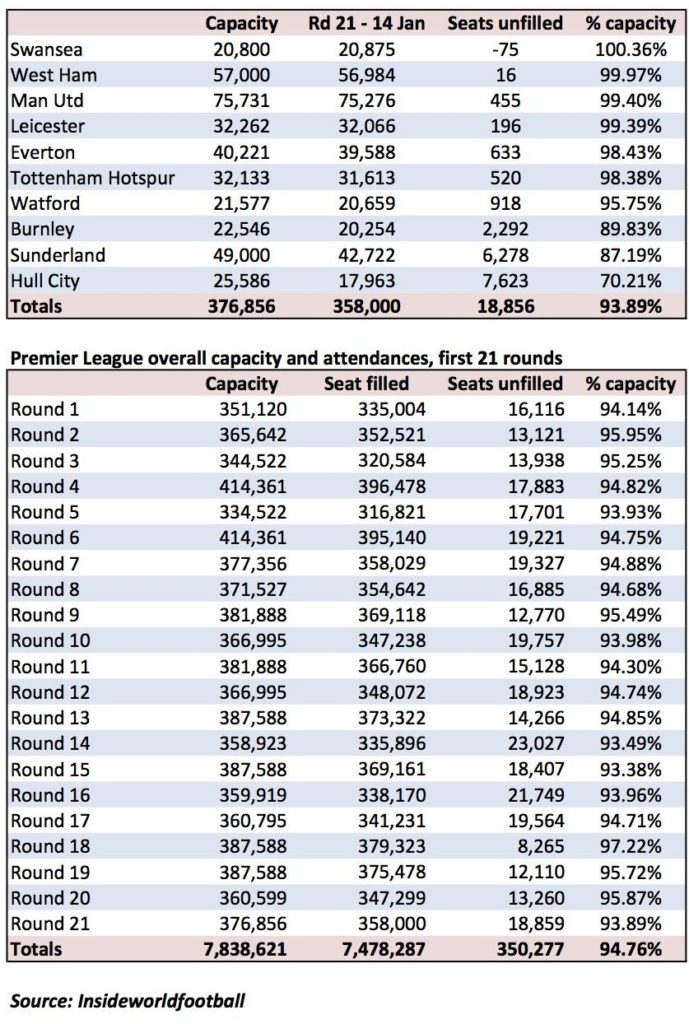 Contact the writer of this story at moc.l1540027653labto1540027653ofdlr1540027653owedi1540027653sni@n1540027653osloh1540027653cin.l1540027653uap1540027653