By Paul Nicholson
April 13 – The last eight teams in the Champions League quarter finals show a disparity of income that would indicate the 2017 winners will almost inevitable be one of Real Madrid, Barcelona or Bayern Munich. But with Juventus taking a three goal lead into their second leg at Barcelona and Real Madrid or Bayern destined to knock one or the other out, the comparative have-nots might still have their day.
Analysis by the KPMG Football Benchmark team compares the business performance of the eight teams and finds a disparity between the clubs that shows "the combined operating revenues of Atlètico de Madrid, Leicester City and AS Monaco (€479 million) is more than €100 million lower than Bayern's alone."
Football Benchmark attributes the disparity partially to international revenue with the three bigger clubs exploiting their brands overseas in contrast to  "Juventus FC (57%), Atlètico de Madrid (63%), Leicester City FC (73%) and AS Monaco FC (58%), who show a heavy dependence on revenues from domestic competition's broadcasting and UEFA Champions League participation."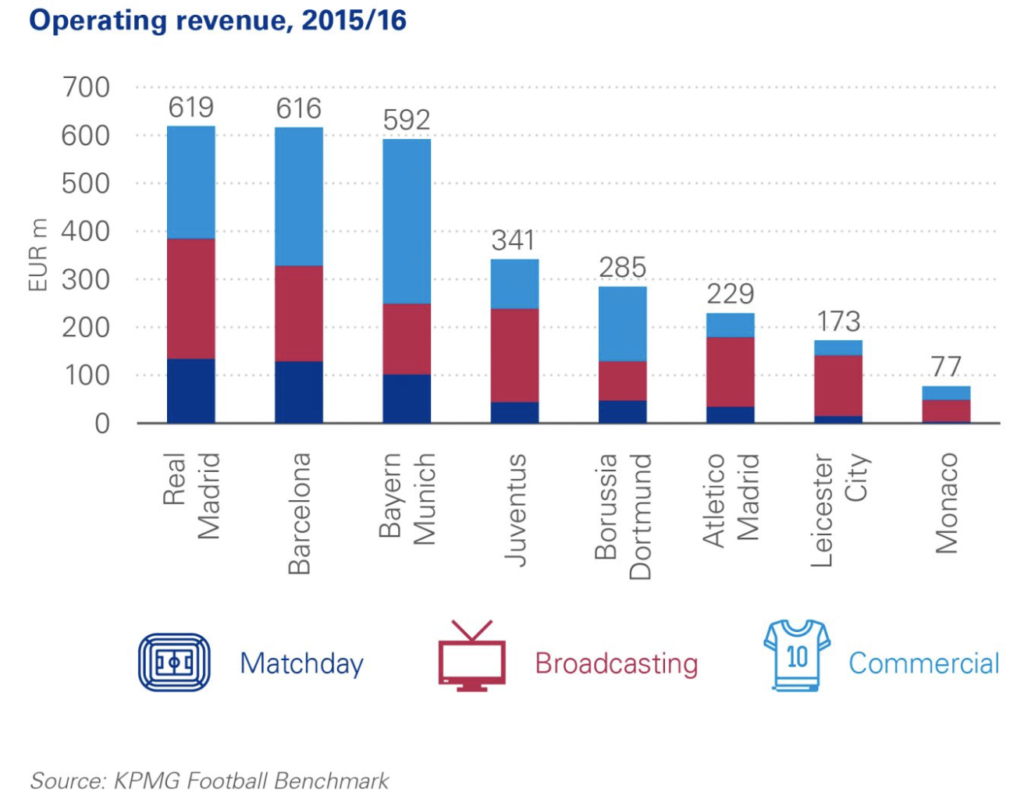 While the higher revenue figures give an ability to pay the highest player wages and are a key determinant of success, Leicester City and AS Monaco show that it is possible to compete on less income.
AS Monaco, who have focused on the scouting and development of players, were the only club to beat an opponent with higher revenues in the Round of 16 (Manchester City – €524 million). Leicester's Premier League winning season saw expenditure on wages 32% and 66% less than title contenders Manchester City and Manchester United respectively.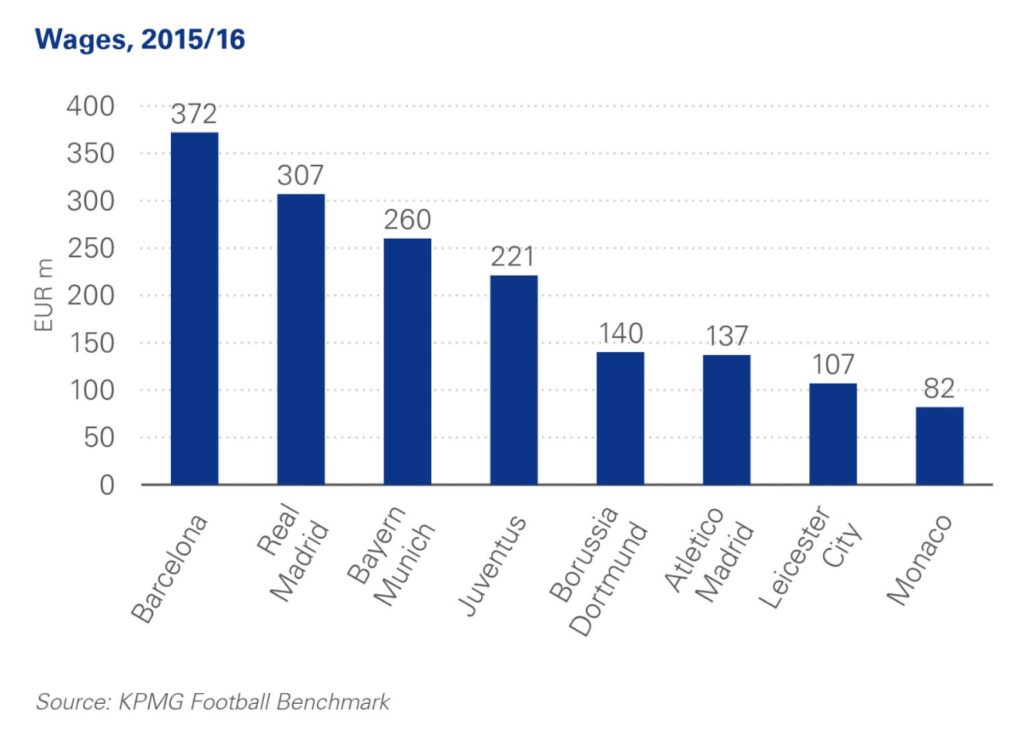 Football Benchmark focuses on the insights provided by comparing wages and squad market value. "One of the most interesting cases is provided by Atlètico de Madrid, especially when compared to Juventus FC. Despite paying out 38% less in wages than the Bianconeri in 2015/16, the Colchoneros have the same squad market value, showing a more efficient spending in this regard. This "smart spending" has helped Atlètico to win the LaLiga title in 2014 and to reach the UEFA Champions League final twice in the past three seasons," says the report.
Player trading activity is also key to success and the authors point to Borussia Dortmund as "the best performers with a net positive player trading activity of € 28 million. Indeed, Borussia have specialised in attracting and developing young talents who they are after forced to sell to domestic and international peers, most notably FC Bayern Munich (such as, for example, Mario Götze), that can afford a more competitive wage bill."
KPMG has developed its own valuation of clubs, what it calls Enterprise Value.  Based on this valuation "only four of the top 10 most valuable clubs, namely Real Madrid CF (1st), FC Barcelona (3rd), FC Bayern Munich (4th) and Juventus FC (9th) have actually reached the quarter finals of the UEFA Champions League this year."
But the smart money would be on one of those teams walking away with the big prize at the end of the season.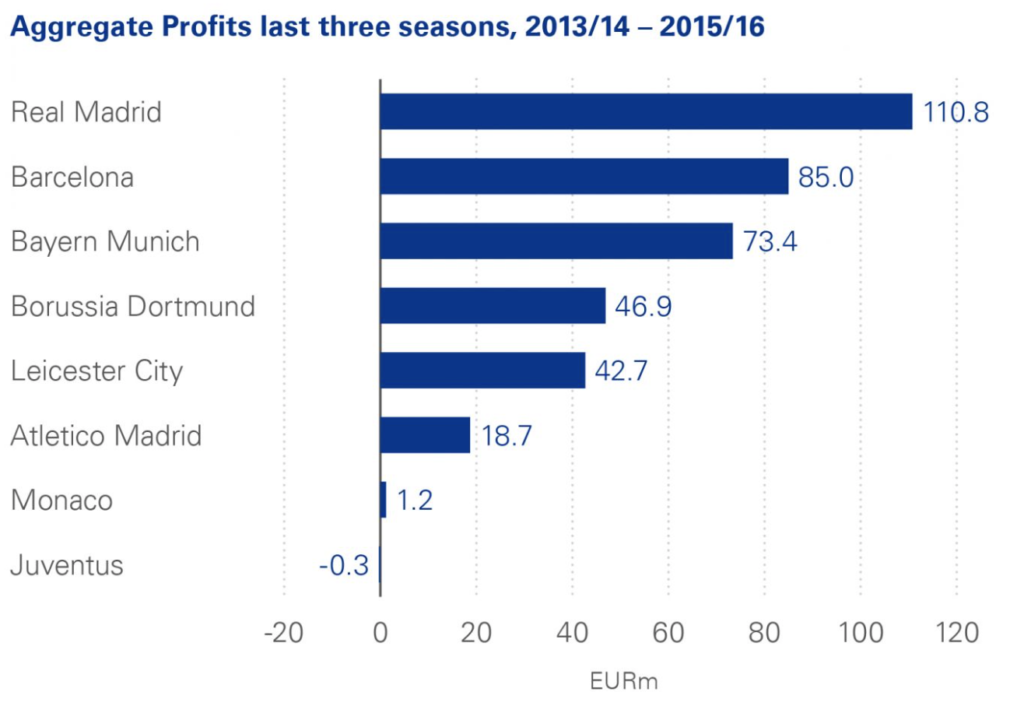 See the full report at https://www.footballbenchmark.com/ucl_qf
Contact the writer of this story at moc.l1631949055labto1631949055ofdlr1631949055owedi1631949055sni@n1631949055osloh1631949055cin.l1631949055uap1631949055