By Paul Nicholson
May 18 – Qatar will re-open the Khalifa International Stadium this weekend, the first tournament-ready venue for the first winter World Cup that kicks off 21 November 2022. Khalifa International will host group matches and knock out rounds up to the quarter finals in 2022, but before then it will host the 2017 Emir Cup final, 2017 Gulf Cup and 2019 IAAF World Championships.
The stadium has undergone an extensive renovation expanding it to more that 40,000 seats and including ground-breaking cooling technology that will keep the pitch at an optimum 26°C and the stands at 24-28°C year-round while using 40 percent less energy than traditional cooling methods.
Hassan Al Thawadi, Secretary General of the Qatar Supreme Committee, said: "The completion of our first stadium more than five years before the Qatar World Cup begins is an important milestone that reflects our determination to deliver a tournament the entire Arab world is proud to be a part of. As we promised in our bid, our innovative stadiums offer an unrivalled experience to fans and players alike. I'm proud we can show these off to the world and welcome fans with the hospitality this World Cup will be remembered for."
Khalifa International Stadium has a special place in Qatar's sporting history, having been
originally built in 1976 to host the Gulf Cup. It saw Qatar's first national competition triumph in the the 1992 Gulf Cup as well as being the venue in which Saudi Arabia qualified for their first ever FIFA World Cup in 1994. In 1995 the stadium hosted the FIFA World Youth Championship at only three weeks' notice. It was renovated in 2006 as the centrepiece of the Asian Games.
Located in the Aspire Zone, the revamped stadium has had the installation of a larger roof over the spectator area – 92 panels are held in place by a net of German and Italian-made steel tension cables weighing 4,000 tonnes – while it will also be the first FIFA World Cup venue and the first stadium in the region to be lit by LED lighting, a more sustainable and versatile technology than traditional lighting.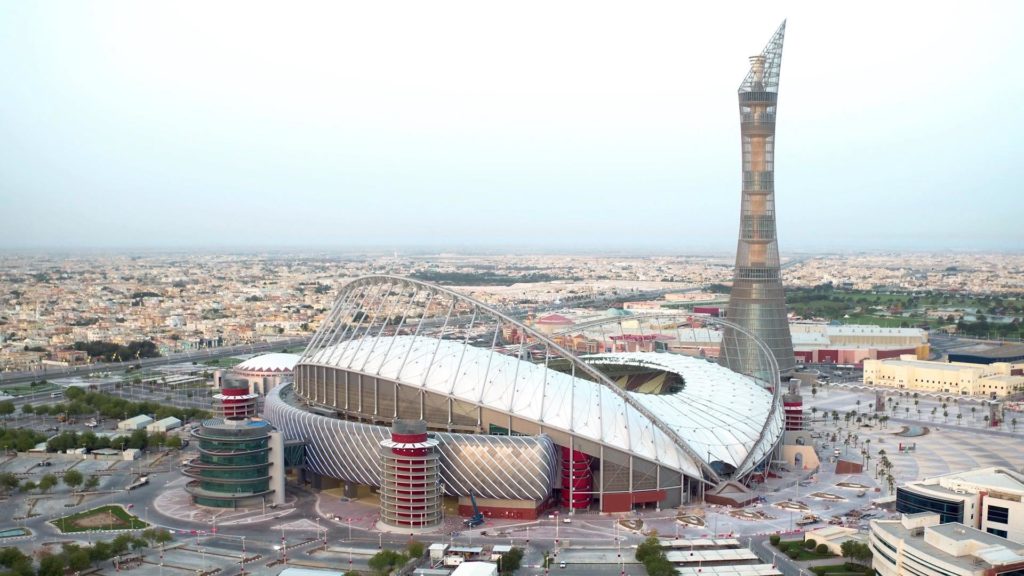 During the World Cup fans will also be able to travel to the venue via a dedicated metro station on Qatar's national metro project, QRail. Once completed, Qatar's tournament infrastructure will keep journey times between all stadiums and accommodation locations below one hour.
Hilal Al Kuwari, Chairman of the Technical Delivery Office at the SC, said: "It will be a proud moment for my team when the first ball is kicked here on Friday and I know all of Qatar appreciates the efforts of those who have helped deliver such an impressive venue…We still have seven stadiums underway, all due to be completed well in advance of the tournament, but this is a great demonstration of our progress."
The opening event this Friday will be the final of the Emir Cup between Al Sadd and Al Rayyan. A fanzone will open at 15:30 on Friday, offering cultural programmes and a food festival to spectators and their families.
Contact the writer of this story at moc.l1544639745labto1544639745ofdlr1544639745owedi1544639745sni@n1544639745osloh1544639745cin.l1544639745uap1544639745