By Paul Nicholson
August 10 – West Ham are the most expensive club for an adult and two children to watch top flight Premier League football, costing £150 for the three-person outing. In contrast the same outing to Bournemouth would cost £44, and £47 at Newcastle.
With Premier League clubs generally operating at full capacity it seems the economic law of price being dictated by of supply and demand is only operating in London where West Ham are followed by Arsenal as the second most expensive at £113.50 and Chelsea at £100.
The analysis of the cost of attending football in the Premier League by Liverpool University football finance expert Kieran Maguire looked at prices being charged by clubs for the forthcoming season to see different strategies being employed in terms of clubs.
Clubs have "different strategies depending upon the extent of the fanbase, and how tolerant fans are of paying different prices to watch different opposition," said Maguire.
"We have therefore contrasted prices charged when the opposition is a glamour club (Manchester United, Liverpool, Chelsea etc.) or a small club, such as Crystal Palace. Some clubs (Liverpool, Burnley, Bournemouth, Huddersfield for example) charge identical prices regardless of the opposing team," he said.
Cost of attending Premier League football – Glamour clubs vs Glummer clubs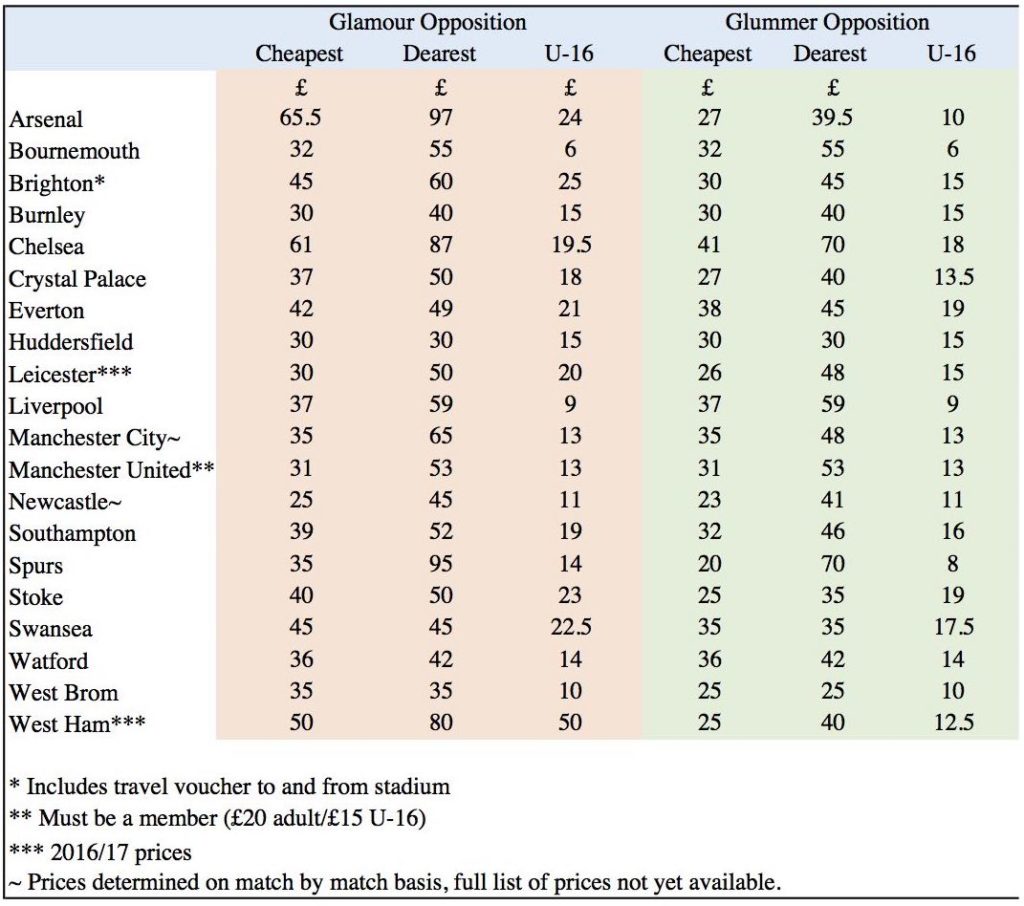 Maguire points out that some of the clubs with very large fanbases "restrict the number of season tickets sold to increase the chances of other fans seeing their team at the home ground.
"This might initially appear very noble, but from a financial perspective these irregular fans are also more likely to buy merchandise when they visit the stadium. This means their total spend at a match is considerably lower than that of a season ticket holder."
Maguire also points to the large and growing market for football tourism as a factor in changing the match day ticketing landscape. With match day tickets being sold as part of high value travel packages for overseas visitors and fans (to London and Manchester in particular), the impact will likely reduce the number of tickets coming available on the open market as clubs take the higher money for the seat from the travel packages.
Source: all tables and charts Kieran Maguire
With most clubs having already capped season ticket prices, and those allocations generally selling out, Maguire concludes that "football has reached a ceiling in terms of the prices charged to many who love the game and want to see their team." For fans that do want to go, getting ticket availability will likely be as challenging as paying the price demanded.
Contact the writer of this story at moc.l1594440509labto1594440509ofdlr1594440509owedi1594440509sni@n1594440509osloh1594440509cin.l1594440509uap1594440509