August 11 – Premier League title contenders will be anxious to ensure good starts to the season. 70% of title winners in the last 20 seasons have been in the top four after just five games.Chelsea, who face Tottenham, Everton and Arsenal in their first five games could be in a make or break position before the end of September.
The odds are even higher stacked to a good start taking into account 90% of winners have been in the top four after 10 games.
Of the leading title contenders Manchester United look to have the easiest opening season, only facing Spurs and Liverpool out of their realistic title contenders, in their first 10 games. Pressure will be on them to rack up the points.
Bookmaker bwin has looked at the last 20 years in the Premier League to assess where teams should be after 5 and 10 games if they are to win the league, qualify for Europe and avoid relegation.
Among their finds are that:
Only 15% of title winners have been 7th or lower after just 5 games – Manchester United are the only club to achieve this feat, doing it in 2002/2003, 2007/2008 and 2008/2009
54% of teams that are in the top 4 after 5 games, finish in a Champions League spot – Everton face Manchester City, Chelsea, Tottenham and Man Utd in their first 5 fixtures, suggesting they could struggle to break the stranglehold despite their spending
1% have finished in the top 4 after being in the bottom half after 10 games – Liverpool are the only club to achieve this feat, rising from 11th to 4th in 1999/2000
42% of teams to be relegated from the Premier League are already in the bottom 3 after 5 games – with Swansea facing Tottenham, Manchester United and Southampton in the opening 5 games, it could be an uphill struggle from early on
Only 8% of teams to be relegated from the Premier League were in the top half after 5 games – Blackpool (2010/11) and Norwich (2015/16) were both sitting pretty in 9th after 5 games but went on to get relegated
Bwin also compared the opening performances against other European leagues and found:
Only 25% of title winners are top after the first 5 games in the Premier League – every other league is decided earlier, with 45% of Bundesliga title winners already top after 5 games
Only 8% of teams to finish in the top 4 were in the bottom half after 5 games in the Premier League – every other league is more likely to have a breakthrough from the bottom half, with a high of 23% of Ligue 1
53% of teams to be relegated from the Premier League are already in the bottom 3 after 10 games – La Liga is far less predictable, with only 33% of relegated teams already in the bottom 3 after 10 games
See the full infographic at https://sports.bwin.com/en/news/football-betting/how-important-is-a-good-start,131388.html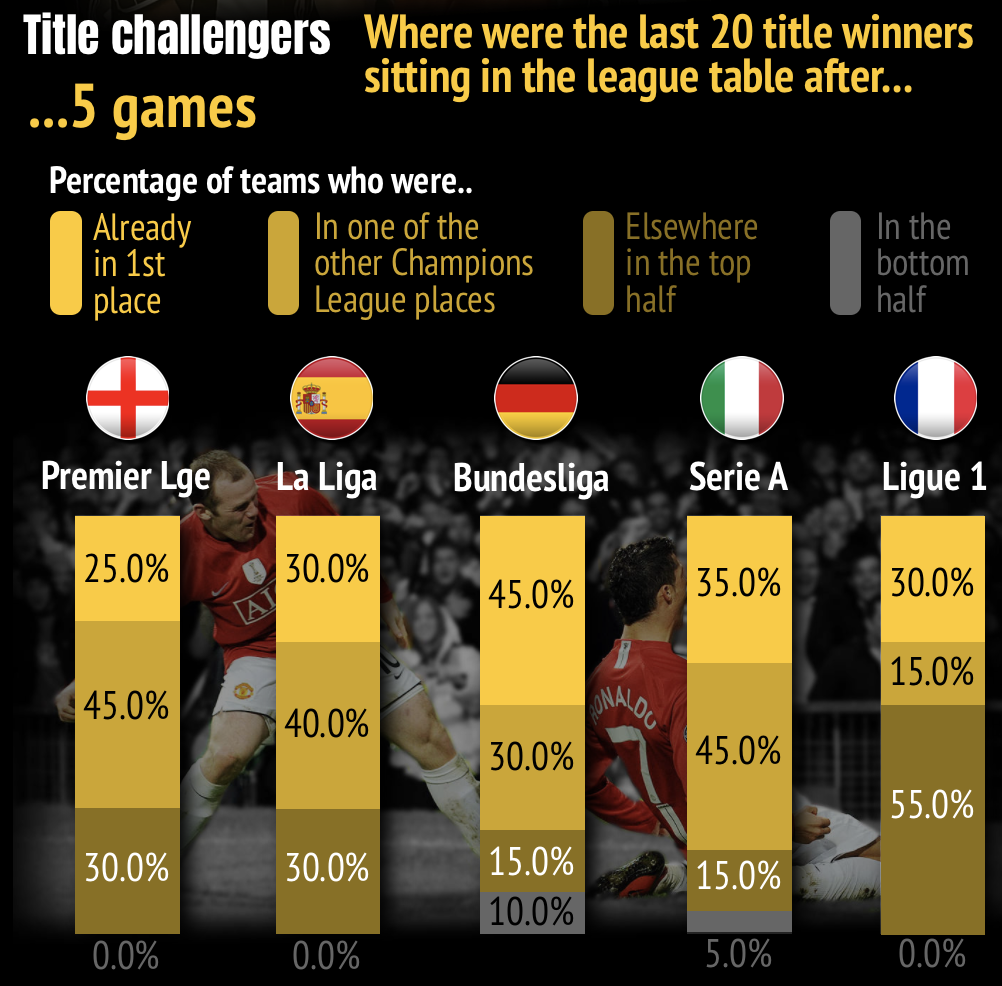 Contact the writer of this story at moc.l1527340884labto1527340884ofdlr1527340884owedi1527340884sni@n1527340884osloh1527340884cin.l1527340884uap1527340884