September 6 – Portuguese clubs Benfica and FC Porto top a ranking of clubs that have traded most profitably over the last year. Manchester City, PSG and Manchester United come bottom of the table.
The ranking, compiled by KPMG Football Benchmark, calculates the club player trading balances using the sum of profit/loss on disposal of players, amortisation and revenue/costs associated to loaned players.
The research finds France's Ligue 1 as the most represented league with six clubs in the top 20, Italy's Serie A has five, whilst there are no club's from England's Premier League in the to 20.
Andrea Sartori, KPMG's Global Head of Sports and the report's author, said:"Possibly unsurprisingly, no English clubs are included in the 'European Top 20' by player trading. This is likely attributable to the profile and sizeable broadcasting income of the Premier League and the greater means they enjoy compared to many of their European counterparts. Such features rather place them on the 'buy side' of the market and to some extent remove the necessity to leverage player trading activity. Interestingly Dutch clubs, which have traditionally produced an abundance of talent, are also missing from our ranking.
"As transfer fees continue to increase, 'net sellers' maintaining prolific academies and successful scouting networks might be in position to further exploit this competitive advantage. On the other hand, for the biggest European football clubs, who are intrinsically part of the global entertainment industry, attracting the best talent is an absolute must to ensure a competitive advantage against their peers on and off the pitch and to grow their global fan base."
Bottom of the ranking with the highest negative trading balances are and defined as 'net buyers', are Manchester City (- €171.9 million), Paris Saint-Germain FC (-€179.4 million) and Manchester United FC (- €238.9 million).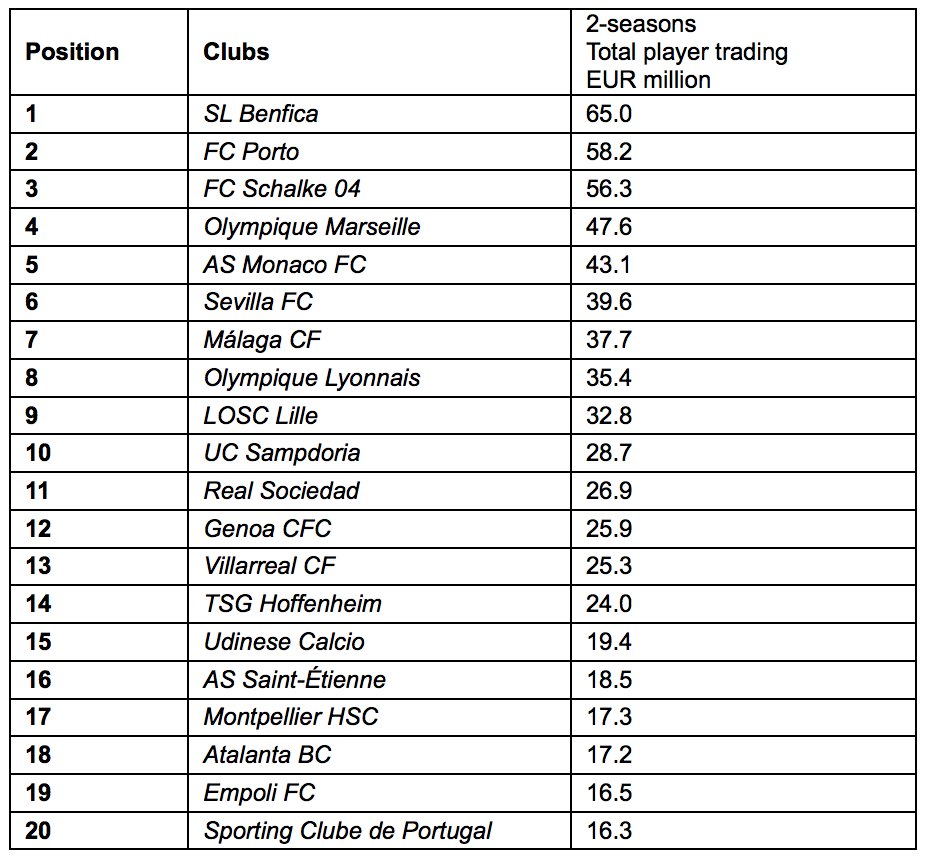 Contact the writer of this story at moc.l1548245249labto1548245249ofdlr1548245249owedi1548245249sni@n1548245249osloh1548245249cin.l1548245249uap1548245249