By Mark Baber
February 14 – An updated study of Stadium Naming Rights by Duff & Phelps, the global valuation and corporate finance advisor, finds market rates of Premier League stadium naming rights  have increased by over 80% over the last four years – rising from £74.6 million in 2013 to £135.6 mllion in 2017.
According to the study, Manchester United's Old Trafford ground is the "most valuable stadium" of 2017 and if Manchester United were to offer seasonal naming rights for the Old Trafford stadium, this could generate £26.2 million per season, £7.1 million more than that of neighbouring Manchester City.
The authors find that the "top six clubs who regularly play in European competitions account for over 77% of the £135.6 million potentially attributable to seasonal Premier League naming rights. The two Manchester Clubs alone generate over 33%, and the five London clubs over 40% of the total."
Commenting on the findings, Trevor Birch, managing director and head of UK Sports at Duff & Phelps, said: "Sponsorship demand for the content rights of the top clubs in the Premier League shows no sign of abating. We have seen enormous increases in rights values of the elite clubs over the last couple of years, especially regarding shirt branding and product endorsement. Although the UK hasn't embraced stadium naming rights as enthusiastically as the United States, its potential to become an important revenue stream is highlighted by these figures.
Clubs are continually looking at ways to generate extra value, and given the gilt-edged international demand for the Premier League TV rights, we may be entering a period where we start to see clubs monetizing their stadium rights. This is potentially a huge opportunity for clubs, with 40% of Premier League clubs, including Arsenal, Man City, Leicester, Stoke City, Brighton and Hove Albion all granting stadium naming rights to their grounds in recent years."
Duff & Phelps Premier League Stadium Naming Rights valuation league table: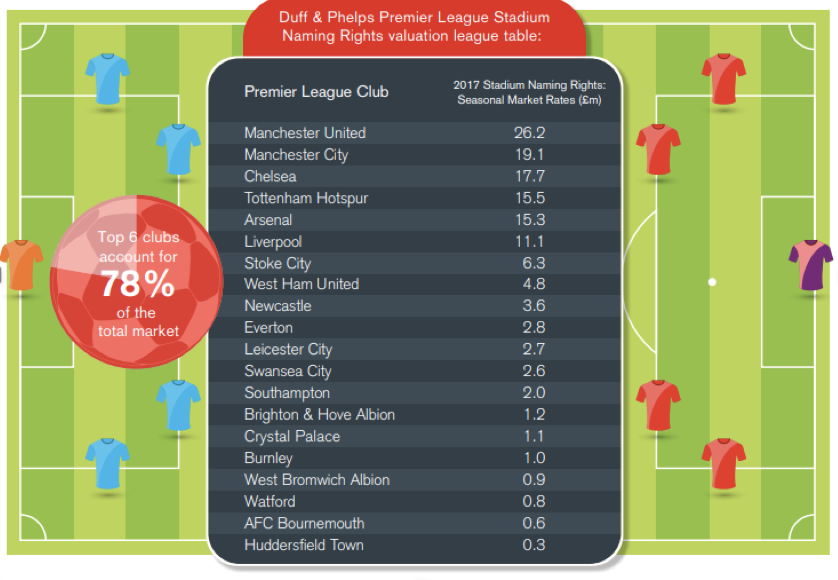 According to the study notes, the research, which was based on secondary sources, was conducted in December 2017, with the valuation metric including shirt sponsor and technical partner values, social media followers, TV rights and current naming values in addition to transfer spend and team performance over the past three seasons.
Birch admits the valuations produced by the study are "not an exact science" but were "potential, theoretic valuations that might not be achievable on the market."
Although the valuations provided by the survey may provide a yardstick, and may also annoy fans of certain clubs, in the real world the actual negotiations between sponsors and clubs are likely to include a large number of factors which are not captured in the Duff & Phelps valuation metric.
Contact the writer of this story at moc.l1550597828labto1550597828ofdlr1550597828owedi1550597828sni@r1550597828ebab.1550597828kram1550597828