By Paul Nicholson
August 16 – Pirate satellite broadcast beoutQ, which has been stealing the rights to beIN Sport broadcast content, has continued where it left at the World Cup, with every game of the first Premier League weekend stolen and broadcast via the Arabsat satellite. beoutQ also stole six of the 10 opening games of France's Ligue 1, including PSG vs Caen.
Pressure has been increasingly put on the Saudi Arabian government to bring their power to bear with UEFA, FIFA, the tennis authorities and Formula 1 all condemning beoutQ. The Saudis claim there is little they can do as, they say, the pirate broadcaster is based in Colombia and Cuba and so is outside their country, as are its broadcasts.
But new reports from digital security, and technology companies, Cisco Systems, NAGRA and Overon have today confirmed with technical evidence that proves beyond any doubt the involvement of Riyadh-based Arabsat. Arabsat is 36.7% by the government of Saudi Arabia.
In the past Arabsat has switched off pirate operations in accordance with international law. However, with the current blockade of Qatar, led by the Saudis, there has been a refusal to switch of the distribution signal and sports rights have become a pawn in a wider geo-political agenda.
Ultmately beoutQ has been allowed (and seemingly actively encouraged) to continue its illegal operations that are now bringing an added unstability to a disrupted sports rights market worldwide.
Tom Keaveny, managing director of beIN MEDIA GROUP, MENA said, "The political games being played by Arabsat, beoutQ and its Saudi backers in stealing our content have consequences that affect the future of world sport, not just beIN SPORTS."
The evidence placing beoutQ operating from Saudi Arabia include the validation of satellite subscriptions from a Saudi IP address; subscriptions priced in Saudi riyals only; and its channels carry advertising for numerous Saudi brands.
beoutQ on its own social media channel lists the specific Arabsat frequencies on which it is available.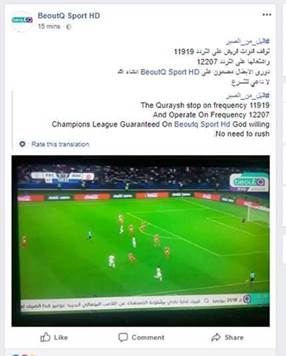 beoutQ on its Facebook page says it is broadcast via Arabsat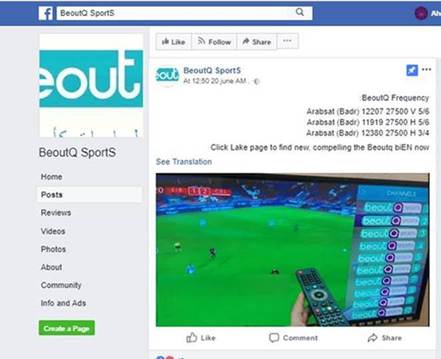 beoutQ on its Facebook page details the Arabsat frequencies on which the channel can be accessed
Saudi claims that it has impounded more than 12,0000 beoutQ set-top boxes – a tiny number in a country of more than 30 million people. Settop boxes are widely available throughout the country from dealers regulated by the Saudi regulatory authority (GCAM). The dealers advertise that the beoutQ channels can be viewed via the boxes and as well as private homes have been installed in cafes, bars, hotels, restaurants, airport lounges, and other public places across the country.
Sophie Jordan, Executive Director of Legal Affairs – General Legal Counsel of beIN MEDIA GROUP said, "The evidence is irrefutable:- the illegal channel beoutQ is backed by Saudi nationals and openly promoted by leading Saudi figures; it is operating with the tacit consent of the Saudi government and its World Cup pirate feeds were viewed on public screens under the responsibility of Saudi authorities across the country… It is time for Arabsat to switch off the pirate transmissions it has supported for almost a year; it is time for Arabsat to be made accountable for facilitating the largest pay tv piracy organisation in the history of pay-TV."
Contact the writer of this story at moc.l1601206160labto1601206160ofdlr1601206160owedi1601206160sni@n1601206160osloh1601206160cin.l1601206160uap1601206160