December 21 – Jadon Sancho, Kylian Mbappé and Raheem Sterling head al list of players whose market value increased most in the past four months, according to data from KPMG Football Benchmark.
Sancho, who debuted for England after the World Cup and is currently playing at Borussia Dortmund leads the way with a €28.2 million increase, followed by PSG and France forward Mbappé (€25 million) and England and Manchester City's Sterling (€24.1 million).
"Although the top 3 are all forwards, the top 10 includes 3 midfielders and 3 defenders, as well. The English Premier League is represented by the most players in the chart (6), followed by the German Bundesliga (2) and the Dutch Eredivisie (1) and French Ligue 1 (1)," say the report authors."
"Interestingly, 5 of the 10 listed footballers are from England, a fact giving credit to expectations that these young talents may bring an even brighter future to English football."
The KPMG´s Football Benchmark Player Valuation Tool provides estimations of professional football players´ market values based on proprietary algorithms. Focussed on Europe's top 11 leagues values are calculated using analysis of past football player transactions taking place during the last six seasons (from 2012/13 to 2017/18), as well as a number of other variables including age, nationality and performance stats.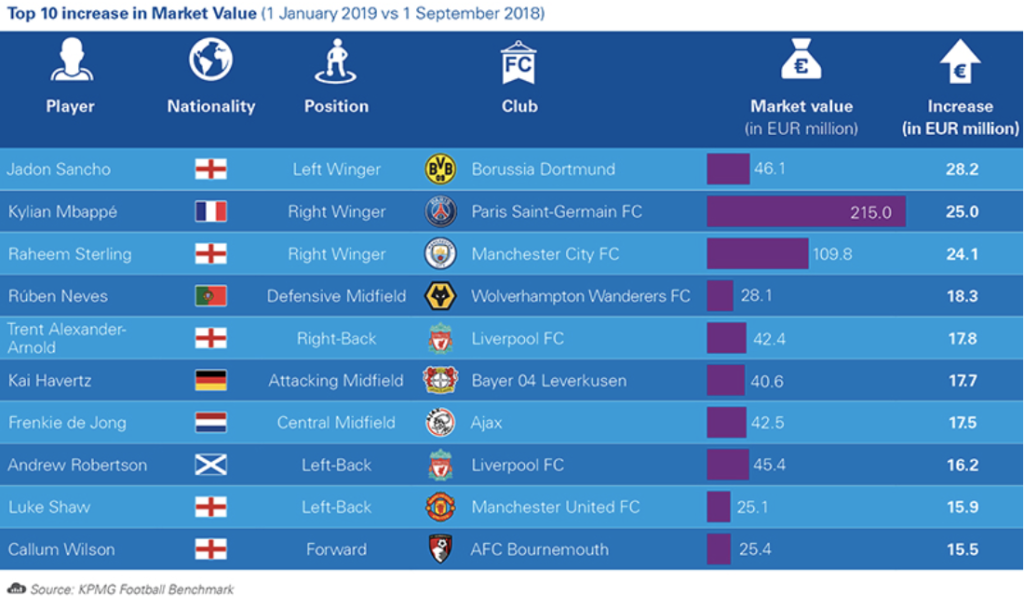 For more information go to https://www.footballbenchmark.com/data_analytics
Contact the writer of this story at moc.l1560929567labto1560929567ofdlr1560929567owedi1560929567sni@n1560929567osloh1560929567cin.l1560929567uap1560929567