By Paul Nicholson in Abu Dhabi
January 17 –Last night Iran and Iraq treated us to a fractious encounter. Two proud nations who have a political history of conflict delivered an at times niggly if not quite full-on encounter. Tonight the Asian Cup delivers War GamesII – Qatar vs Saudi Arabia, the blockbuster game to end the group stages.
Like Iran vs Iraq, both teams have already qualified for the next round. But this is a match-up that has a backdrop of ongoing political conflict with the Saudi lead blockade of Qatar. Whatever the coaches say about only focussing on the game, one match at a time and team development, there is an unavoidable undercurrent that is more than just bragging rights.
Saudi Arabian fans have been arriving in Abu Dhabi for the game over the past 24 hours, room rates in hotels near the ground have tripled and the expectation is that there will be a big turnout of UAE fans to support the Saudis.
Qatar fans will be nowhere to be seen in the Zayed Sports City Stadium. They aren't allowed to travel. The Qatari players, many of them youngsters in football terms, will likely be entering a cauldron of hostility. It will be as much a test of their temperament as their football skills. A world apart from the opulence, luxury and calmness of the Aspire Academy.
Qatar only need a draw to top the group to face Iraq in the next round. The group runners-up will likely face Japan who look set to top their own group. So there are plenty of football reasons to play for beyond the geo-politics.
Both Saudi Arabian coach Juan Antonio Pizzi (pictured) and Felix Sanchex of Qatar have said they  are playing to win – it would be sad if they weren't.
"I have never played a match in anticipation of who our next opponents will be and that is exactly how we will go into the match tomorrow," said Pizzi.
"We have maximum confidence in the players and have no preference as to who we could play in the Round of 16. We have an ambition to win the title and every match is equally difficult."
Sanchez said they had prepared for the match just as they did for the group games against Lebanon and DPR Korea. "We are doing exactly the same as we have for the other games but we know it is a match which will decide top spot. We will plan well, as we did for the other matches, as we want to win the group," he said.
"The focus now is on Saudi Arabia and we must plan for a good game tomorrow."
Asked about whether the geo-politics would overspill into the intensity of the game neither coaches or players would be drawn at their press conferences yesterday.
"Regarding the atmosphere," said Sanchez. "The stadium is very nice, the grass good, it is what we expect. We hope people will attend and enjoy a good game. They can support whoever they want."
Qatar's goalkeeper Saad al Sheeb echoed the sentiment: "First of all it is about the game and it does not matter if it is Saudi or Lebanon. What matters is a good performance on the pitch and making everyone happy."
The thing is, not everyone will be happy. Pressed on whether it will be difficult to play a game without family, friends or fans supporting them, Saad replied: "We play difficult championship matches away from home. This is nothing new for us."
Yes, understood. But the whole of the football world is watching this one, in fact, most of them have been warming for it since the tournament kicked off January if the increased media excitement is a barometer.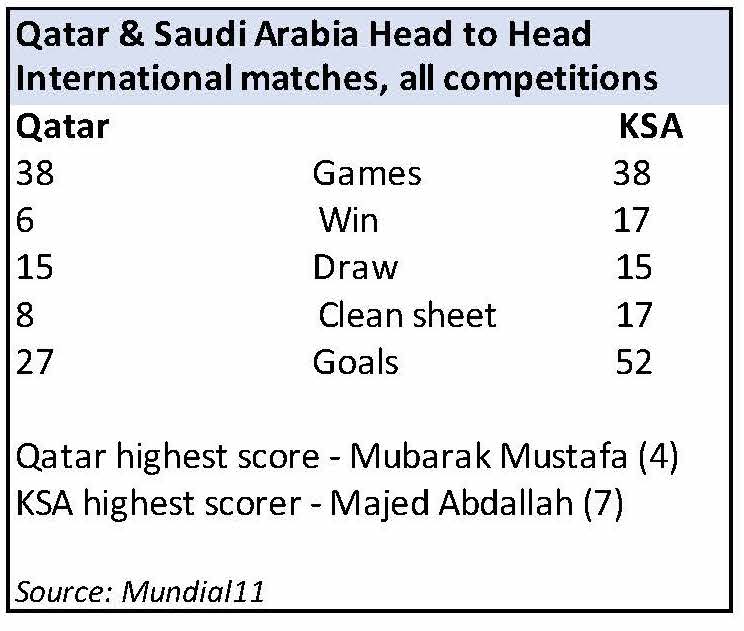 Contact the writer of this story at moc.l1611525618labto1611525618ofdlr1611525618owedi1611525618sni@n1611525618osloh1611525618cin.l1611525618uap1611525618