April 9 – More than 68% of goals in the Premier league are scored by foreign players. In a ranking of European leagues the Premier League came third out of 27, behind Cyprus (86.7%) and Turkey (80.7%).
When you break down which clubs are buying the most goals with overseas acquisitions, Wolverhampton Wanderers top the Premier League ranking with a massive 97.4% of goals scored by foreign imports. At the other end of the scale, Leicester City 20.5%.
The data from the CIES Football Observatory ranks 27 top division leagues across Europe according to the percentage of goals scored during the current season by expatriate footballers.
"At the top of the table is Cyprus (86.7% of foreign goals), ahead of Turkey (80.7%) and England (68.8%)," says the report.
"In nine other leagues, foreign goals accounted for more than half of total goals. At the opposite end of the table, expatriate players scored less than one third of goals in four countries only: Ukraine (25.5%), Serbia (27.6%), Israel (27.9%) and the Czech Republic (30.4%). The lowest percentage at big-5 league level was measured in the French Ligue 1 (35.6%)."
Looking at the Big 5 leagues, in Serie A 61.5% of goals are scored by overseas players (Genoa 93.8%) in the Bundesliga 61.2% (Eintracht Frankfurt 92.6%), LaLiga it is 48.3% (Barcelona 91%), in Ligue 1 35.6% (AS Moncao 93.5%).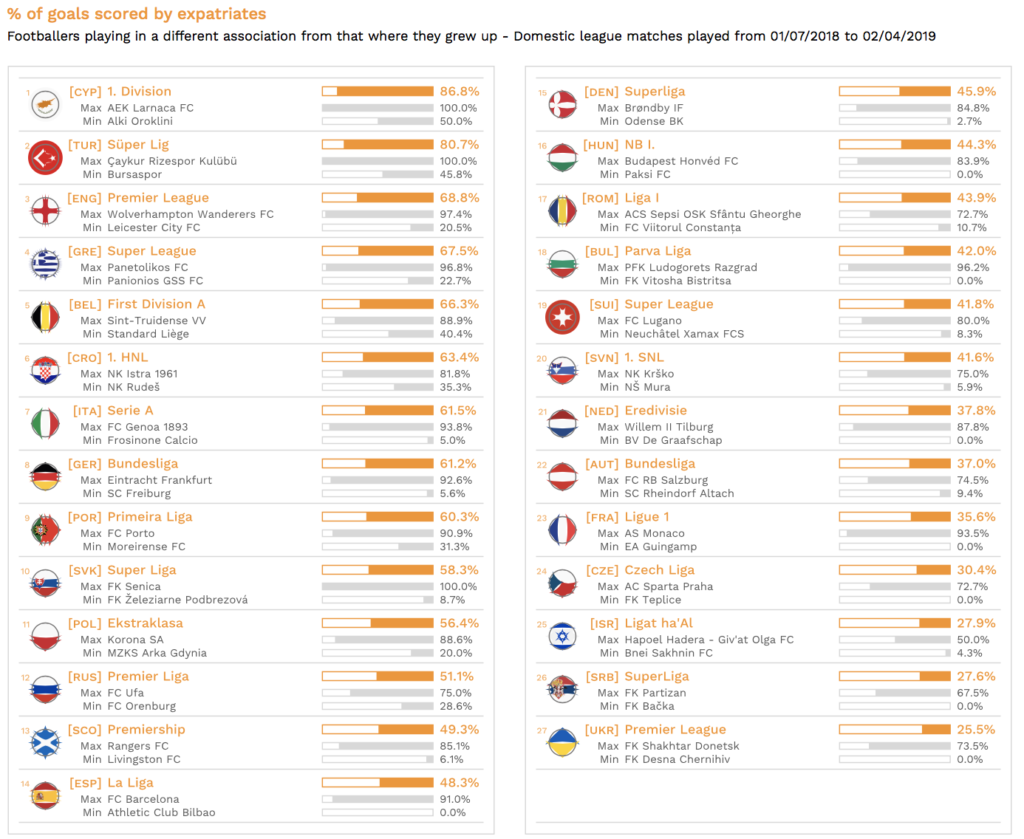 See the full data at http://www.football-observatory.com/IMG/sites/b5wp/2018/258/en/
Contact the writer of this story at moc.l1603888436labto1603888436ofdlr1603888436owedi1603888436sni@n1603888436osloh1603888436cin.l1603888436uap1603888436