By Paul Nicholson
May 15 – French club Olympique Lyonnais whose women's team compete in the Champions League final this week and whose men's team are set for a third placed Ligue1 finish, has reported a €36.1 million (19%) leap in revenue of the first nine months of the current financial year to €223.8 million.
The club, which is listed on the European Stock Exchange under the name OL Groupe, last year posted €187.7 million in the nine months to 31 March 2018. The improvement this year is primarily due to a more than doubling of media and marketing revenues to €109.9 million.
The major part of the uplift is the €70.5 million in income from UEFA competitions – the men's team reached the last 16 of the Champions League. Their progress also boosted ticketing revenue in their 59,000-capacity Groupama stadium, with more than €5 million being taken at the round of 16 match against FC Barcelona. The club also reported a rise in Ligue 1 attendances.
Crucial to the OL financial model is the events income that can be generated from its Groupama Stadium which was built for the 2016 European Championships.
An OL Groupe statement said that seminar and conference revenue showed "robust" 52% growth over the first nine months of 2018/19 to €4.6 million, and is expected to increase going forward.
There were no major events at the stadium (apart from football) in the first nine months but this summer will see a busy schedule with three Ed Sheeran concerts in May 2019, a Stars 80 concert, and a Phil Collins concert in. The Women's World Cup semi-final and final matches will be played at the Groupama Stadium on 2, 3 and 7 July 2019, though these games will fall into the next financial year.
The company statement said: "Over the next five years, the Group intends to pursue a growth strategy based on a full entertainment concept focused on its core business – football – and also on the development and diversification of its events programme.
"As part of the strategic five-year plan, the Group aims to become one of the top 20 European clubs in financial terms, by growing all of its lines of business and achieving total revenue in the region of €400 million."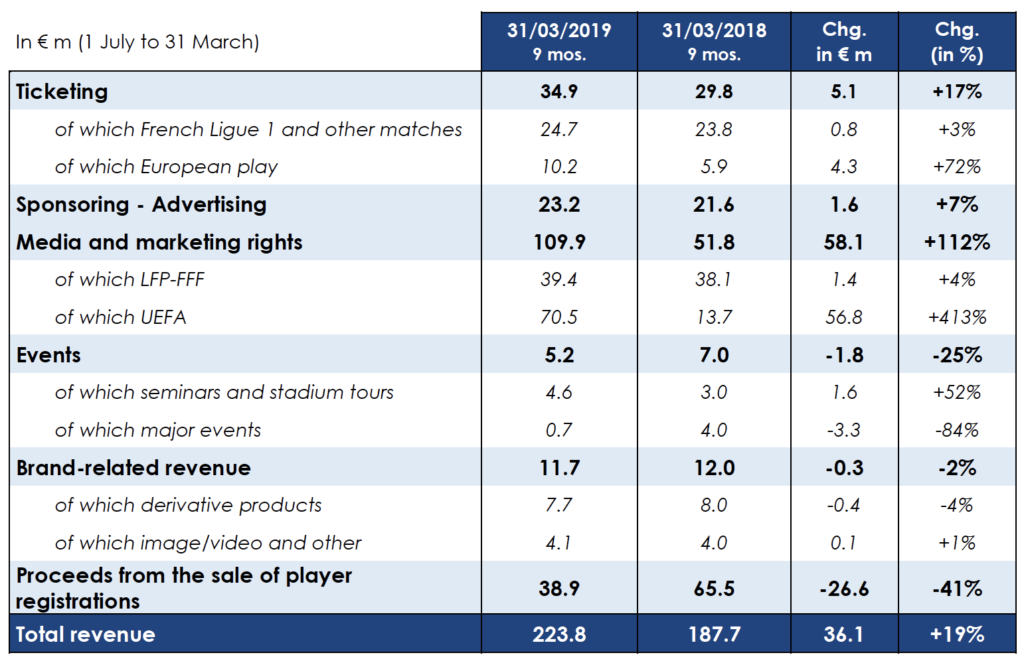 Contact the writer of this story at moc.l1575665789labto1575665789ofdlr1575665789owedi1575665789sni@n1575665789osloh1575665789cin.l1575665789uap1575665789