By Osasu Obayiuwana in Cairo, Egypt. 
July 11 – The Confederation of African Football (CAF), headquartered in Cairo, is seeking the finalisation of a treaty that gives CAF the official status, with diplomatic rights, of an international sports organisation functioning in the country. CAF has operated in Egypt since 1957, and until 2007 without an official 'Hosting Agreement' with the Egyptian government. The 2007 agreement automatically renewed in 2012 for five years but expired in 2017.
Officials say that the lack of a formal agreement has made it particularly difficult for CAF to hire staff from other African countries, as they need to be given work permits, which are very difficult, if not impossible, to obtain.
In the past, several non-Egyptian staff of the organisation worked in Egypt without having full rights, which created several immigration difficulties.
During the 29-year tenure of Cameroonian Issa Hayatou as CAF President, he eventually managed to reach an agreement with the Egyptian government, but it took repeated discussions and negotiations with his hosts to achieve the 2007 agreement (see below).

Hayatou never made Egypt his permanent residence during his time in office, preferring to keep his permanent home in Cameroon, where CAF set up a presidential office annex in Yaoundé. Ahmad, who succeeded Hayatou in office, also has a similar office in Mahajanga, a city on the northeast coast of Madagascar.
With the intention of the current CAF government to have a 50-50 staff split – half coming from other parts of the continent, and the rest from Egypt – top CAF officials say that the conclusion of a hosting treaty is imperative to the continued stay of the governing body in Egypt.
"It is the intention of the current CAF administration to ensure that the demographic make-up of staff within the body reflects the fact that we have a membership of 54 countries.
"For too long, the staffing of CAF has been very lopsided in favour of the host country and this has to change. But if we do not have a proper hosting agreement with the Egyptian government, that will allow us to bring in our staff, it will be very difficult for us to achieve our staffing targets," said the influential CAF source.
Insideworldfootball has been informed that CAF President Ahmad has made the signature of a hosting agreement a priority since taking up office in March 2017.
But sources tell this website that he has not received a positive response from the host country.
"We are hoping that the Egyptian government will finally understand our needs and come to an agreement with us, that will enable CAF do things that it is not able to do, at the moment.
"We appreciate the fact that Egypt have been good hosts and we want to remain here. But if we are not able to get an agreement, then everything – including finding a new host country for CAF – is on the table," the source said.
"There are many African countries that are ready to meet the requirements of CAF, should we decide to move. But we hope there will be no need for that."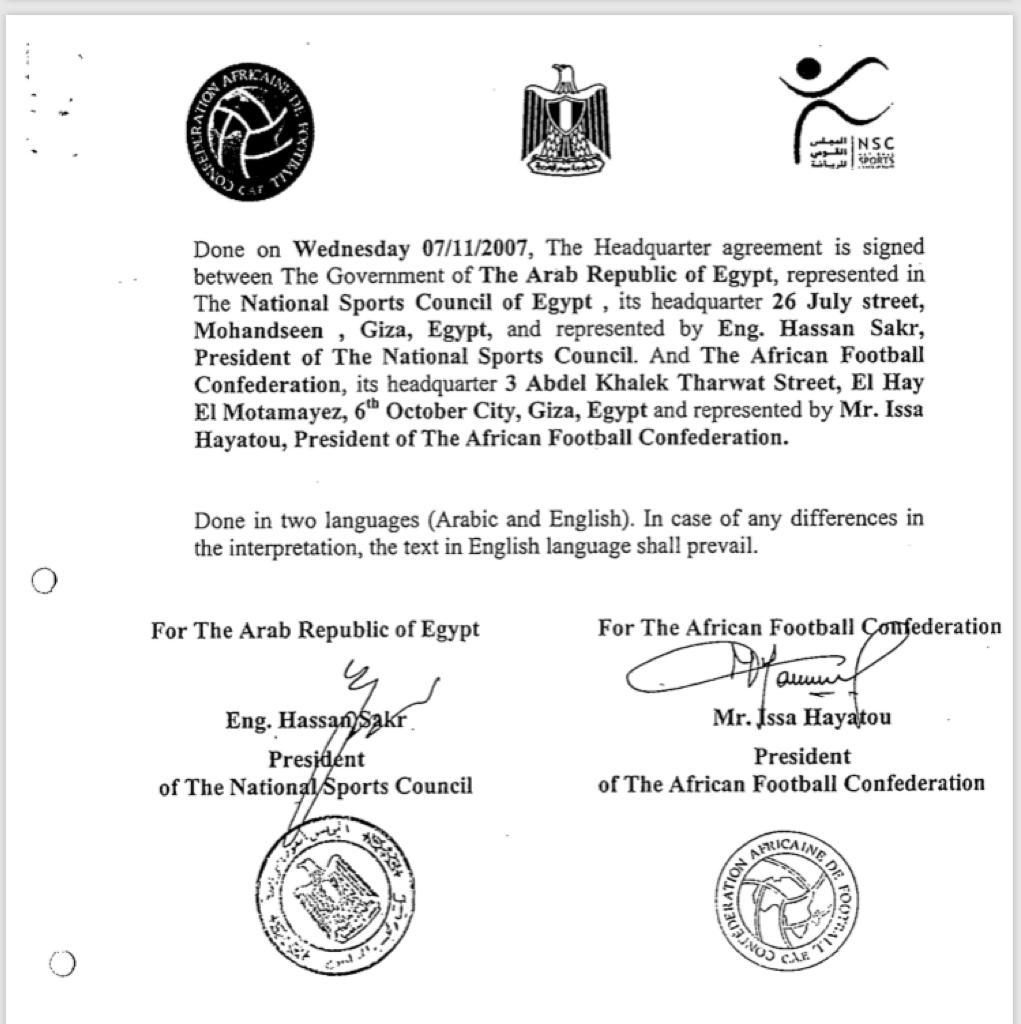 Contact the writer of this story, Osasu Obayiuwana, at moc.l1634928142labto1634928142ofdlr1634928142owedi1634928142sni@o1634928142fni1634928142