November 4 – With a year to go before India hosts the U-17 Women's World Cup in 2020, the organisers unveiled the tournament's official emblem at Bollywood-style event at the iconic Gateway of India in Mumbai.
The launch was attended by local and FIFA football representatives as well as government officials as emphasis was made of the power of football and youth competition to promote positive change in society, and in particular gender equality.
The event culminated in an outdoor light projection to reveal the official emblem, which was attended by a host of stars from India and the world of football.
The emblem itself is inspired by the marigold flower – a symbol of growth and development – and and, said a FIFA press release, "from Bandhani textiles, an Indian tie-dye technique dating back thousands of years. The stem of the marigold is accented with vibrant symbols of unity and celebration derived from traditional Warli paintings, but in the bright hues found in Bandhani patterns."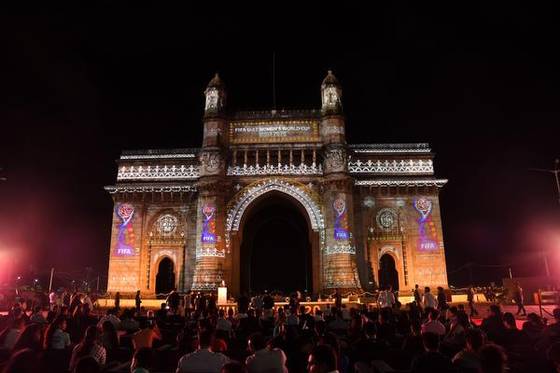 "This tournament is not only a first step onto the international stage for the young women participating, it is an opportunity to inspire girls of all ages across India and around the world," said FIFA Chief Women's Football Officer Sarai Bareman.
"The FIFA U-17 Women's World Cup has huge potential to inspire positive change in society and promote gender equality. The Indian public will see talented female athletes and future role models take to the pitch next year, and I'm honoured to be here at the start of this exciting journey."
The 2020 tournament will be the first FIFA tournament for women hosted in India and will be played November 2-21.
FIFA Council member and LOC Chairman Praful Patel said that it "will be a momentous occasion for female sport in India. We couldn't be more thrilled to have another historic occasion for India and the All India Football Federation."
Contact the writer of this story at moc.l1600621938labto1600621938ofdlr1600621938owedi1600621938sni@n1600621938osloh1600621938cin.l1600621938uap1600621938