December 13 – FIFA has released its final Women's National Team world rankings for 2019 which show the USA ending the year as they began it at the top, following their impressive all-conquering unbeaten run to the France 2019 World Cup title.
The women's ranking is an evolving measure of the progress and meritocracy of a rapidly evolving women's international game. The ranking has now grown to 155 teams worldwide with the regional confederations of the AFC, Concacaf, Conmebol, and UEFA all having nations in the top 10. A far greater geographic spread of national representation than in the men's ranking that is dominated by UEFA and Conmebol.
UEFA does dominate the higher levels of the women's ranking with 12 nations in the top 20 and filling all the ranking positions from two to six (led by Germany). But Europe doesn't have it all its own way with Brazil returning to the top 10 in ninth position having dropped out in September for the first time in their history.
African nations are slowly starting to join the ranking with Nigeria being the highest ranked at 39. The biggest moves in the ranking are within the more fluid lower ecehlons as nations begin international play and start to create their own histories.
"The big moves come further down the ladder, however, with CAF and Concacaf's Olympic qualifiers having produced the most significant recent upsets. In the latter region, St Kitts and Nevis's (127th, up 7) stunning away victory over Trinidad and Tobago (72nd, down 11) has provided the biggest points haul, and it also took the victors through to the final stage of Concacaf's Tokyo 2020 preliminaries," point out FIFA.
"Kenya (133rd, up 10) also sent shock waves across women's football recently by beating traditional African powerhouses Ghana (60th, down 10) over two legs. The scale of that surprise is reflected in the change in both teams' ranking, while Congo DR (108th, up 10) – who have also enjoyed a double-digit rise – have been rewarded for an equally unlikely home win over Cameroon (49th, down 3)."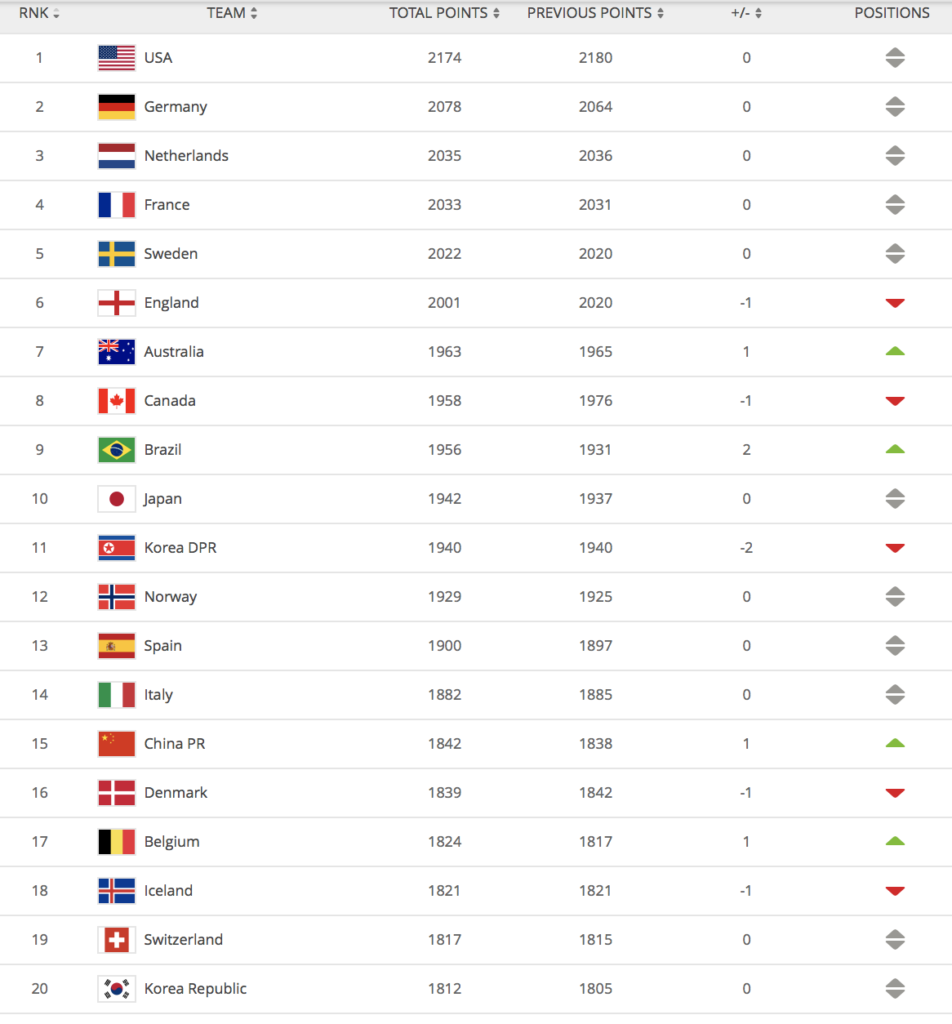 See the full ranking at https://www.fifa.com/fifa-world-ranking/ranking-table/women/
Contact the writer of this story at moc.l1614656460labto1614656460ofdlr1614656460owedi1614656460sni@n1614656460osloh1614656460cin.l1614656460uap1614656460