February 3 – Premier League clubs spent close to £25 million on the final day of the  January transfer window, pushing their overall spending to a total of £230 million, £50 million more than last year but still well short of the £430 million record of 2018.
What is interesting, and perhaps confusing for British players in a post-Brexit UK, is that, according to figures from Deloitte's Sports Business Group, was that just 2% gross transfer spend was between Premier League clubs. A massive 98% of the money was spent on signing overseas, significantly less than the previous low of 11% set in January 2019.
Deloitte also calculate that "the total gross spend (i.e. before including player sales) of £1.6 billion for the 2019/20 season is the second-highest since the introduction of the transfer window in January 2003. This compares to £1.4 billion in 2018/19 and is £0.3 billion short of the all-time record of £1.9 billion set in the 2017/18 season."
Compared to their 'big five' European football league rivals, the Premier League remains the highest-spending for the 2019/season, followed by La Liga (£1.2 billion/€1.4 billion), Serie A (£1.2 billion/€1.4 billion), Bundesliga (£785 million/€930 million) and Ligue 1 (£690 million/€820 million).
Tim Bridge, director in the Sports Business Group at Deloitte, said that Premier Club spending has returned to a more "normal" pattern focussed on pre-defined budgets and financial stability.
Clubs are less comfortable spending big for short-term success, he said. "This is further evidenced by the prominence of more agile transfer strategies, such as utilising loan transfers often with an option to buy, as well as focusing attention towards the promotion of young talent from club academies in recent years."
Bridge also points to static TV sales growth as a factor in the "restraint" in the transfer market.
However, while the Premier League may have reined in its spending, the European leagues are putting more cash into the transfer market.
"The January 2020 transfer window follows a record breaking summer 2019 window, which saw the 'big five' European leagues spend in excess of £5 billion for the first time, with four leagues setting transfer records for spending in a single window in the process. In January 2020, Serie A £180m (2019: £140m), the Bundesliga £165m (2019: £65m), La Liga £110m (2019: £65m) and Ligue 1 £100m (2019: £65m) have all increased their transfer expenditure since last season's window," say Deloitte.
Additional Deloitte findings include:
The 'big six' Premier League clubs accounted for 52% of the total gross expenditure in the January 2020 transfer window, compared to 43% in January 2019;
Premier League clubs have been reluctant to transfer players within the Premier League, with 2% of gross transfer spend as a result of intra Premier League sales in the January 2020 window, compared to an overall long term intra Premier League average of 29%;
Premier League clubs' deadline day expenditure totalled £25m, which represented a decrease of £125m from deadline day in January 2019;
Total Championship clubs' gross transfer expenditure for January 2020 was £37m, more than half of January 2019 expenditure (£60m). Fulham (£24m) were the Championship's biggest spenders, spending c.65% of the total Championship gross transfer expenditure in order to strengthen their squad in a push towards promotion to the Premier League;
The Premier League was the highest-spending league amongst the 'big five' European football leagues in the January transfer window. Serie A (£180m/€215m),  Bundesliga (£165m/€195m), La Liga (£110m/€130m) and Ligue 1 (£100m/€120m) all spending less.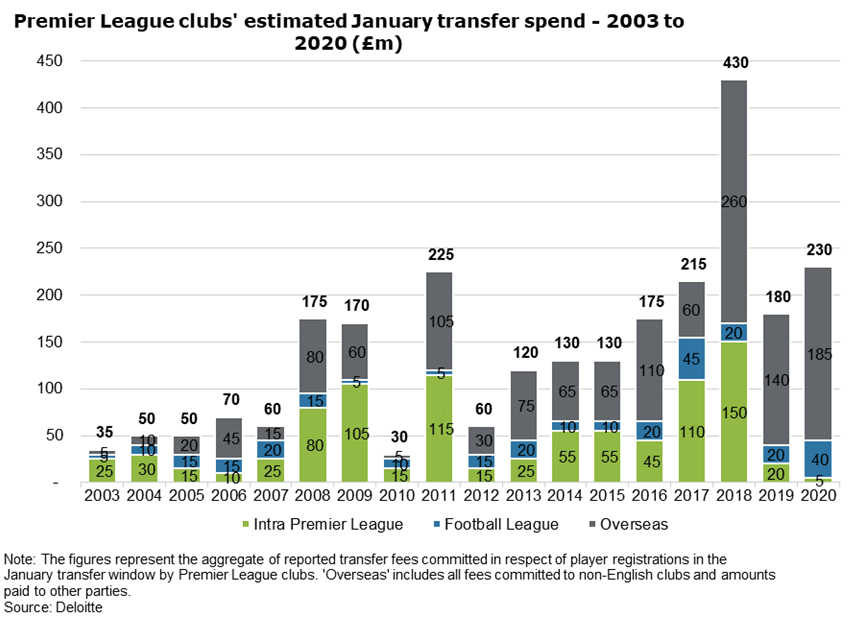 Contact the writer of this story at moc.l1601131153labto1601131153ofdlr1601131153owedi1601131153sni@n1601131153osloh1601131153cin.l1601131153uap1601131153