February 14 – French champions Paris Saint Germain have leapfrogged Manchester City as football's most financially powerful club, according to Soccerex's annual Football Finance report. 
The French club topped the 2020 edition of the report with a FFI score of 5.318, which factors in five key financial variables – playing assets, tangible assets, cash in the bank, potential owner investment and net debt.
City, who had always ranked first in Soccerex's previous reports, came runners-up with a FFI score of 5.197. The study pointed out that the Parisian club had reduced debt by €70 million over the last year while City's debt levels had increased by more than €90 million. Bayern Munich came third with Tottenham Hotspur and Real Madrid completing the top five.
In a media release, Soccerex explained their findings, highlighting that  "the position of both clubs at the top of the report stems largely from the vast financial resources of their respective Middle Eastern owners, which in both cases has allowed them to amass immensely valuable playing squads – both total over €1 billion in combined value – and has transformed the clubs' fortunes."
Manchester United dropped out of the top ten, and sit in 16th, with mounting cash debt.
"This year's report paints a positive picture of football's collective financial health but also highlights the growing imbalance between the power of Europe's modern elite, with some of the game's heritage brands in danger of being left behind," said Soccerex managing director Philip Gegan. "The report shows that, despite Europe's dominance, football is very much a global game with investment from football's emerging markets very much underpinning its continued growth."
Europe's elite sides accounted for 80% of the top 30, but almost half of those clubs are owned by non-European entities. The Premier League has 18 clubs in the top 100, Major League Soccer 17, including two teams from Canada. La Liga and Serie A both have 11 representatives followed by the German Bundesliga with 10.
Nagoya Grampus and Vissel Kobe from the J-League feature in the top 30. In 91st, with a score of 0.357, River Plate is the first South American club in the ranking. No Brazilian club made the top 100.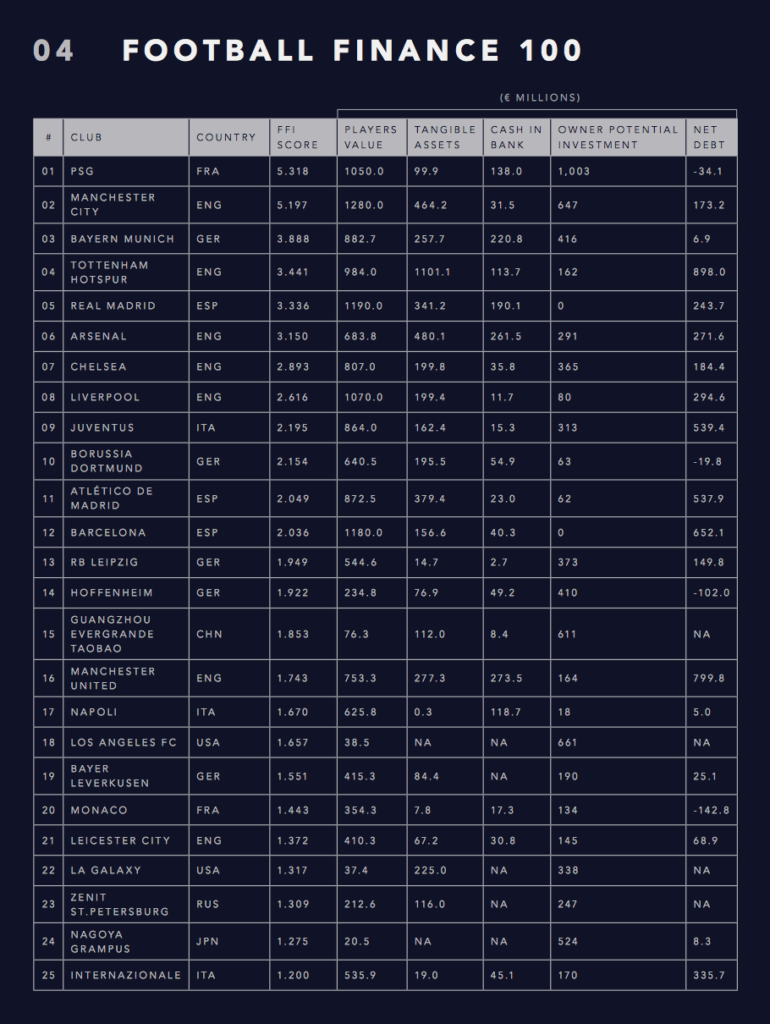 Download the full report at https://www.soccerex.com/insight/articles/2020/psg-overtake-man-city-as-club-with-greatest-financial-power/download-soccerex-ff100-2020-edition
Contact the writer of this story, Samindra Kunti, at moc.l1591324839labto1591324839ofdlr1591324839owedi1591324839sni@t1591324839catno1591324839c1591324839