August 5 – The total value of sponsorship across the big five football leagues in 2020 is now more than €3.3bn annually, according to a report by KPMG Football Benchmark.
The analysis says that the market has been driven by a "new globally diverse fan base has opened opportunities for international brands looking to leverage the profile, appeal and brand equity of leading football clubs."
Leading the sponsorship investment has been Middle Eastern brands who make up €200 million annually, led by three major airlines: Manchester City are sponsored by Etihad Airways, PSG, AS Roma and FC Bayern München are backed by Qatar Airways, while Real Madrid, Arsenal, AC Milan and SL Benfica fly Emirates.
Emirates is the third largest sponsor of European football (behind adidas and Nike), investing more than €175 million annually. Adidas and Nike, who have a combined total annual sponsorship spend of €679 million annually, dominate the kit sponsorship market representing 68% of the total kit deal spend.
KPMG also points to the growing importance of regionalised sponsorship deals. There are 16 regionally focused Middle Eastern brands in partnership with top European football clubs. Asian brands, like Rakuten with Barcelona and LD Sports with Southampton, are using the opportunity to build similarly.
Shirt sponsorship from airlines, banks and automotive brands represent more than half of the total sponsorship across the big five leagues, says KPMG, while shirt sponsorship across the 20 English Premier League clubs comes from only six sectors; Automotive, Airlines, Banks, Gambling, Retail and Entertainment.
"Growing sponsorship values has increasingly limited the types of sectors and companies that can now afford this type of investment," says the report.
However, the prediction is that will change following the impact of Covid-19 on certain industry sectors. "It is likely that the composition of football sponsorship industries and brands will change to some degree in the future as a direct result, with perhaps greater investments and number of sponsorship deals observed from the media, telecoms, pharma and food sectors," says KPMG.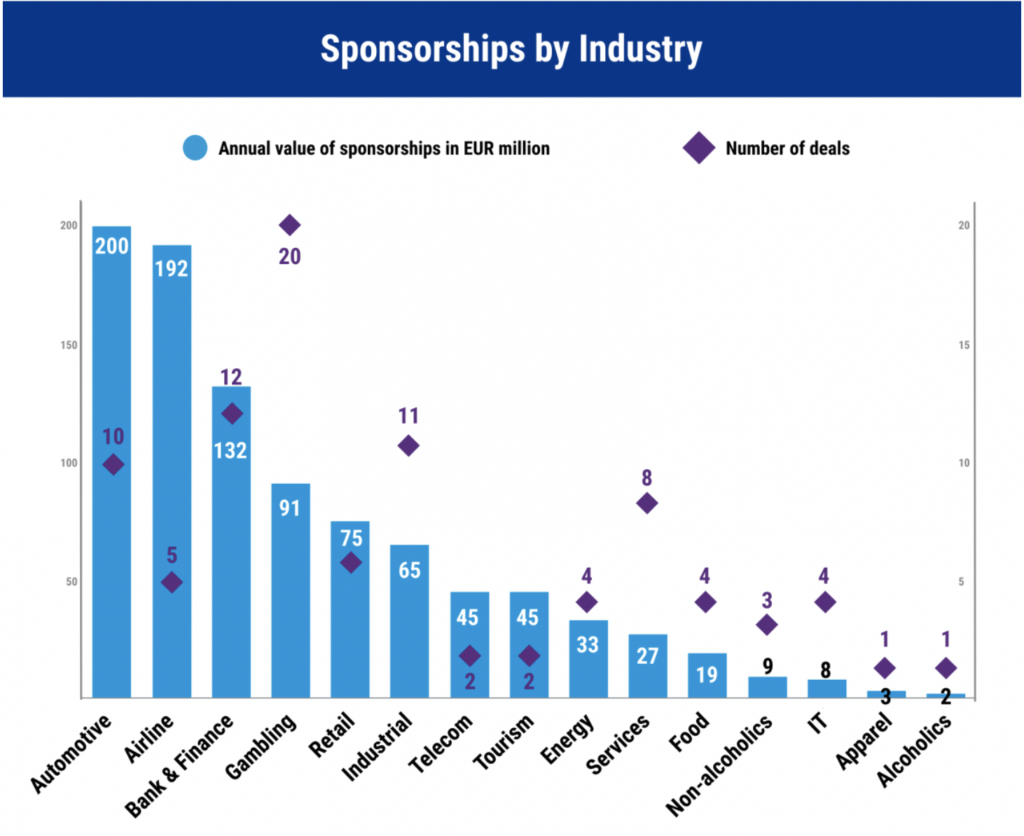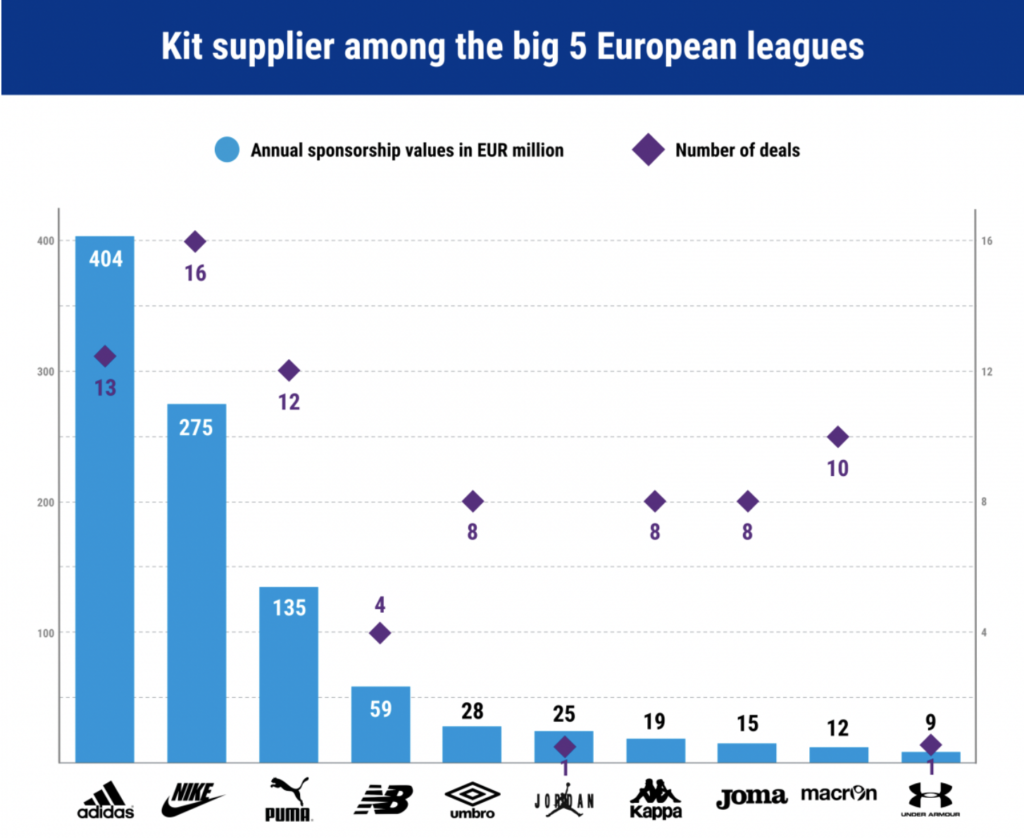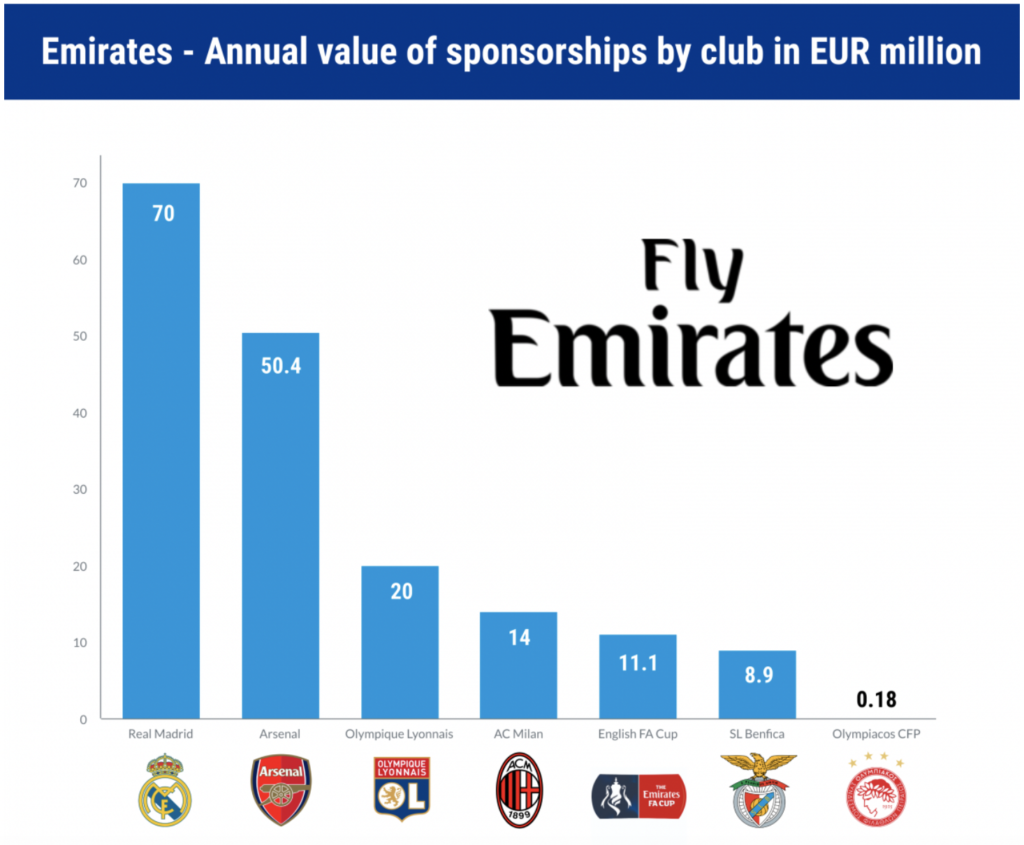 See the full report at https://footballbenchmark.com/library/the_changing_face_of_football_sponsorship_key_players
Contact the writer of this story at moc.l1600416138labto1600416138ofdlr1600416138owedi1600416138sni@n1600416138osloh1600416138cin.l1600416138uap1600416138