September 11 – Barcelona have become the first football club to break the 10 million YouTube subscriber mark. The NBA (14.7million) is the only sports channel that has more followers.
In football Barça's growth has been spectacular over the past two years. They ended the 2018-19 season with a total of 7.2 million subscribers (2.6 million more than in 2017-18), and between 1 July 2019 and 30 June 2020, that number rose to 9,782,472.
The channel has now had more than 65 million hours of viewership of its channel.
Barça nearest football club competitors are Real Madrid, with 5.92 million, while Brazil's Flamengo (5.55 million) are the third biggest club on the platform. England's Premier League giants all have less than 50% of the subscribers Barca have. Liverpool lead (4.98), followed by Manchester United (3.21), Manchester City (2.72), Chelsea FC (2.1) and Arsenal (1.96).
Juventus lead in Italy(2.88), and PSG (2.56) in France.
Barça said that it has the most followers in the United States, Spain, Brazil, Indonesia and Mexico.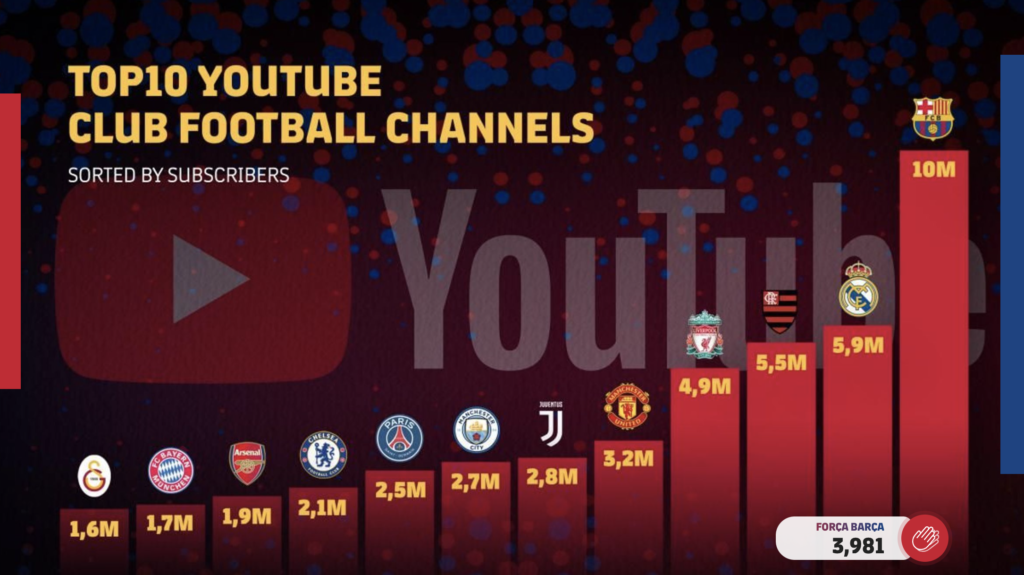 Contact the writer of this story at moc.l1601003337labto1601003337ofdlr1601003337owedi1601003337sni@n1601003337osloh1601003337cin.l1601003337uap1601003337