February 8 –  Concacaf has released the schedule for the eight-team 2020 Concacaf Men's Olympic Qualifying to be played in Guadalajara, Mexico, March 18-30.
Originally scheduled for March 2020, the qualifiers were postponed, as were the Tokyo Olympics to 2021.
Two host venues will be used for the competition, the Jalisco and Akron Stadiums, that will see the winners and runners-up qualify for Tokyo.
The eight participating teams see Mexico (Olympic champions in 2012), USA, Costa Rica and Dominican Republic in Group A, with Honduras, Canada, El Salvador and Haiti in Group B.
After round-robin play, the top two from each group will prgress to the semi-finals on March 28, at the Jalisco Stadium. The final is scheduled for Tuesday, March 30 at the Akron Stadium.
Schedule:
Group Stage
Thursday, March 18 – Jalisco Stadium
17:00/15:00 USA vs Costa Rica
19:30/17:30 Mexico vs Dominican Republic
Friday, March 19 – Jalisco Stadium
15:30/13:30 Honduras vs Haiti
18:00/16:00 Canada vs El Salvador
Sunday, March 21 – Akron Stadium 
19:00/17:00 Dominican Republic vs USA
21:30/19:30 Costa Rica vs Mexico
Monday, March 22 – Akron Stadium
18:00/16:00 Haiti vs Canada
20:30/18:30 El Salvador vs Honduras
Wednesday, March 24 – Jalisco Stadium
19:00/17:00 Costa Rica vs Dominican Republic
21:30/19:30 Mexico vs USA
Thursday, March 25 – Jalisco Stadium
19:00/17:00 El Salvador vs Haiti
21:30/19:30 Honduras vs Canada
Semifinals
Sunday, March 28 – Jalisco Stadium
18:00/16:00 1B vs 2A
21:00/19:00 1A vs 2B
Final
Tuesday, March 30 – Akron Stadium
21:00/19:00 Winner Semifinal 1 vs Winner Semifinal 2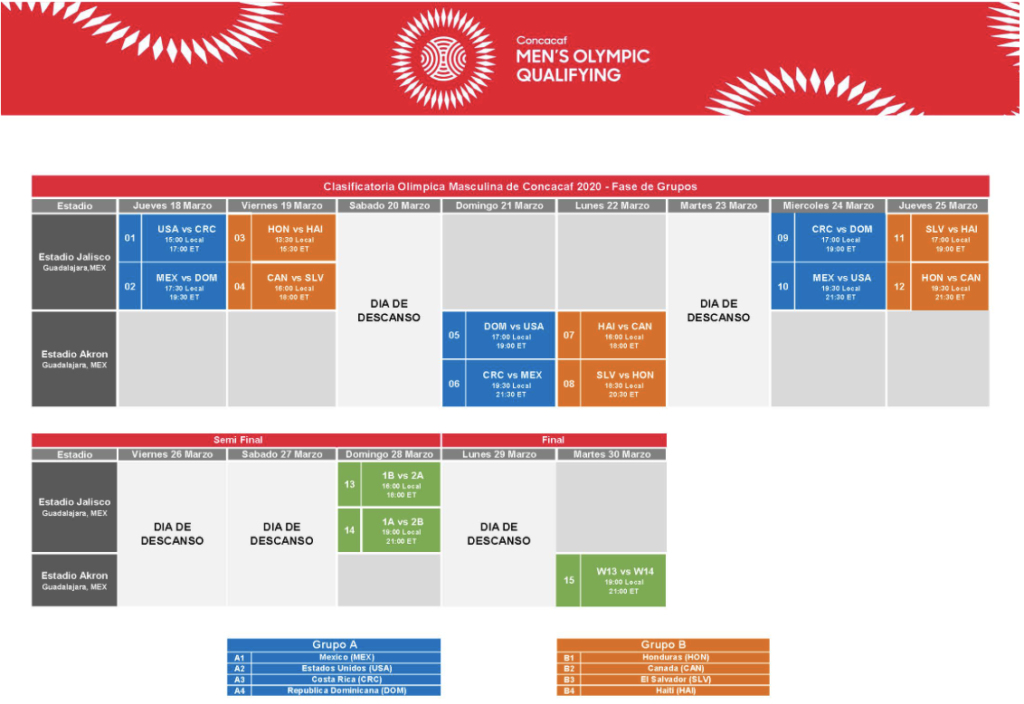 Contact the writer of this story at moc.l1614299646labto1614299646ofdlr1614299646owedi1614299646sni@n1614299646osloh1614299646cin.l1614299646uap1614299646