By Paul Nicholson
February 18 – FIFA has released an international 'Transfer Market Snapshot' report that shows the impact of the pandemic on player movement is "even more severe" than it 2020 Global Transfer report.
That report showed a slowdown in transfer market activity but, by comparison the figures for January 2021,the market has fallen off a cliff, recording the lowest numbers for six years.
"Compared against last year, the drop is particularly striking," said FIFA. "The number of international transfers of male professional players fell 36.2%, from 4,215 to 2,690, while the outlay on transfer fees plummeted from $1.16 billion last year to $590 million this January, a 49.1% decrease."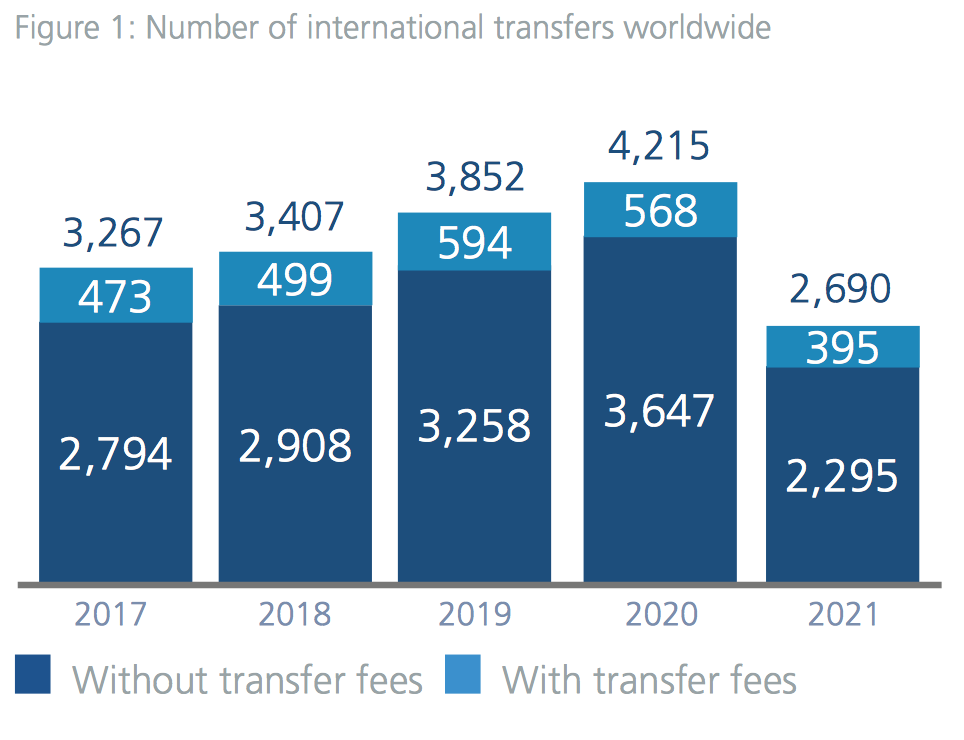 FIFA does point to "momentum" in the women's international transfers market, saying "the number of transfers was slightly down year on year (177 worldwide v. 185 in January 2020), but spending on transfer fees rose considerably, with clubs investing a combined $310,100, over 60% more than they spent in the same period in 2020 ($193,600)."
Of course the women's transfer market is a very long way away from the big business of the men's transfer market that in January 2021 showed an average fee of about $1.5 million per transfer. This is weighted towards the top 20 transfers which represented 58.6% of this amount, with an average fee of $17.2 million, leaving the remaining 375 transfers with an average fee of $646,000 per transfer. 1,576 or 58.6% of players transferred were out of contract.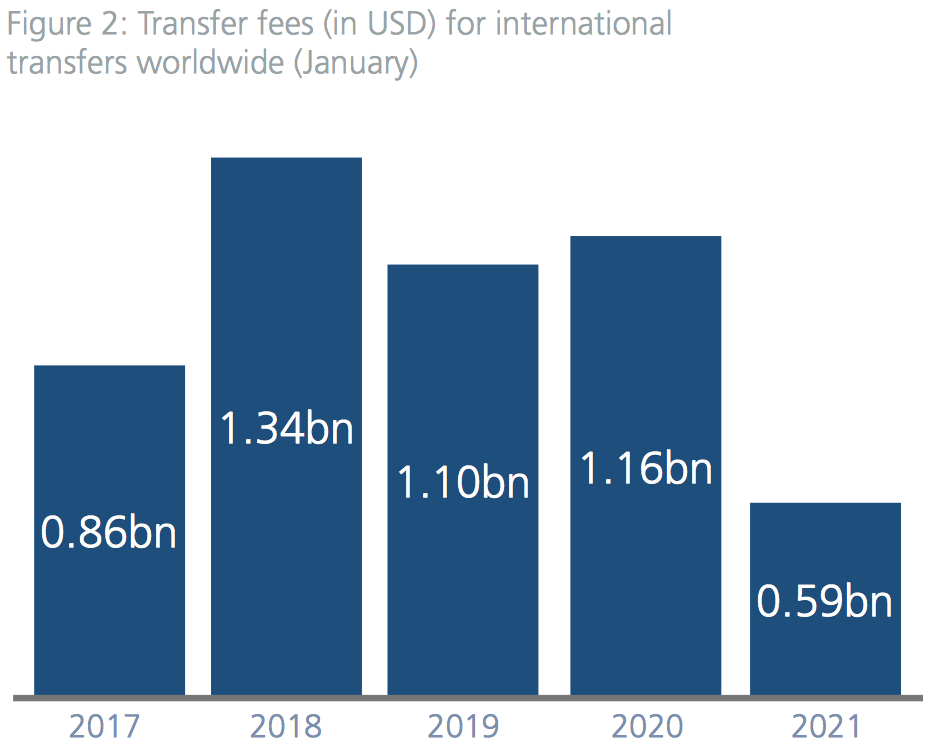 The balance of player movement still lies predominantly in and to Europe with European clubs engaging 1,805 players of the 2,690 total. Other confederations have seen huge drops in activity of more than 50% in some cases.
The report points out: "While this represents a slight decrease of 4.8% compared to January 2020 (1,896 transfers), the relative share of international transfers to clubs in UEFA increased substantially from 45.0% in January 2020 to 67.1% in 2021. This, in turn, is re ected by the massive decline in the number of transfers to other confederations in January (-35.7% for CAF, -57.9% for Concacaf, -59.1% for AFC and -77.6% for CONMEBOL)."
The report also highlights that European clubs received the largest share of the transfer fees paid in the January 2021  window with $463.4 million. "Even though African clubs released the second largest number of players, their receipts from transfer fees were little more than one quarter of the fees that went to clubs in CONMEBOL, and less than two thirds of the fees that went to clubs in Concacaf," says the report.
European clubs accounted for 92.6% of the total amount spent on transfer fees- $542.3 million – while the AFC's clubs (reflecting their growth in national and international interest) were second, but with a much lower amount of $29.2 million, 5.0% of the total.
Click here to see the full report.
Contact the writer of this story at moc.l1614343571labto1614343571ofdlr1614343571owedi1614343571sni@n1614343571osloh1614343571cin.l1614343571uap1614343571