February 23 – Kylian Mbappé may still be worth €185 million and Harry Kane alongside Raheem Sterling may still be the world's second most valuable players at €125 million, but overall the values of players have dropped more than 10% during the pandemic, according to the latest data from KPMG Football Benchmark.
"Lower purchasing power and the general uncertainty in the business inevitably led to the devaluation of clubs' most important assets – football players," says the KPMG report.
"Now, being one year into the pandemic, it is apparent players' market values still have not recovered: as our chart shows, the aggregate values of the top 500 and top 100 players are 10.6% and 10.1% below the value from pre-Covid times."
Just looking at the top ten most valuable players, seven of them play for Premier League clubs with just Mbappe and Neymar from PSG and Dortmund's Jadon Sancho from outside the English league. Five of the top ten are English nationality and three of the top 10 are Liverpool players.
Borussia Dortmund's Erling Haaland has dropped out of the top ten (11th, €110 million) who had a tough start into 2021 with Borussia Dortmund while Trent Alexander-Arnold has re-joined the top 10 with a market value increase of €4 million (€111 million).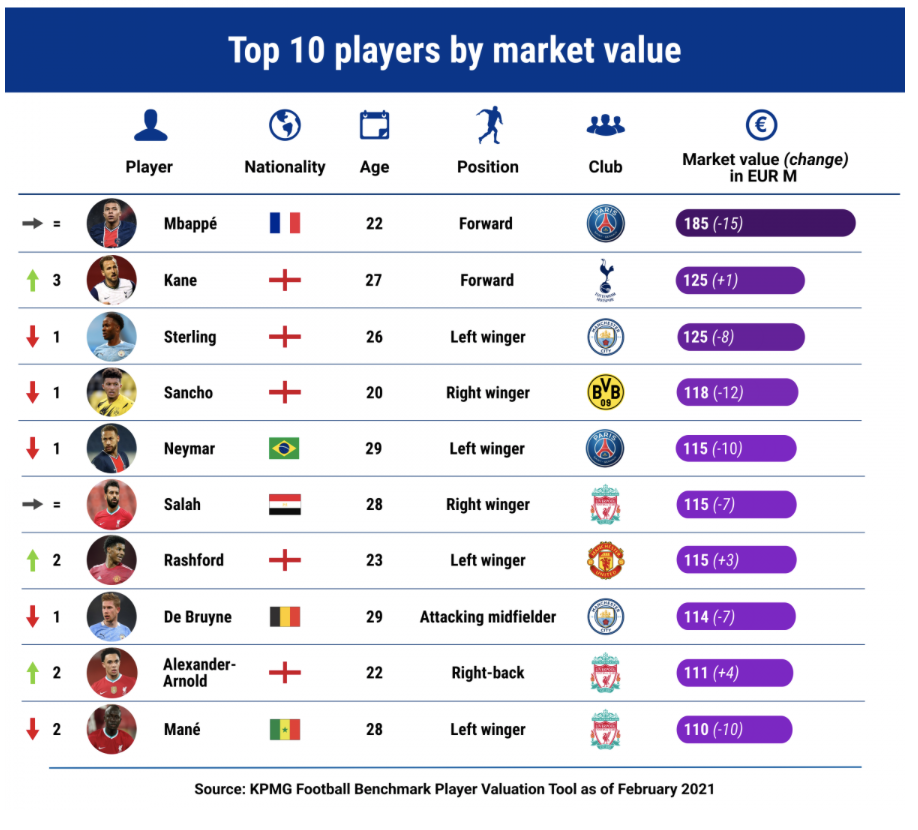 KPMG says Barcelona's attacking midfielder Pedri is the player who has had the greatest increase since the last valuation December 2020, gaining more than €26 million in market value. Manchester City's Phil Foden gained €20 million while Bayer Leverkusen's 17-year-old Florian Wirtz gained €17 million.­­­
Mbappé may be the world's most valuable player but he still dropped €15 million in value, due, says KPMG, to his contract at PSG expiring in a just over a year. The biggest drop in value was by Lionel Messi whose contract expires at Barcelona this June. His value dropped €27 million but his value is still high at €75 million. Spurs' out of favour Delle Alli ranked third In the players whose value had dropped the most, falling €15 million.
The KPMG analysis also looks at Europe's leagues, reporting that the "Spanish LaLiga have suffered the most as aggregate player values have seen a decline of €1.4b billion since February 2020, equating to a 21.1% drop."
The Premier League dropped €1.1 billion, Italian Serie A values decreased by €500 million and the Bundesliga lost €400 million in player market values. "In contrast, the Turkish Süper Lig and Portugal's Primeira Liga saw an increase of players' market values by €54 million and €34 million," says the report.
Looking at clubs, Leeds United, with a rise of €130.4 million, lead the list of clubs who have increased their squad value the most compared to the pre-Covid evaluation in February 2020. Fulham's and West Bromwich Albion's squad values have also risen following promotion to the Premier League – they rank 2nd and 6th in the table.
Click here to see the full report.
Contact the writer of this story at moc.l1632509055labto1632509055ofdlr1632509055owedi1632509055sni@n1632509055osloh1632509055cin.l1632509055uap1632509055