April 1 – He might not be making the shortlists of the end of year awards these days but Lionel Messi is still the best player in Europe, according to a just released statistical analysis of performance data from the first third of 2021.
The CIES Football Observatory methodology compares the performance of outfield players irrespective of their position, and ranks them by club and against each other. Scores are given for domestic league matches played since the 1st of January 2021 for each of the 98 big-5 league clubs. Players have to have played at least two thirds of minutes for their clubs.
Messi topped the ranking with a score of 92.5 out of 100. Bayern Munich's FIFA Best pl;ayer of the year Robert Lewandowski ranked second with 89.5 while Chelsea's Jorginho was third with an 89.4 score.
Eliminated from the Champions League, the Argentinean striker and FC Barcelona can now focus on the Liga. However, the departure of Luis Suárez will be a major obstacle to the title race. The Uruguayan has indeed the top performance score (84.3) at Atlético Madrid, while Toni Kroos (87.5) leads the table for Real Madrid ahead of Karim Benzema (85.3).
Cristiano Ronaldo tops the Serie A ranking with a score of 89.3, fifth overall.
Special mention should go to Manchester United's Ruben Dias who ranked fourth but played more that 250 minutes more than any other player on the top 20.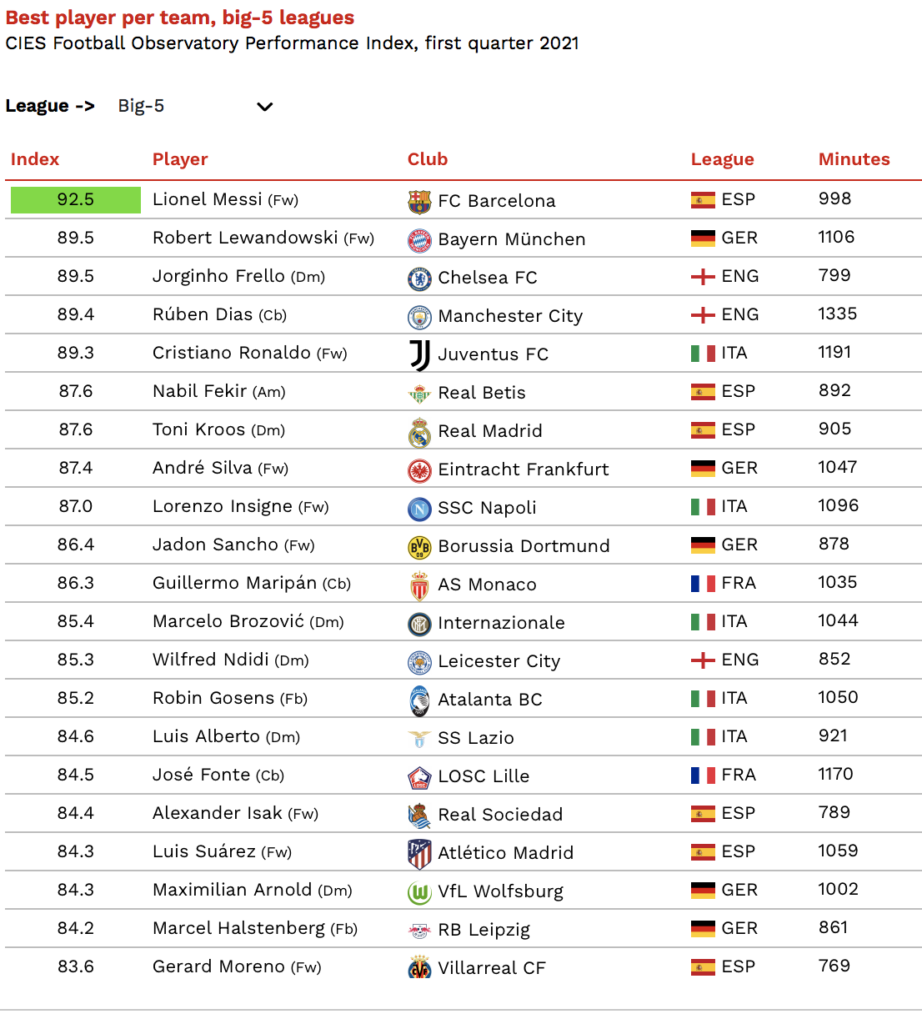 Click here to see the full ranking.
Contact the writer of this story at moc.l1634996046labto1634996046ofdlr1634996046owedi1634996046sni@n1634996046osloh1634996046cin.l1634996046uap1634996046