By Paul Nicholson
April 1 – With fans locked out and club revenues locked down, social media has become increasingly important to the commercial infrastructure of clubs, according to KPMG Football Benchmark analysis.
KPMG says its research shows "a strong relationship between clubs' commercial revenues and social media following, based on available commercial revenue data for the financial year 2019/20…This has become particularly important during Covid-19 where clubs, lacking in activity and communication with their loyal fans, are innovating to engage and monetise their fans."
KPMG says that the exact impact growth in social media is having on a club commercial strategies is hard to quantify, but that it is being used to maximise commercial agreements, not least through the growing trails of fan data that can be used in "an integrated media, marketing and commercial strategy".
The key transition here is one of consumer perception "where clubs are brands and fans are increasingly seen as customers".
"Clubs that are meeting the specific needs of their fans with relevant, authentic and timely-communicated content succeed in deepening brand loyalty whilst also being able to develop targeted commercial opportunities, either directly by the club or through sponsor activations," says KPMG.
Using the example of Juventus, who have seen their followers on social media grow by 320% to 110 million followers over the past five years, clubs can expand their commercial opportunities and operational "categories globally such as entertainment, sport and fashion generated exposure amongst a new pool of global fans across existing and new touchpoints including social media."
Cristiano Ronaldo's arrival at the club with his almost half a billion social media followers has co-incided with Juventus growing commercial revenues by 145% over the same period.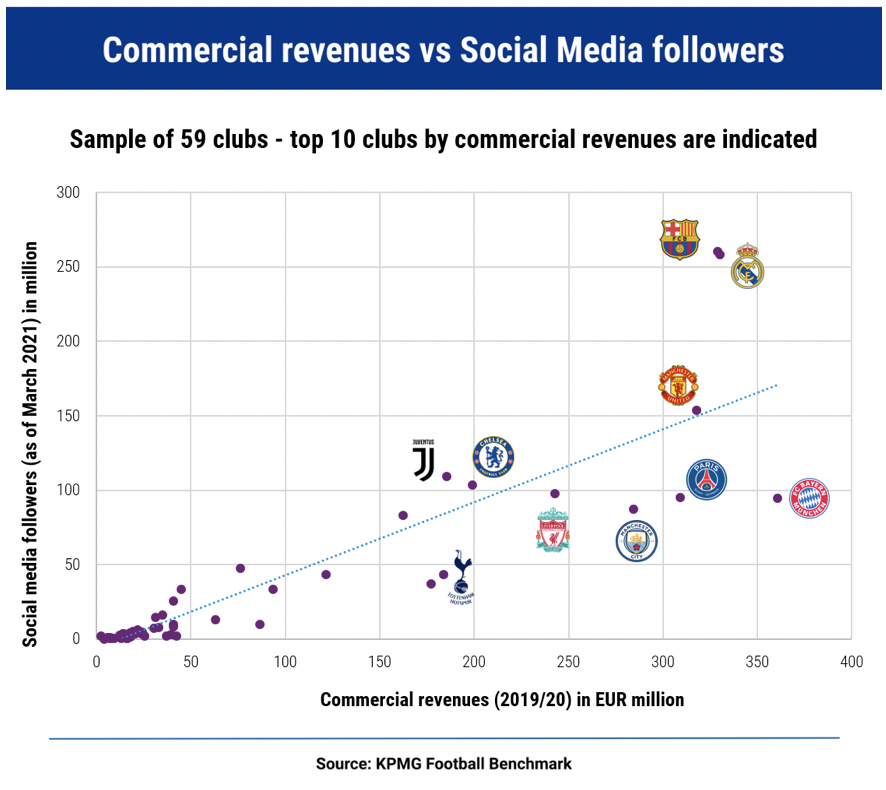 The key to definitively understanding the value of social media is when you can put a meaningful value on what a follower or followers per thousand is actually worth – perhaps in a similar (but obviously different) metric to digital media being measured in cost per thousand.
KPMG say that while FC Barcelona and Real Madrid have both amassed 262 million and 259 million total social media followers, the highest followings of any football club globally, the commercial income for both clubs in 2019/20 are second and third highest only to Bayern München. In a crude measure, the average commercial revenue per social media follower stands at only €1.30 for both clubs, compared to €3.8 for Bayern Munich.
So is the conclusion that Barca and Real Madrid could be selling more partnerships and sponsorships, or are Bayern over-selling theirs? It feels like it is still early days in the valuation of social media for football clubs, but for some it might be too late already.
"There are clubs within the top 10 by social media followers that are generating comparatively strong commercial revenues annually whilst not yet fully developing a global fanbase and social media following to match their peers," says KPMG.
KPMG points our Tottenham Hotspur as an example. "In terms of operating revenues, they are now a top 10 revenue-generating football club, with revenues of €523 million in 2018/19, falling to €446 million (-14.6%) in the Covid-19 affected 2019/20 season. However, despite recording the second-highest growth in social media across the Big 5 leagues of Europe since 2019 (91%), beaten only by FC Internazionale Milano (95%), Tottenham Hotspur are ranked 12th in terms of social media following with 44 million followers globally," says KPMG.
"Most significantly, however, Spurs would need to almost double their social media following to enter the top 10. As a consequence, Tottenham Hotspurs' commercial revenue per social media follower stands at €4.30, supporting the notion that other factors are driving the club's strong commercial revenues."
KPMG concludes that clubs still have a long way to go to fully understanding where the commercial values are in their social media followings. "Rather than stressing differences between the business operations of these clubs, the contrast between commercial revenue per social media follower performance seems to highlight that the monetization of social media followers by many top football clubs still has a long way to develop yet," says the report.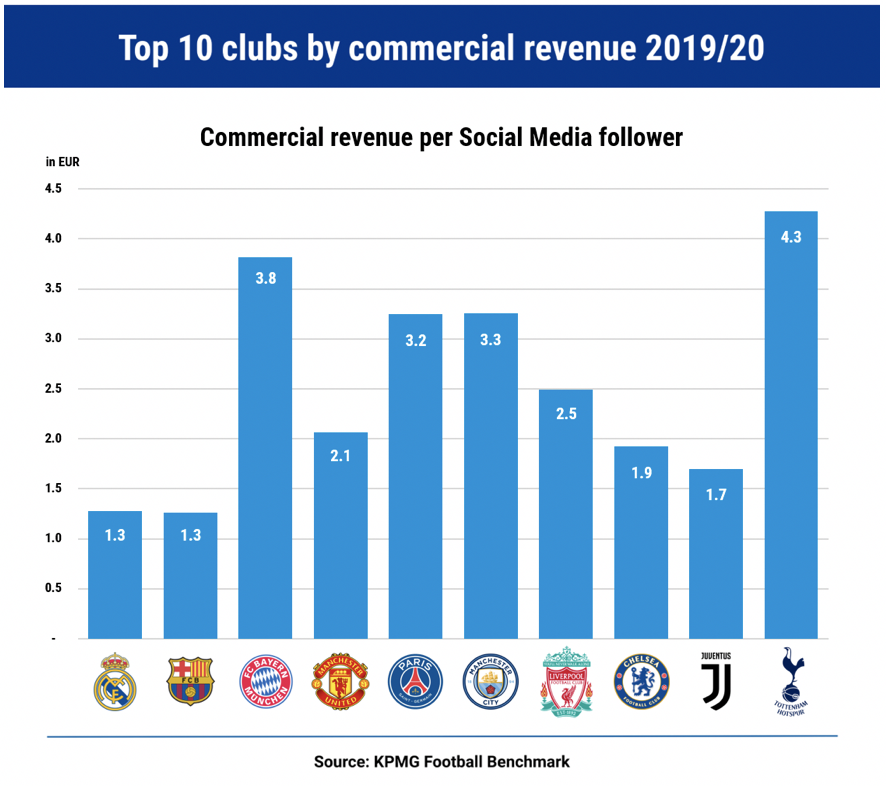 Click here to see the full report. 
Contact the writer of this story at moc.l1618615560labto1618615560ofdlr1618615560owedi1618615560sni@n1618615560osloh1618615560cin.l1618615560uap1618615560