June 23 – Nike lead Adidas 9-8 in the Euro 2020 battle of the kit suppliers though Adidas take pride of place when it comes to the biggest deal, spending €85.2 million on their German partnership, compared to Nike's biggest deal being the €60.8 million they spend with England.
What is most noticeable about the ranking by value is how much more Europe's biggest nations of German, England, France, Italy and Spain generate from their kit supply deals compared to the other 19 nations competing at the Euros.
Current European champions Portugal are ranked 8thwith a €9.2 million deal with Nike, while 13 nations earn €2.4 million or less from their kit deals.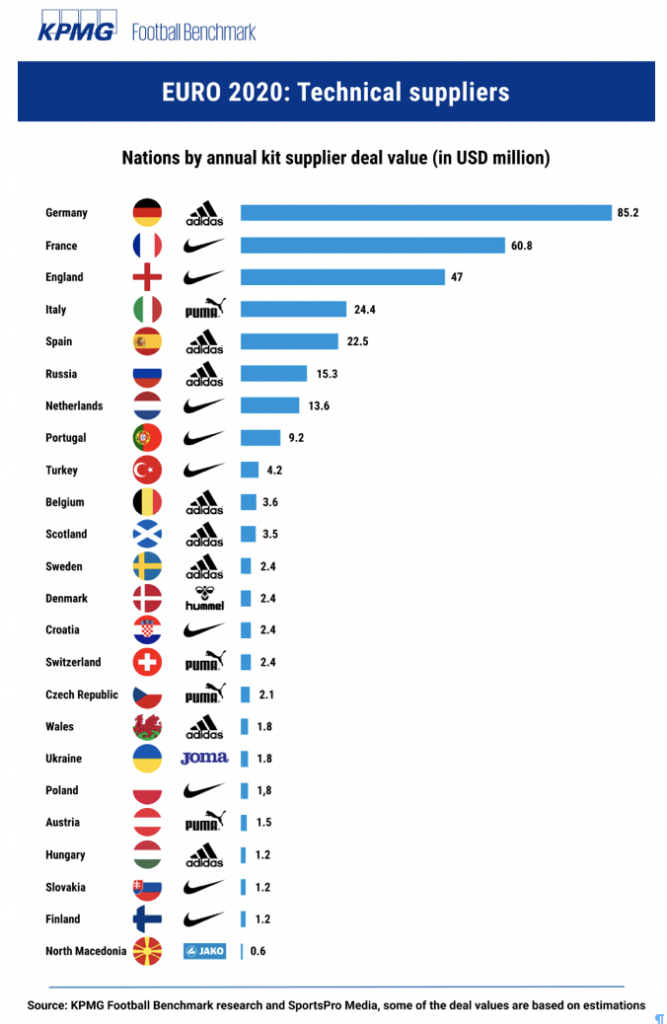 KPMG Football Benchmark point out in a snap report on Euro 2020 revenues that the championships are "one of the few mega sporting events capable of generating and maintaining global engagement and excitement over an extended period of time, making the tournament an attractive playground for global partners."
Nine of the 12 main Euro 2020 sponsors come from outside of Europe, with China having the biggest share of sponsors with Alipay, vivo, TikTok, Hisense, and AntChain, the blockchain business of the Ant Group, an affiliate company of the Chinese Alibaba Group.
Those sponsorships will be supported by a television viewing audience of 1.9 billion in more than 220 countries and territories and via more than 130 broadcast partners.
Euro 2016 in France generated €1.93 billion – a 34% increase on 2012. The 2016 income was made up of €480 million from sponsorship and licensing, €1.05 billion from media rights, and €400 million from matchday revenues. While broadcast and sponsorship revenues will remain strong, gate revenue will obviously be down with only Budapest's 67,000-seat Puskás Aréna being allowed to operate at full capacity – all other stadia are at between 22-50% of capacity.
KPMG point out that UEFA and national teams aren't the only earners at the Euros with players also having the opportunity to earn from their personal brands. But it is almost a league of one with Cristiano Ronaldo "topping the ranking of highest-paid individual footballers in regard to endorsement deals. Being the commercial face of numerous brands, including sportswear manufacturer Nike, consumer goods producer Unilever, streaming service DAZN, and many more, the Portuguese forward earns an estimated $72 million annually."
Gareth Bale is second in the ranking with $8 million.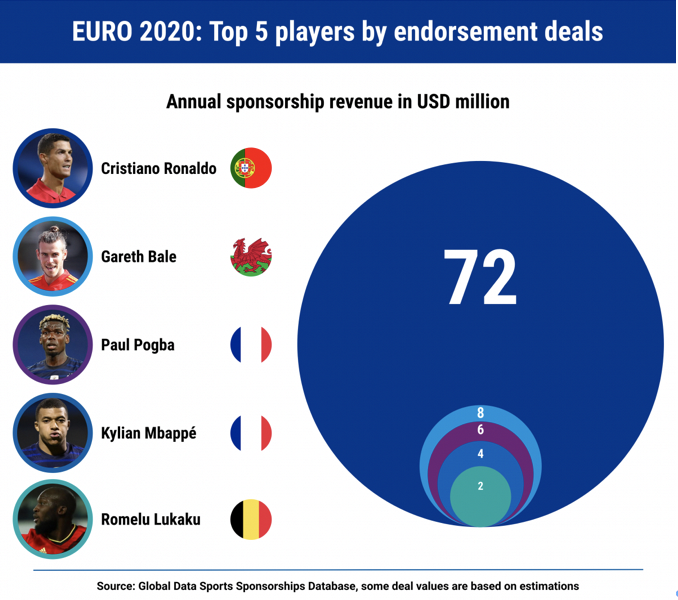 Contact the writer of this story at moc.l1638842525labto1638842525ofdlr1638842525owedi1638842525sni@n1638842525osloh1638842525cin.l1638842525uap1638842525