September 13 – With transferred players bedding themselves into their new clubs for the coming season, FIFA has published its International Transfer Snapshot (June – August 2021), that looks at player transfer activity during the last transfer window.
In terms of the volume of transfers in the men's game, FIFA reports that the numbers reman similar to last year, when the Covid pandemic had its first major impact, at 7,748 international transfers involving men's professional players
Where there was a more significant impact was the continuing downward trend in transfer fees.
The total fees for the last window stood at 3.72 billion, a 7.5% decrease compared to the 2020 figure of $4.02 billion and just over 60% of the record-breaking figure of $5.8 billion in 2019.
Breaking down transfers by type, FIFA said: "By far the largest proportion of the transfers completed during the mid-year registration period involved out-of-contract players (58.6%), while loans and returns from loans represented a combined 26.6% of all transfer activity. Permanent club-to-club transfers accounted for the remaining 14.8%."
European countries dominated both in terms of the number of transfers as well as transfer fee spending and receipts. Indeed, Brazil and Argentina were the only non-European associations to secure places amongst the top ten.
"England lead the way in all but one of the lists, with English clubs completing the most incoming and outgoing transfers and spending the most on transfer fees of all member associations worldwide. English clubs were also in third place in terms of receipts from international transfer fees, topped only by German and French clubs with total receipts of USD 462.7 million and USD 457.3 million respectively," said FIFA.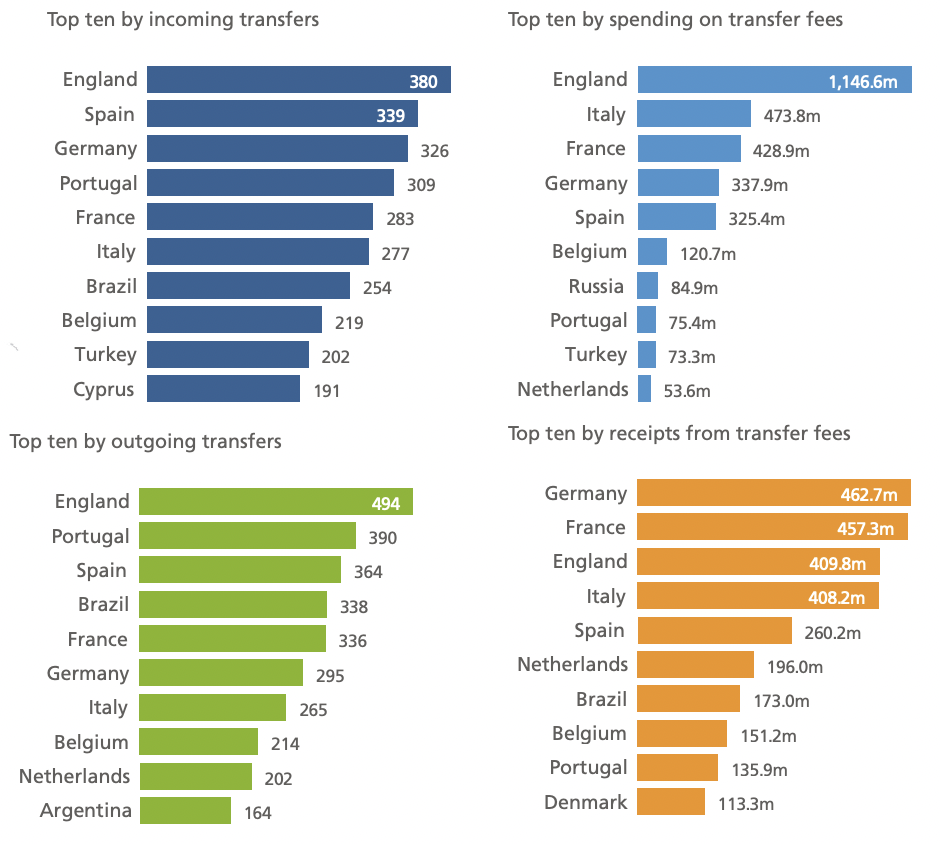 FIFA did point towards a fledgling transfer market in the women's game noting a "72.2% increase in the number of transfers involving a fee for a professional women's player compared to the same registration period in 2020".  However this needs to be caveated by the fact there were only 31 transfers in total.
Contact the writer of this story at moc.l1632405880labto1632405880ofdlr1632405880owedi1632405880sni@n1632405880osloh1632405880cin.l1632405880uap1632405880