October 27 – OL Groupe, the holding company of Ligue1 club Olympique Lyonnias, has officially reported a loss of €33.9 million for the Covid-hit 2020/21 season, the first time the group has reported a loss since it moved to its Groupama Stadium nine years ago.
The biggest hit on the finances was the loss of ticketing revenue that accounted for just €2 million compared to €35.5 million the previous season, which was also hit at the end of the season by the pandemic and the suspension of the league.
Revenue for the 2020/21 season was €177.4 million, down 35% from the €271.6 million in 2019/20. Revenue was boosted in
OL Group pointed to the lack of European football last season (the league was ended before all the matches played with OL outside the qualifying slots) as a contributing factor to the revenue drop as well as the lost of Ligue1's broadcast deal with Mediapro.
In terms of financial impact, OL reckons the lost revenue caused by the pandemic, inlcuding Mediapro's default, at about €150 million.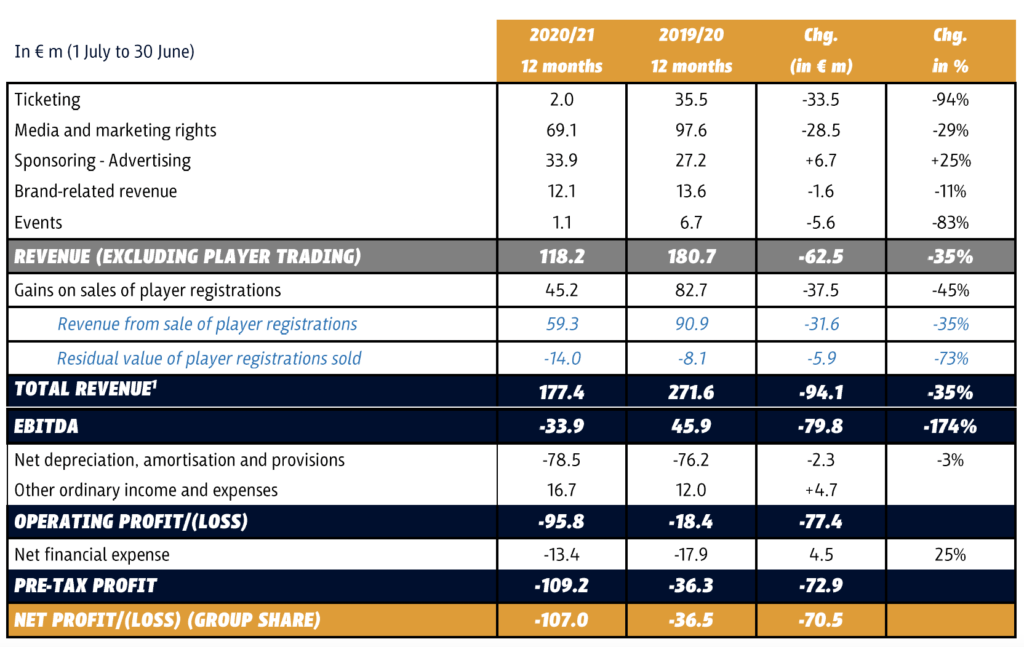 The group is confident for the current season with high vaccination levels and the return of crowds and events to the Groupama Stadium. The club is also benefiting from an uplift in sponsorship with new deals with MG Motor,OOGarden, AliExpress and Figor. Sponsorship could hit a record €38 million for the year.
OL has also returned to European club football this season and is competing in the Europa League where it heads its group with three wins from three. In the Ligue1 the team is three points off the top three postions.
Contact the writer of this story at moc.l1638371787labto1638371787ofdlr1638371787owedi1638371787sni@n1638371787osloh1638371787cin.l1638371787uap1638371787