November 12 – While the pandemic managed to kill-off clubs' match-day revenue streams, a report by KPMG Football Benchmark reports "cautious optimism" for sponsorship income with two of Europe's Big5 football leagues even reporting year-on-year growth in league-wide commercial revenues.
The English Premier League boosted overall commercial income by almost €200 million to €1.815 billion, a 12% rate of growth in 2019/20 (driven by Everton's new stadium naming rights deal), finds the report, while 1% growth in commercial revenues was registered for the German Bundesliga, mainly due to better performance by German clubs in UEFA club competitions. Spain's LaLiga decreased slightly (-2.5%) in 2019/20, "primarily due to more substantial declines for Barcelona (-€37m), whereas several LaLiga clubs recorded an increase in commercial income."
In France the decline was 10.2%, due to the cancellation of the 2019/20 season, while Italy's Serie A clubs' total commercial revenues fell by €116m (-14.6%) to €679m in 2019/20. "Almost half of this amount was represented by Inter Milan's commercial revenue decrease of €50 million alone, due to several of their sponsorship deals with Asian companies close to the Suning owners expiring and not being renewed in that season."
The report looks at more recent deals made since the breakout of the pandemic from May 2020 on, and in particular at front jersey sponsorships and kit supplier deals.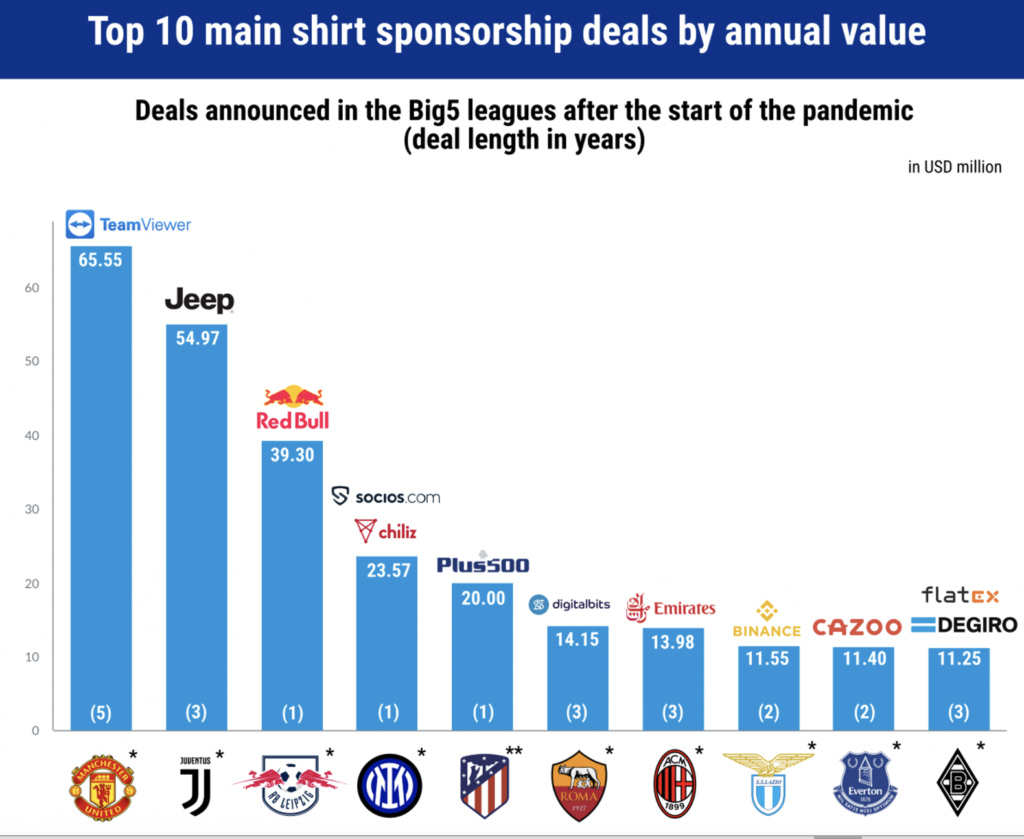 "There have been upwards of 40 new main shirt sponsorship deals struck since the onset of the pandemic in Europe. The average value of these deals appears to be constant, with less than a 1% average decrease compared to their latest pre-pandemic deals. A bigger impact might have been expected since main shirt sponsors obtain great value from TV broadcasts, and, with empty stadia, the value of such advertising was diluted," finds the report.
KPMG find that the average length of shirt sponsorship agreements decreased from 2.6 to 1.8 years with one-year deals being the most typical. The report also highlights a shift away from betting-related sponsorships with blockchain and crypto-related businesses showing signs of filling the gap.
Looking at kit supplier deals, KPMG finds that: "Different trends can be extrapolated also from the more than 30 new kit supplier deals contracted  in the Big5 leagues since the beginning of the pandemic. While the average length of kit deals fell from 3.6 to 3.2 years (a smaller and more marginal change compared with main shirt sponsorships), the average estimated value of the deals increased by more than 10% across the Big 5 league clubs who entered into new or renewed arrangements."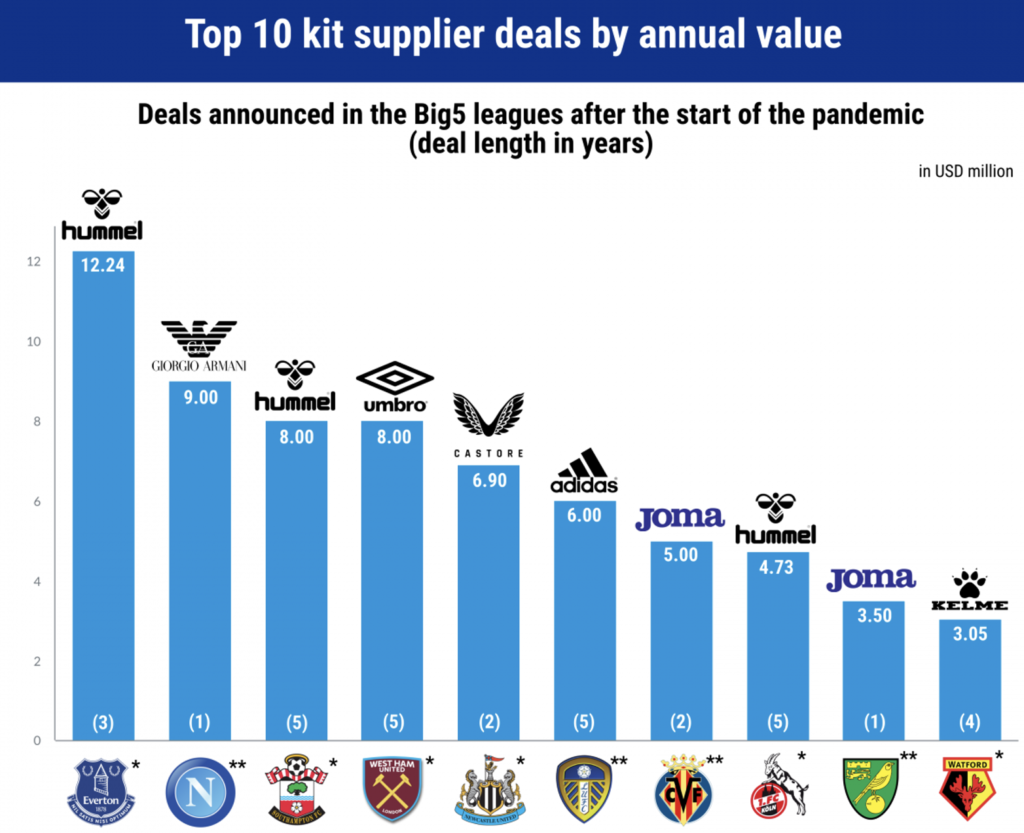 In conclusion KPMG says: "Overall, deal data currently available suggest that commercial revenues at football's top end are likely to remain resilient in the current football season, despite the ongoing challenges."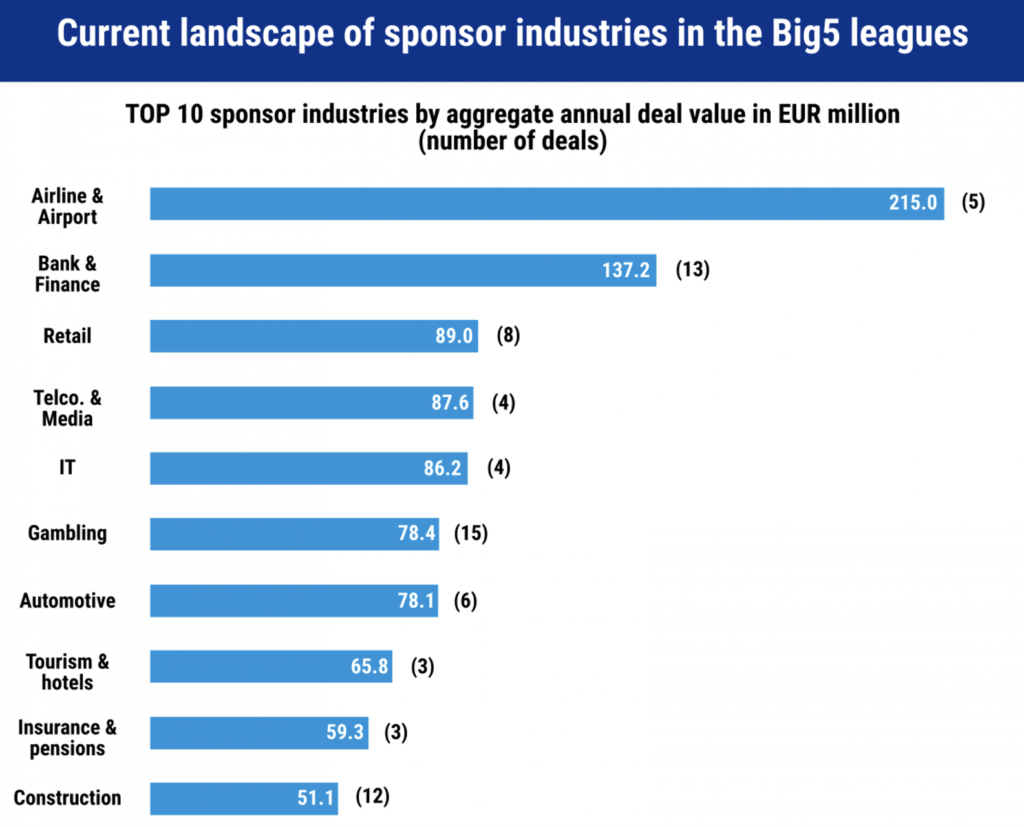 To see the full report click here.
Contact the writer of this story at moc.l1638373759labto1638373759ofdlr1638373759owedi1638373759sni@n1638373759osloh1638373759cin.l1638373759uap1638373759