November 22 – They may have had a record poor start to the season but Crystal Palace fans aren't giving up – if anything they are showing an even greater commitment. For the second time this season they have topped the attendance capacity table with a reported attendance of more than their official ground capacity.
Manchester United were second and Leicester City edged out Arsenal for third place in the weekly table.
It is noticeable that the bottom three sides in the table are all clubs playing at older and less modernised stadia – Watford, Burnley and West Brom. Their grounds generally have reduced capacity due to safety regulations rather than a failure to sell tickets.
Effectively every ground in the Premier League for Round 12 was sold out, with just 12,826 seats unfilled out of a total 361,131 seats across the ten home matches.
Bournemouth with the smallest ground in the Premier League with a capacity of just 11,360 regularly have 480 unfilled seats. Planning support and funding for a new stadium cannot come soon enough for the south coast club that could likely fill their ground three times over for home games.
Insideworldfootball attendance figures are based on the official reported attendances and the official stadium capacities. They do not take into account any seat reductions due to safety or media requirements.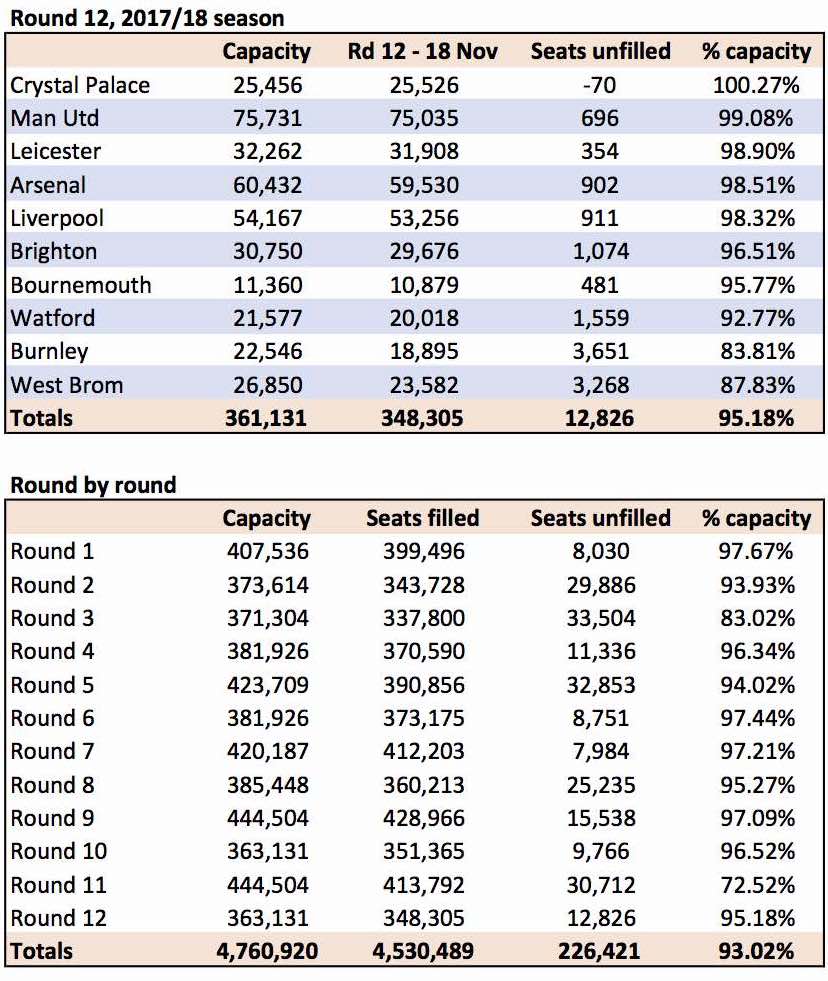 Contact the writer of this story at moc.l1544826789labto1544826789ofdlr1544826789owedi1544826789sni@n1544826789osloh1544826789cin.l1544826789uap1544826789