Details

Category: David Owen
Published on Friday, 22 February 2013 01:27
The timing is quite striking.
On July 3, Bob Diamond resigned as chief executive of Barclays, in the midst of a political firestorm touched off by a £290 million fine meted out to the bank by UK and US authorities.
On July 12, it extended until May 2016 its sponsorship of the English Premier League.
By the end of August (with Chelsea three points clear at the top of the table), Antony Jenkins, a new chief executive who, as far as I can see, is being portrayed in many respects as the polar opposite of the scapegoated Diamond, was
in situ
.
This raises a question: if the Premier League was the right sponsorship vehicle for Diamond's Barclays ("old Barclays", as I shall call it), can it also be right for Jenkins's Barclays ("new Barclays")?
You might think this was a bit of a no-brainer; it could be argued, indeed, that the free-spending reputation with which top footballers and their clubs have become saddled in the pay-TV age would not be particularly helpful to any bank in the present austere climate.
Thinking a bit more deeply, however – and examining the detail of the 24-page "strategic review" with which Jenkins sought last week to set out his vision of Barclays' future – it is possible to identify some common ground that may help the bank to ensure that its £120 million sponsorship investment yields positive results.
Most obviously, Jenkins wants to make new Barclays the "Go-To bank", the "instinctive partner of choice" because of "what people think and feel about us".
Well, while I somehow cannot imagine the phrase ever escaping the lips of chief executive Richard Scudamore, the Premier League can claim for some time to have been the "Go-To league" in terms of revenue generation and international appeal.
For all the image problems of footballers away from the pitch, moreover, Premier League football in some way, shape or form looms large in the weekend plans of millions of actual and prospective Barclays customers.
There is no reason to suppose that the effectiveness of fan-oriented competitions and draws utilising Premier League-related prizes would be impacted one way or the other by Jenkins's new approach.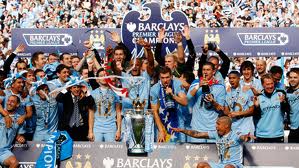 Secondly, football, like new Barclays, is trying to change in keeping with the new austerity.
Prodded by UEFA's Financial Fair Play (FFP) proposals, clubs are endeavouring to ensure that their finances are placed on a more sustainable footing.
Jenkins's blueprint for Barclays is focused at least as much on "strong values" as strong finances – that, after all, is where old Barclays is widely perceived to have been deficient.
But the theme of change is common.
If new Barclays can somehow demonstrate that it is helping clubs to keep costs and, in some cases, debt under better control, this ought also to chime well with the new boss's new vision.
Equally, there are ways in which the Premier League sponsorship appears less well-tailored to the aims of new Barclays than old Barclays.
For one thing it is global, with broadcasts reaching 212 territories.
The July 2012 announcement of the sponsorship extension talks of continuing the "successful Barclays Asia Trophy tournament and the Barclays Premier League Trophy Tour".
Under Jenkins's vision, however, new Barclays looks set to prune some of its international operations.
"By market we will focus on the UK, US and Africa," he said.
"This does not mean we will turn our backs on Europe and Asia.
"But we intend to reduce significantly the scale of our European retail and corporate operations as well as reposition our European and Asian equities and IBD businesses to reflect market opportunities.
"We will close our Structured Capital Markets business unit."
More than half of the 3,700 headcount reduction the bank has committed to this year is expected to come from Europe.
On balance, I would expect new Barclays to find ways of using its Premier League sponsorship in furtherance of its aims.
Whether that means it is likely to want to renew beyond May 2016 is a different matter.
The world, of course, may look a very different place by then.
In his review, though, part of Jenkins's message was that "the global economy is set for a long period of subdued growth".
If he is right, I would not be in the least surprised if we were to find ourselves, come August 2016, getting used to the name of a new Premier League title sponsor.
David Owen worked for 20 years for the Financial Times in the United States, Canada, France and the UK. He ended his FT career as sports editor after the 2006 World Cup and is now freelancing, including covering the 2008 Beijing Olympics, the 2010 World Cup and London 2012. Owen's Twitter feed can be accessed at www.twitter.com/dodo938