News
Details

Category: FIFA
Published on Tuesday, 05 March 2013 12:06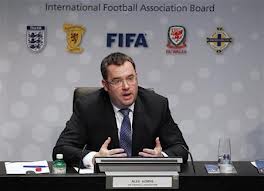 By Andrew Warshaw
March 5 - The International FA Board, football's law-making body that has stood the test of time for over a century, looks set to repel any attempt to change its role or expand its personnel as the eternal guardians of the sport.
The composition of the IFAB, comprising FIFA and the four individual British federations, is one of the items up for discussion at the FIFA Congress in Mauritius in May where FIFA's entire 10-point reform package will be out to the vote.
Several non-British member associations want to scrap the IFAB in its current guise, believing that altering and adding to the laws of the game should be the responsibility of more than just four associations based on history and tradition. But at last weekend's annual IFAB meeting in Edinburgh, it was made abundantly clear that no self-reform would take place though one or two minor concessions were approved.
IFAB was formed by the four British associations in 1886 with FIFA coming on board exactly 100 years ago. But there has been growing resentment in some quarters over the pre-eminent role still played by England, Northern Ireland, Scotland and Wales, three of whom are invariably also-rans when it comes to World Cup and European Championship qualification.
FIFA President Sepp Blatter, who wants his reform process to be about "greater democracy and transparency", attended last weekend's meeting but made no comment after a clear message that the IFAB wanted to safeguard its future - at least for the time being. Instead, to pacify its critics and give the impression of integrating outside influences, a ruling was made that "greater levels of consultation" were required "to improve decision making".
To this effect, two new advisory panels will be set up, one technical, the other concentrating on football. The first will comprise refereeing experts from across the globe; the second approximately 20 former players and coaches, current coaches, FifPro and Confederation technical directors.
Additionally, the IFAB promised to explain all their decisions more fully "detailing all minutes, timelines for decisions, progress on consultation or pilots, and the rationale for the rejection of any proposals."
English FA General Secretary Alex Horne (pictured) commented: "You don't have to change things for change's sake. We are pleased with where we got to. The important debate was around the structure of the IFAB going forward. We have worked hard trying to improve the process but we also have to protect what we believe is right, that the IFAB works as a venerable, austere body. I think if you are dealing with the laws of the game, you want to be conservative."
Whether the rest of the world will agree with these views is open to question but Horne also conceded that greater consultation, as distinct from representation, was necessary. "IFAB makes sense but we recognise that it is also not very transparent at times," he said. "I am not sure we consult football people very well."
In other IFAB matters, the possibility of allowing players to wear heart monitoring electronic chips during games was delayed but not rejected out of hand. The proposal was put forward by the Scottish Football Association in the wake of the case of Bolton's Fabrice Muamba being forced to retire after having suffering a cardiac arrest on the pitch last year. The issue was referred to a working group of doctors, coaches and former players.
And in a bid to reduce widespread inconsistency, the rule on interfering with play when offside was amended though whether it will be adequately understood by referees and linesmen remains to be seen. Rule-makers agreed to delete and replace four lines of text. The previous wording was not considered precise enough though one might say the same thing about the complicated amendment which comes into effect in the summer.
Contact the writer of this story at This email address is being protected from spambots. You need JavaScript enabled to view it.